Survive and Soar: Seahawks set to begin quest for national championship
UNCW will host Presbyterian in opening round of NCAA tournament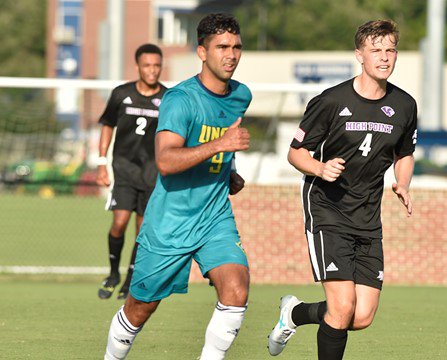 Hang on for a minute...we're trying to find some more stories you might like.
In his 17th year of coaching UNC Wilmington men's soccer team, coach Aidan Heaney's reaction to his team earning an at-large to the 2017 College Cup summarized up the Seahawks season in perfect fashion.
"The players went nuts," said Heaney, which is the right word to describe what this season has been for his team.
The Seahawks (11-7) will host their first-round game against Presbyterian College at UNCW Soccer Stadium on Thursday night. It will be UNCW's third-ever NCAA Tournament appearance with the previous two coming in 2009 and 2014.
Despite losing an automatic bid in Sunday's 4-2 loss to William & Mary in the Colonial Athletic Association tournament championship game, the Seahawks were selected for the tournament on the back of a season's work that saw them ranked in the top 15 in the nation in various polls due to quality wins against teams such as a 1-0 win over North Carolina, who enter the tournament with the third overall ranking, in September.
The team suffered a four-game losing streak towards the end of the season but bounced back strongly to obtain the second seed in the conference tournament. They followed this up by defeating third-seeded Charleston 2-1 in the semifinals last Friday, coming from behind to exact revenge on the same team who beat them by the same score in Wilmington last month.
"We've worked extremely hard, not just through the four months of the season. It's been a year-long grind of preparation and work and physical conditioning and technical work," said Heaney. "They've put a lot in, so I just couldn't be happier for those guys for getting this opportunity."
Heaney is excited for the fans and university to get a chance to host a national tournament game and is hopeful that the Seahawk faithful will do their part to will the team to victory on Thursday. Some of his players shared their coach's sentiments.
"Playing at home, you always have that little advantage playing in front of your people," said redshirt senior forward and co-captain Julio Moncada. "I hope a lot of people show up to support us, and we're going to do our best to make them proud. We're going to have our friends and families here, and there's nothing more beautiful than that, so we're excited."
"I definitely feel that there will be a home-field advantage," redshirt junior goalkeeper Ryan Cretens said. "We're playing right here in Wilmington and we hope for as many people to show up as possible – it feels great that our fellow local Seahawks could come to support us."
UNCW's opponents, Presbyterian, are making their debut in the tournament at the NCAA Division I level. The Blue Hose (6-8-5) earned an automatic berth into the competition by winning the Big South Conference championship, beating High Point in a penalty shootout in the title game on Sunday. Those in the Seahawks camp are wary of underestimating their opponents.
"The past couple of days we've been talking to the coaches and studying the team," said Moncada, who scored the opener in the conference title game. "We'll see what happens on Thursday, but we'll approach the game as if it were a final."
Should UNCW win, they would travel to Chapel Hill to face the Tar Heels on Sunday, Nov. 19. However, the Seahawks are focused on going all in and are confident of taking care of business in front of their home fans. But most of all, they plan to soak it all in and just enjoy the experience.
Staff Writer Lanre Badmus can be found on Twitter @LonnyBadmon . Any tips or suggestions should be forwarded via email to uncwseahawksports@gmail.com. For video updates from The Seahawk, subscribe to our YouTube channel.