UNCW hoops welcomes six new Seahawks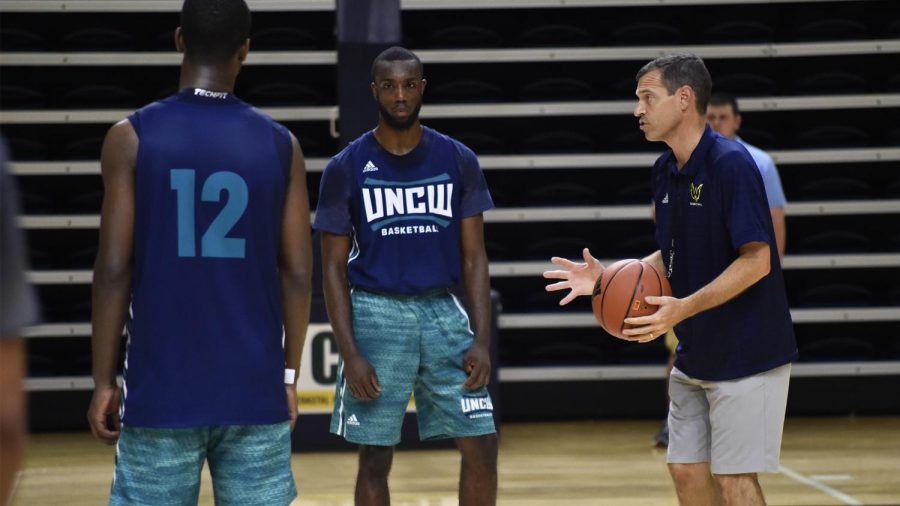 Noah Thomas, Sports Editor
October 19, 2017
The departure of former men's basketball coach Kevin Keatts was not the only hole UNC Wilmington Athletics was forced to fill this offseason. With Keatts gone, each member of the basketball program's 2017 recruiting class was, upon request, released from his National Letter of Intent. This left the newly-hired C.B. McGrath with a substantial amount of ground to make up on the recruiting trail.
So he did.
In one of his first acts as head coach, McGrath said he examined what the team lost from the 2017 season and prioritized the program's needs by position on the basketball court. He proceeded to sign six players for the upcoming season.
"We needed shooters – we needed to find people who could make some shots," he said. "I think we did that. Going forward, we'll piece together what we're going to lose from this year's roster… We'll look at the freshmen, in two years we will be losing that roster (and so on)."
The six newcomers include true freshmen Jay Estime, Jeffrey Gary, and transfers Jacque Brown (Cape Fear Community College), Trey Kalina (Coffeyville Community College), Daniel Etoroma (Lewis and Clark Community College), and Jeantal Cylla (Florida Atlantic). Cylla will be the only recruit to sit out the 2017-18 season due to NCAA eligibility rules.
McGrath found himself a shooter in Estime – a wing player who averaged 18.9 points per game in his senior season at Berkmar High School in Lilburn, Georgia. The 6-foot-5 small forward led the state of Georgia in three-pointers made (100) a year ago.
It's hoped that Estime's repertoire will help plug holes left by former Seahawks Chris Flemmings, Denzel Ingram, Ambrose Mosely and C.J. Bryce.
"My skill set is definitely shooting, so I expect to come in and shoot, score, put the ball in the hole and just play my role on the team," Estime said. "Coach (McGrath) is fresh. He's new to this just like I'm new to this. I thought going into it together would be perfect for us."
Despite being the lone ineligible Seahawk on this year's roster, Cylla will not be lonely on the bench. Assistant coach Jackie Manuel, a Florida native, spearheaded Cylla's recruitment and used a local connection to lure the former FAU Owl to Wilmington.
"Jean was coached by my uncle in middle school. In his last year of high school, he was coached by my high school coach," Manuel said. "When I was at (UNC) Greensboro, I was recruiting Jean when he was coming out of high school. So I've been knowing him for a long time… When he decided to transfer from FAU, the relationship was already there."
Cylla said he wanted to be a part of UNCW's history as a winning program.
"UNCW has a history of winning," he said. "They've been to the (NCAA) tournament back-to-back years and I wanted to be a part of that."
McGrath said the focal point of UNCW's recruiting strategy, first and foremost, was to find shooters. He found shooters in Estime and Gary. They will be aided by redshirt sophomore Ty Taylor, who sat out a year ago after transferring from Wichita State.
McGrath also needed a big man. He found one in Kalina, and another in Cylla.
From here on out it's all about finding recruits who can be a perfect fit for the Seahawks. Two recruits in the class of 2018 have already announced their intention to sign with UNCW: Kai Toews of Mount Hermon, Mass. (by way of Japan), and Jaylen Sims of Charlotte.