Diamond Hawks kick off fall schedule with 4-0 win over Czech Republic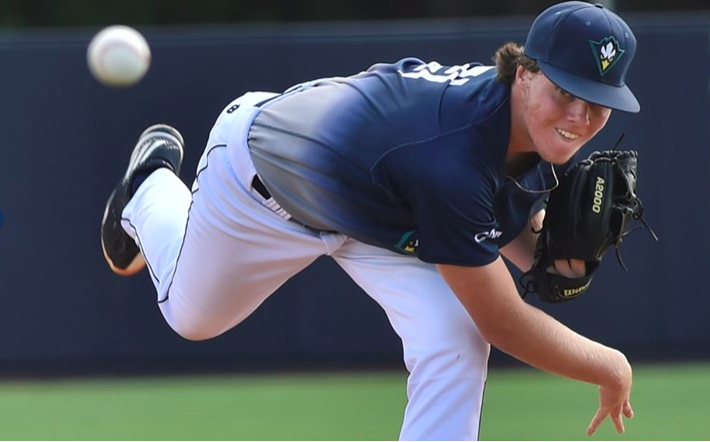 Collin Underwood, Contributing Writer
October 11, 2017
UNC Wilmington's pitching staff combined for nine shutout innings in the team's 4-0 exhibition victory over the Czech Republic on Wednesday afternoon at Brooks Field.
The Diamond Hawks finally got their fall baseball season underway against the Czech Republic national team after the initial meeting game was postponed from Tuesday. Seven different Seahawk pitchers allowed just three total hits the entire game.
The Seahawk offense tallied eight hits, three of which came from transfers David Sheaffer and Kep Brown. Sheaffer and Brown left their mark in their debut for UNCW, as Brown's second-inning, two-out RBI double scored Sheaffer to put the Seahawks on the board.
"I think it was big for us," said Brown. "Inter-squads are fun and all, but it's more like a friendly competition. Once we got out there against another team, it's a battle, and I think that's what we're looking forward to."
Senior pitcher Austin Warren shined in his time on the mound Wednesday, striking out two of the three batters he faced. The bullpen's performance against the Czech Republic was an uplifting outing after injuries led to last season's struggles.
"We all went out there and attacked the zone," said Warren. "We had a lot of guys injured last year, but we got a bunch of arms this year; new arms, great arms. We know we have several guys in the bullpen who can come out, fill up the zone, and take over."
For UNCW coach Mark Scalf, the performance of his pitching staff was right on cue with the goals they set in the offseason.
"We got seven of their nine lead-off hitters out, which is a big goal of ours," said Scalf. "You've got a much better chance at limiting damage that way."
Scalf's batting lineup featured four new faces to the team and only two starters from last season. Though he was pleased with the output from his offense, Scalf said the lineup is still taking shape.
"All of them are working extremely hard, and they're willing and able to make some adjustments," said Scalf. "We'll wait and see how things unfold in the next three and a half weeks in fall practice and see who continues to make the adjustments necessary to play next spring."
Contributing Writer Collin Underwood can be found on Twitter @TweetNUnderwood. Any tips or suggestion should be forwarded via email to [email protected] For video updates from The Seahawk, subscribe to our YouTube channel.