Competitive cheerleading offers an alternative in school spirit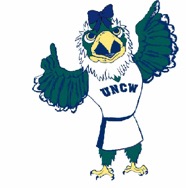 Vanessa Dickerson, Contributing Writer
September 19, 2017
At UNC Wilmington, the Seahawks now have double the school spirit with the addition of a competitive cheerleading squad. Nicolle Bravo, a junior, started the competitive cheer squad last year. Bravo is the president of the competitive cheer squad and cheered her entire life up until college.
While there is a cheerleading squad that represents UNCW, this team falls into the "club" category. The team that represents UNCW is considered a spirit group on campus.
"The school cheer team is completely separate from the competition team," said Bravo. "They cheer at games and perform on campus/community events. The competition team is solely for the purpose of attending competitions, not cheering for school events."
It was important for Bravo to establish a clear difference between the two for those who were interested in cheering for games and competing.
The club started after Bravo and some friends realized that they missed competing in the sport and felt something was missing on campus.
"One day, some friends and I were discussing our prior experiences and how much we missed it," she said. "When one of them brought up ECU's club cheer team the idea was brought up 'What if we started one?'
"It really was just an idea at first, and then a few days later I decided to go for it and looked into the process of starting a competition team."
The first interest meeting for the competitive cheer squad was held in August. Sarah Lowe, the vice president of the club, loves the competitive part of the team.
"The competitive cheering team is more flexible with my school and work schedule. And I really enjoy the competitive aspect of the team," said Lowe.
Other interested students considered joining the UNCW cheer squad, but ultimately missed competing, so chose to pursue this squad instead.
As far as competing, Bravo plans to start attending competitions over the spring semester. She wants to spend this semester getting the squad together and organized. Bravo and the squad have plans to compete in Raleigh, Greensboro, Myrtle Beach, and even at the Disney Resort in Florida.
There is still time to join this squad. Tryouts are scheduled for Sept. 30 at 4 p.m. at Cheer Infinity in Wilmington. There is a five-dollar fee for trying out and no experience is required
For the time being, anyone interested can attend open gyms to work on their skills at Cheer Infinity on Mondays from 9 p.m. – 10:30 p.m. for five dollars. Coaches will be in attendance to help with skills and stunting.