'Cookout with the Coaches' gives students face time with UNCW Athletics
Students gathered in the amphitheater for the sixth-annual event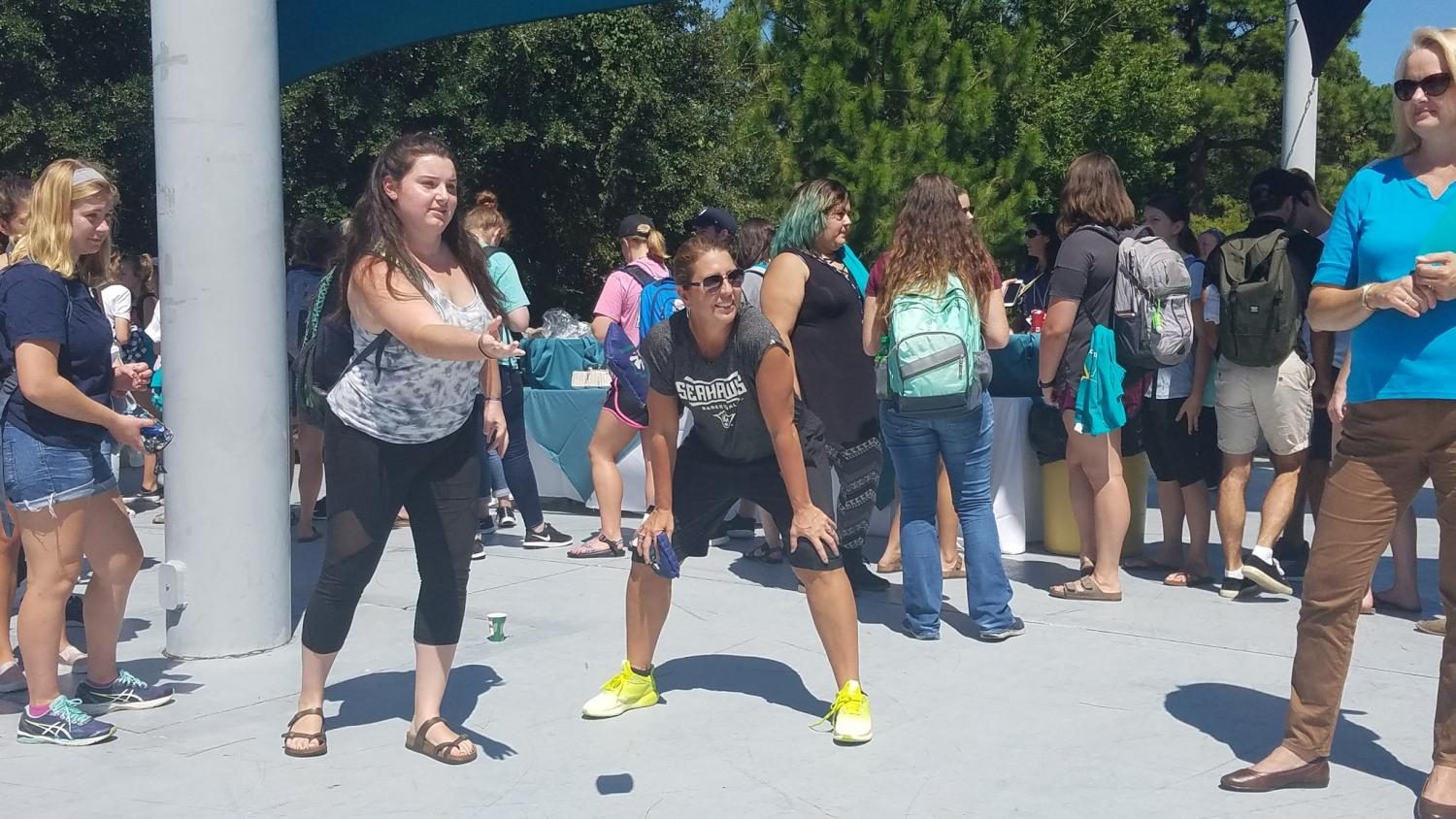 Noah Thomas, Sports Editor
September 13, 2017
Supplied with free hot dogs, T-shirts and even the chance to win a car, UNC Wilmington students came ripe and ready for UNCW's "Cookout with the Coaches" event on Wednesday.
The annual event – originally planned for Aug. 29, but delayed because of weather – gave students the rare opportunity to meet and chat with many of UNCW's varsity coaches. In addition to the free food and T-shirts, students lined up to toss a bean bag at a cornhole board while being cheered on by women's basketball coach Karen Barefoot.
For a sixth consecutive year, "Cookout with the Coaches" helped put a face on UNCW Athletics and gave students a behind-the-scenes look at an aspect of their university they normally would not get a chance to see.
Amy Bambenek, head coach of UNCW volleyball, has seen the annual outdoor barbecue evolve from its first year in 2012. She said the event has built up steadily over the years to what it is today.
"New students are just getting a feel for what's available on campus and finding out how they can support athletics," said Bambenek. "I handed someone a schedule and he said he was the loudest person in (Hanover Hall), so it's great to be able to meet some of those people that already support us and try to generate new fans out of it."
One of the more popular portions of the event – the T-shirt Exchange – has become an ongoing campaign put on by the athletic department.
The T-shirt Exchange debuted in 2016 as an effort to boost student support of the athletics department. It had become a trend in the past for students to wear shirts promoting the athletic departments of other universities like UNC Chapel Hill, North Carolina State, and Duke.
Now, if a student is wearing one of these shirts when he or she walks by a T-shirt Exchange tent on campus, they can swap out their existing shirt for a teal one. T-shirt exchanges will continue throughout the 2016-2017 school year as part of the university's "Teal Tuesday" tradition.
Because of the generated face time with the athletic department, "Cookout with the Coaches" has become a tradition UNCW students look forward to in the weeks after the beginning of classes and the onset of the fall sports season.
Tyler Loesher, a junior, attended the event for the first time on Wednesday. He said he enjoyed getting free food and being able to meet members of the UNCW coaching staff.
"I think it's awesome because you get to see all these people on TV doing their thing," he said. "Because they're the face of the school, in a way. Athletics are like the front porch of the school, everyone gets to see them, so getting to interact with them one-on-one is a cool opportunity."
Sports Editor Noah Thomas can be found on Twitter @iNoahT. Any tips or suggestions should be forwarded via email to [email protected]