'Carolina Blues': Seahawks shock No. 3 UNC in front of historic crowd
UNCW's 1-0 win is their first vs. the Tar Heels since 2014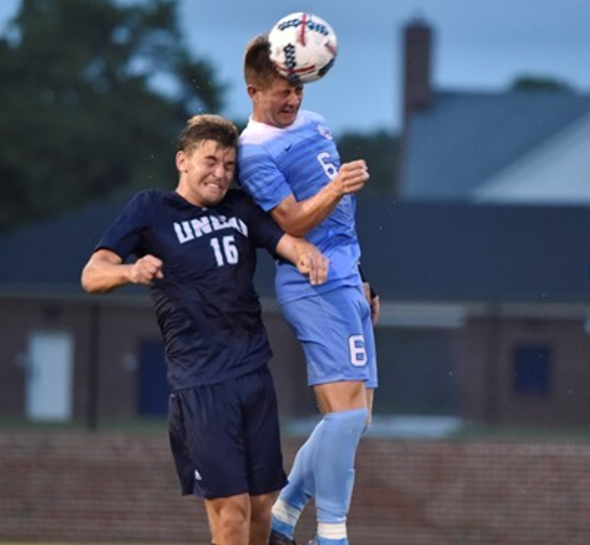 Hang on for a minute...we're trying to find some more stories you might like.
UNC Wilmington was well-aware of No. 3 North Carolina's pedigree coming into Friday night's home opener for men's soccer, but two wins over Jacksonville and North Florida last weekend provided ample confidence for the Seahawks to go head-to-head with one of the top programs in the nation.
The Seahawks (3-0) squeaked a 1-0 decision past UNC in front of 1,778 fans, the third-largest crowd for a men's soccer game in UNCW Soccer Stadium history. It was the fifth-consecutive year the two in-state rivals met, and it was UNCW's second-straight home win over the Tar Heels (2-1).
Freshman defender Hjalmar Ekdal scored the game's only goal in the 27th minute, heading midfielder David Lozano's corner into the back of Tar Heel goalkeeper Drew Romig's net.
Redshirt junior Ryan Cretens was UNCW's savior on defense with three saves, all coming at crucial times in the second half that prevented UNC from scoring an equalizer.
"I was just hoping we were going to close it out," Cretens said. "We had a scare last week. We learned from it and had a lot of focus and grinded it out. Those shots coming in near the end were hit through traffic and I just was happy to be in the right place at the right time."
The Seahawks began the game sitting back on defense, absorbing UNC's pressure and making quick, effective counterattacks. This increased as the Tar Heels continued to dominate possession time throughout the second period, but Ekdal's goal proved to be the difference.
"It feels amazing to score in front of this big crowd," he said. "It couldn't be better. This result means that we are a very good team and have developed this year. We can beat any team and go very far this season."
UNCW coach Aidan Heaney said the team's strategy was to sit back and absorb Carolina's pressure before countering on offense, a decision that proved fruitful.
"We knew they were going to have a lot of the ball as they're such a talented and technical team," said Heaney of the Tar Heels postgame. "You've got to be organized, you've got to make it difficult for them, you've got to look for times when you're going to win the ball back."
2017 marks back-to-back years the Seahawks have knocked off a top-ranked opponent. They defeated then-No. 5 UNC Charlotte last September at UNCW Soccer Stadium. Up next, the Seahawks travel to Charlottesville, V.A., to visit another nationally-ranked ACC opponent in No. 12 Virginia on Monday.