Lofty expectations are motivation for an experienced UNCW soccer team
Coach Aidan Heaney will sport an experienced squad hungry for more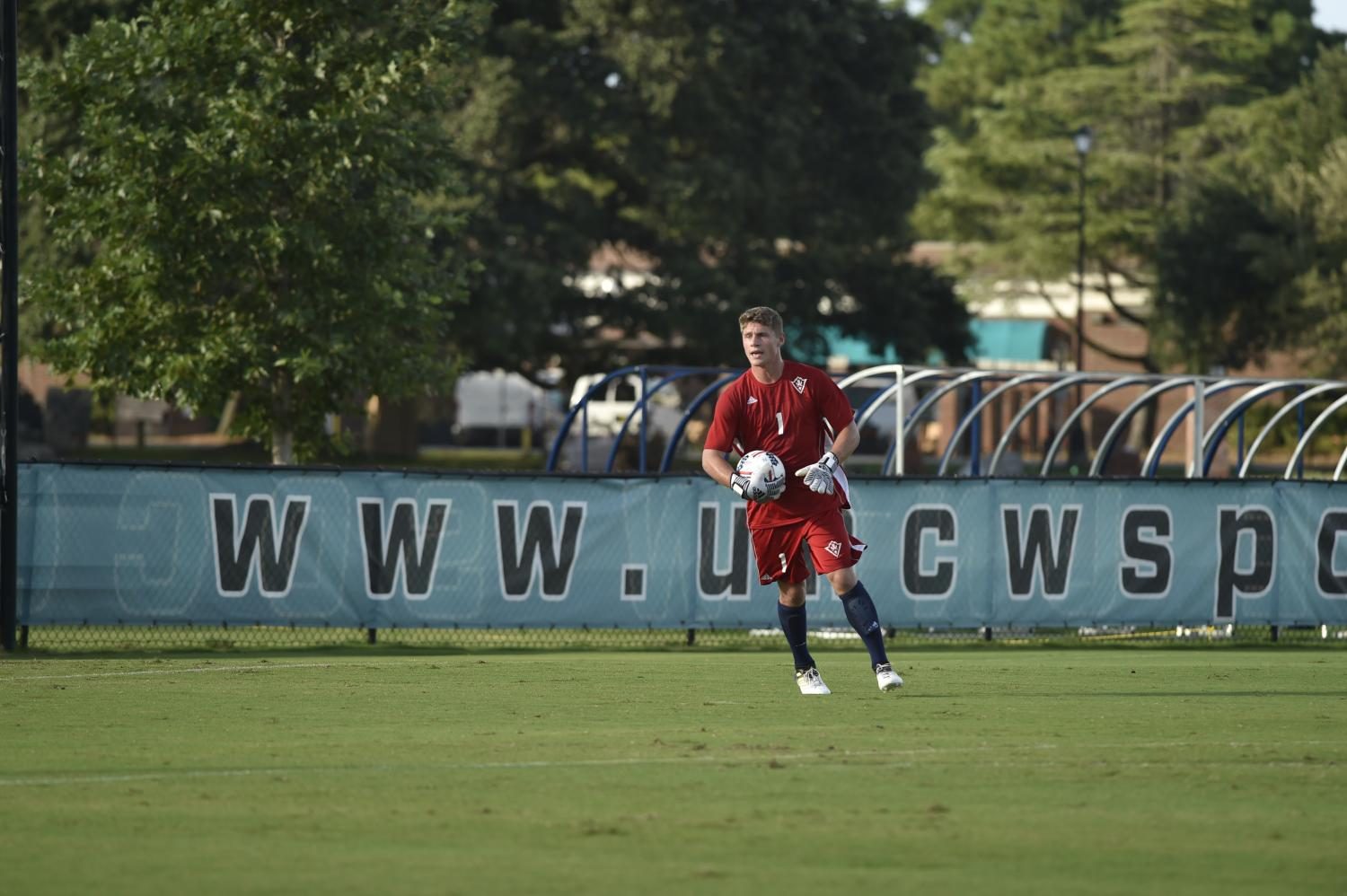 Lanre Badmus, Contributing Writer
August 25, 2017
The unique mix of new faces and experienced veterans present on the UNC Wilmington men's soccer team would intrigue any coach. With six freshmen and two transfers, coach Aidan Heaney has a reason for optimism ahead of the 2017 season.
Having only lost defender Gary O'Neill to graduation, the Seahawks return virtually the same lineup that helped them finish third in the Colonial Athletic Association last season. The 2016 squad allowed just 18 goals in 17 games – among the conference's top defenses – and scored 22 goals of their own, ending with an 8-6-3 record.
"We feel that the pieces we've added will give us a compliment to what we have, and I'm excited to see the results," said Heaney, who singled out a few newcomers that could make a difference early. "We've been giving some of these guys minutes in preseason. (Freshman) Hjalmar Ekdal's come in at the back and done really, really well … Emil (Elveroth) has come in up front as well".
Ekdal and Elveroth, both Swedish imports, will be asked to make an impact as they adjust to collegiate soccer in the United States. Transfer midfielders Bryant Nardizzi (North Carolina State) and Ben Davidson (South Carolina) are in a similar situation.
Davidson and Ekdal have shown both are ready to step up: each scored in last week's 2-2 draw at No. 2 Wake Forest in the team's final exhibition game. UNCW defeated High Point in a 2-1 decision a week prior.
Heaney has been trying to figure each newcomer's strengths into the team's playing style. The Seahawks have also been attempting to correct mistakes from last year's squad.
"We were in a lot of games last year, close ones that were lost," Heaney said. "There were a couple of games where we started really slow and fell behind, and that cost us because we were always chasing the game. I think we've got to be better and quicker out of the gates and treat every game and opponent with the same respect regardless of the school name."
Heaney said that the goal for this season is a high one: finish in the CAA's top three, win the conference tournament and qualify for the NCAA Tournament.
The team will be looking to senior forward Julio Moncada and junior goalkeeper Ryan Cretens to lead them to that goal. They spoke of how getting to know the eight newcomers has helped team chemistry.
"We got to play together even before the preseason started, so we know a little bit more about each other," said Moncada.
Cretens added that the team came in and excelled during the preseason, and now they hope to carry that form into the regular season. He said the team has matured and learned to take everything game-by-game. With that attitude, he feels the Seahawks can compete with anyone.
UNCW's regular season officially begins this weekend with a trip to Jacksonville, F.L., to face Jacksonville on Friday and North Florida on Sunday. The Seahawks' home opener will arrive next week when North Carolina visits UNCW Soccer Stadium on Sept. 1.