A national struggle to understand feminism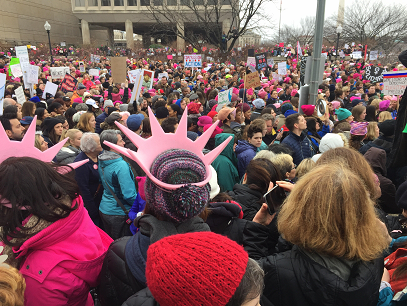 The feminist movement has been a work in progress for many years and a longtime coming for modern day America. As the movement continues to gain traction and media coverage, criticism from politicians, celebrities, and everyday people continues. The feminist movement is deeply misunderstood in Trump's America, which can be seen in reactions to the Women's March in January, the continuous campaign to defund Planned Parenthood and all across the internet via different social platforms.
Let me clear some things up. Feminism is not about hating men or thinking women are the superior gender. It is not about wanting women to be handed whatever they think they deserve. And, it is not a reaction to Hillary Clinton losing the presidential race to pussy-grabbing Donald Trump. Good old Merriam-Webster defines feminism as "the theory of the political, economic, and social equality of the sexes." Therefore, feminism is solely the belief that all genders are equal and should be treated as such.
Feminism varies from person to person, whether they are supporters or not. How people want to see feminism in action varies. Even the types of feminism vary. However, it all stems from the same place: gender equality.
In fact, there are feminists who openly hate men and are overwhelmingly intense in their views and goals of the movement. Like in all movements, there are the extremists that do not represent the whole movement, though they get the most attention. This type of extreme feminist can be seen in several "starter pack" memes across social media including purple hair, winged eyeliner, facial piercings, chokers, poetry books, and mom jeans. This is not meant as a criticism; everyone is entitled to their own freedom of expression. My only hope is that opponents of feminism do not clump the entire movement to the views and stances of extremists.
If it is not clear by now, I am a proud and active feminist. I believe in equal opportunity for all genders and races. I believe that I should make as much money as my two older brothers do for working the exact same job. I believe that women are more than their bodies and should be valued. I believe in the personal right to one's own body and the pro-choice stance. I believe that there should be better healthcare coverage and more extensive maternity and paternity leave. Feminism fuels these political and social goals of mine and much more.
The other day, I was listening to the radio when two show hosts brought up the topic of feminism. They spoke about how Emma Watson, a proud, successful and professional feminist, posed for a racy picture in Vanity Fair magazine. The male host said something along the lines of, "I don't get it. She claims to be a feminist and then poses topless!" Sigh. Women, and everyone, are allowed to pursue equality AND do whatever they please with their body for whoever or whatever they want. The point is that it's a choice. This is another example of how feminism is misunderstood, and it reminded me of an interaction I had with my dad over Thanksgiving.
"Women complain about being objectified, and then they do stuff like pose in bikinis!" Cue a heavy eye-roll by me. Here is another problem: my dad considers himself a feminist. He is all for equality, and he voted for Hillary Clinton. He is, in most respects, a progressive liberal. But at 56 years old, he still struggled to grasp a fundamental aspect of feminism: that women and gender equality, as well as sexuality and sharing the human body, can and should coexist. A woman should be able to be both smart and sexy if that is what she wants to be. When I explained this to my dad, that the point is that women should be seen as more than their bodies, he understood what I meant. This makes me hopeful for an overall better understanding of feminism across the nation.
Feminism differs from person to person across the movement. We are imperfect people, it is an imperfect movement, but one with an honorable and doable goal: full gender equality. And if we can spread this message in the right way, to the people who fail to understand it, there is no limit to what we can achieve together.