Salette Andrews enters race for Wilmington Council
Salette Andrews enters the campaign for one of three spots open on the Wilmington City Council. Her campaign focuses on three pillars: housing affordability, economic growth and keeping corporate polluters accountable for their waste cleanup.
Andrews was born to a first-generation American mother and military father, who passed away at age 43 leaving behind Andrews and her four other siblings. Andrews worked her way through college while earning her degree in English. Later, she earned her graduate degree in technical communication and became a technical writer and editor.
In addition to her time as a technical writer, she joined the military and now runs a small business on Etsy selling jewelry. She also maintains an active YouTube channel dedicated to healthy living and eating.
An Air Force veteran, Andrews learned a lot about "teamwork and focusing on a mission" while achieving goals. Her volunteer positions have given her a deeper look into community-involved issues. While in Wake County, she volunteered at Guardian ad Litem and helped advocate and represent children in the court system. She has also volunteered for multiple animal rescue groups in positions including photographer, webmaster and even being on the board. She also has experience volunteering for Home-Owners Associations and a historic preservation commission.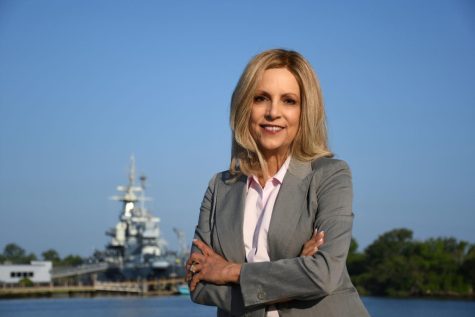 In Arizona, she was elected to the Town Council and believes she can bring a new perspective to the Wilmington Council. After being exposed to the toxic burn pits while serving in the military in Iran, Andrews' son passed away from cancer. As a cancer survivor herself, holding corporate polluters accountable for their contaminations is one goal Andrews plans to focus on. One goal she aims to achieve on the council is working to ensure a livable, sustainable city for future generations.
"My vision for the city is that we grow in a way that is smart," said Andrews. "To me, that means we grow in a way that lifts everybody's vote, brings economic prosperity to all neighborhoods, provides housing without harming the integrity of existing neighborhoods."
Bringing internship and job opportunities is another focus of her campaign in economic prosperity, especially among small businesses. In the past, Wilmington has given economic development incentives for larger corporations, something Andrews has dubbed as "economic hunting."
Andrews believes investing in small businesses, as well as larger corporations, will encourage job and wage growth while also increasing the local tax base to fund community needs without raising taxes. One goal she wants to implement to boost the local economy is training people about how to successfully get business loans and including job training programs for college students.
"I hope to be a fresh perspective and work for all of Wilmington," said Andrews. "I believe we are all in this together."
For students who are interested, she encourages people to reach out if they have questions or want to bring up issues they value. There are opportunities to work alongside and help with the campaign in volunteer or internship positions. You can find out more on her campaign website.