Women's soccer signs 12 for 2017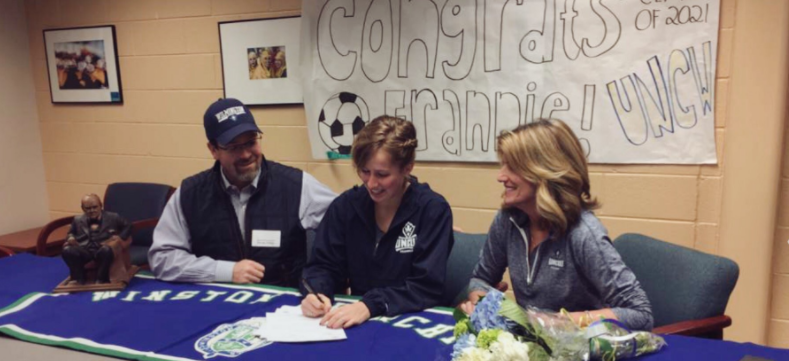 Brandon Sans and Noah Thomas
February 9, 2017
"I've been working to play Division-I soccer since I was 10 years old, so to finally accomplish my dream felt good."
Those were the words of Cassidy Boyes, who was one a dozen high school seniors to sign their National Letter of Intent on Feb. 1 and commit to play college soccer at UNC Wilmington next season.
Boyes joins a long list of recruits who will soon call UNCW home. The full list includes GiGi Foster of Falls Church, Va., Audrey Harding of Akron, Ohio, Tara Pak of Delray Beach, Fla., Francine Phillips of Potomac, Md., Sydney Schneider of Dayton, N.J., Dixon Veltri of Pittsburgh, Pa., and Marissa Vincent of Columbia, Md., will join in-state recruits Grace Bondurant of Garner, Grace Lynn-Lato of Waxhaw, Molly McGarry of Charlotte, and Grace Pilcherof Charlotte.
The new signees are set to join a UNCW team that finished fourth in the Colonial Athletic Association this past season. The Seahawks were eliminated in the first round of the conference tournament, getting bounced in overtime by William & Mary post-penalty kicks.
A native of Virginia, Boyes first fell in love with UNCW two Januarys ago during an ID camp.
"I came down and it was pouring, but I felt like I belonged on campus," said Boyes. "It was one of the few schools I felt that with. And who doesn't like the beach?"
The goalkeeper from Northern Virginia represents just one key part of another strong recruiting class put together by 22-year veteran head coach Paul Cairney.
Of each recruit that took the time to speak with The Seahawk, each noted a difference in the atmosphere at UNCW that differs from where they currently call home. The unique geographical area that surrounds the school, coupled with the laid-back vibe that greets visitors upon arrival to campus, creates something appealing to nearly every individual.
"I'm from the D.C. area, so it's all business all the time and everyone is going a million miles a minute, so the change in mentality and attitude that I saw while in Wilmington," said Boyes. "I'm excited to be a part of the program and to represent UNCW to the best of my ability."
Cairney's ability to recruit players to Wilmington has long been a highlight of his coaching tenure. A coach since the program's inception in 1994, he has always held his players to a high standard.
"Coach Cairney showed my family and I the school as well as everything it had to offer," said Harding. "I knew I couldn't pass up a school like this."
Signing their letters of intent ends the recruiting process for high school athletes. After signing, they can officially call themselves collegiate student-athletes.
For many seniors, deciding where to spend college is a decision that invokes much thought and input from family and mentors. Ultimately, the school will have a way of telling a person that is where they belong.
"It feels like a weight being lifted off your shoulders when you commit," said Lynn-Lato, a defender from Marvin Ridge High School. "The moment you commit is when you realize all your hard work has paid off. It's the beginning of a new chapter in my life."
The new recruits will visit UNCW as students for the first time this summer when they report for team workouts and prepare for their first game in August. The Seahawks' schedule will be released at a later date.
"I'm excited to connect with my future teammates on and off the field," said Lynn-Lato. "I can't wait to build those lifelong friendships that every sports team has."