Seahawks 'Play UNCW basketball,' blow out Delaware 108-80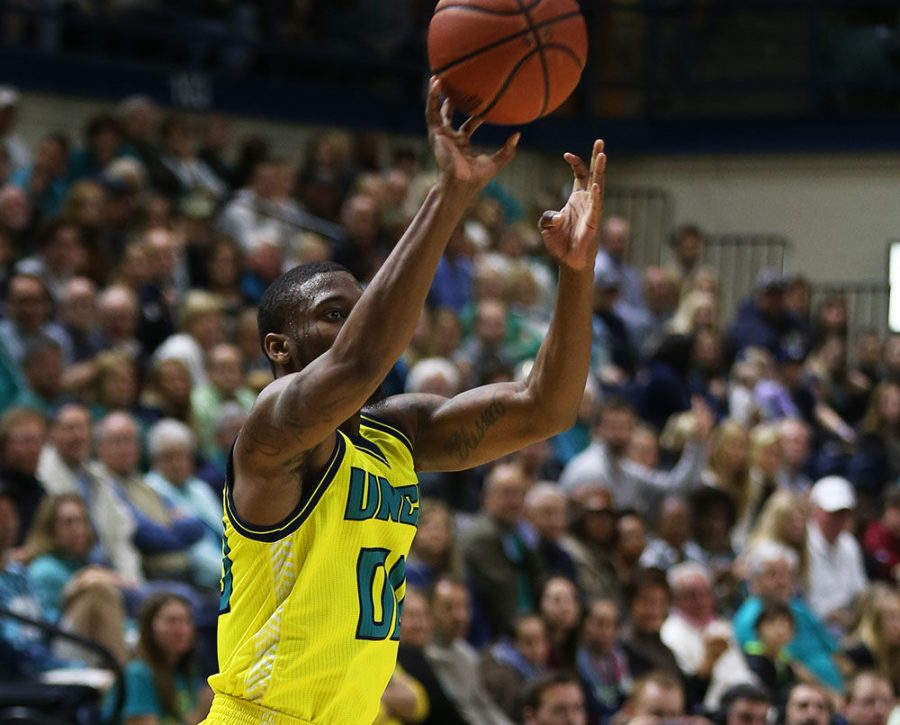 Noah Thomas, Sports Editor
February 4, 2017
After an extended stretch of sub-par offensive performances, most knew it would not be long before UNC Wilmington got back to its old ways of scoring the basketball.
It happened Saturday night. In front of a sold-out Homecoming crowd inside Trask Coliseum, the Seahawks ran Delaware out of the building, making a conference record 21 three-pointers in a 108-80 win.
The Seahawks (21-4, 10-2 CAA), sporting their bright yellow uniforms for the first time in 2017, played like a team that had already forgotten about the back-to-back losses it suffered in the last week. Led by Chris Flemmings's 22 points and six rebounds, they returned to what coach Kevin Keatts called "Playing UNCW basketball."
"I thought we shot the ball well because we passed it well," he said. UNCW shot nearly 70 percent from the floor on 36-of-52 shooting, including making 21 of its 32 attempted three-pointers.
"I thought our guys played with tremendous energy and passion," he said.
Freshman Jaylen Fornes got the starting nod for the first time in his career on Saturday with Keatts inserting him into the lineup in Ambrose Mosley's usual spot.
The Raleigh native showed that he had been earning his minutes in practice. Fornes scored a career-high 17 points on 5-of-6 shooting. All his made shots were from beyond the arc.
"It was business as usual," Fornes said. "It was no different than coming off the bench. I just wanted to come in confident and give that positive production."
Mosley came off the bench and lit up the scoreboard from beyond the arc for a career-high 18 points on 6-of-9 shooting (all threes).
Delaware (9-16, 2-10) didn't shoot poorly. The Blue Hens made 52 percent of their attempts.
They just couldn't hang with a red-hot UNCW team.
"We had a lot of conversations yesterday about playing our basketball, and we hadn't the last few games," Keatts said. "We forced (Delaware) to play fast and forced them into some quick shots. That's the way we play."
UNCW will stay at home this Thursday to conclude a three-game homestead against James Madison before hitting the road for the next three games. Tipoff is scheduled for 7 p.m.
Quote of the Night: "One of the things I've always told those guys (is) in football, when you lose a game, it takes seven days to get well. We play Thursday and Saturday, so if you lose a game Thursday, then you've got a short turnaround. We were a little bit sick and I thought we got well tonight." – Kevin Keatts