Pro-Wrestling roundup: Road to WrestleMania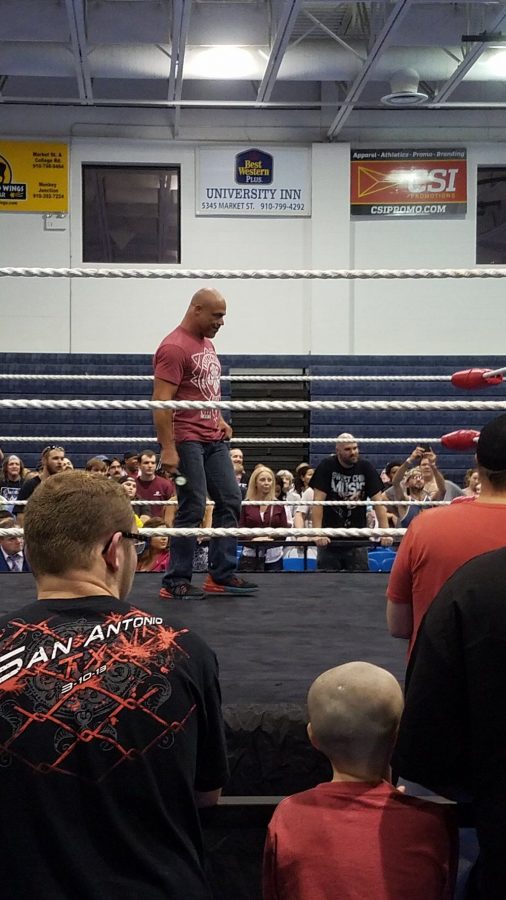 Noah Thomas, Sports Editor
February 9, 2017
With the conclusion of the Royal Rumble Pay-Per-View (PPV) on Jan. 29 and significant shakeups taking place within multiple storylines in WWE, professional wrestling fans everywhere know that WrestleMania season has finally arrived.
The annual Royal Rumble match was won by 12-time world champion Randy Orton. Orton, who won the match for the first time in 2009, will headline WrestleMania 33 on April 2 and face the WWE Champion in a championship match.
John Cena is the current holder of the WWE Championship. The leader of Cenation regained the title by ending A.J. Styles's 140-day reign as the "Face that Runs the Place" after hitting The Phenomenal One with four Attitude Adjustments — including one from the middle rope — and surviving being hit by the Styles Clash multiple times.
Cena's victory, which also occurred at the Rumble, tied Ric Flair's record for most world championship reigns at 16.
What's odd about Cena's victory, however, is that it is heavily rumored he will lose the title this Sunday, Feb. 12, at the Elimination Chamber PPV after holding the title for just two weeks. While using his historic accomplishment as nothing more than a transitionary reign may be confusing to many fans, it's likely that WWE Creative is setting up for a more refreshing angle heading toward WrestleMania than the oft-repeated Orton/Cena showdown.
The favorite to win inside the fabled structure known as the Elimination Chamber? None other than Bray Wyatt, patriarch of the Manson-like Wyatt Family.
Orton and Wyatt recently held the Smackdown tag team titles with original Wyatt Family brother Luke Harper for less than a month before losing them to American Alpha. Since then, Harper has been kicked out of the group due to his differences with Orton, setting up a match between the two at Elimination Chamber.
Wyatt's imminent victory over Cena and four other Smackdown superstars — Intercontinental Champion Dean Ambrose, The Miz, Baron Corbin, and A.J. Styles — could point toward the full implosion of the Wyatt Family. A potential match against Orton at WrestleMania 33 has the capacity to be one of the highlighted rivalries of the year.
This will be Orton's third time headlining pro wrestling's biggest event. He's been unsuccessful at capturing the WWE title in his two previous attempts — WrestleManias XXV and XXX — where he lost to Triple H in 2009 and in a triple-threat match to Batista and Daniel Bryan in 2014.
Speaking of Triple H: WWE's Chief Operating Officer, 14-time world champion and part-time superstar (his schedule is basically down to one or two matches per year) had been building up a feud with former apprentice Seth Rollins with the expectation that the rivalry would culminate in the WrestleMania match that should have taken place a year ago.
Last year's WrestleMania 32 match between the two was nixed months earlier due to Rollins tearing multiple ligaments in his knee. The Architect would not return to WWE television until the following May at the Extreme Rules PPV.
It appears the match may not happen this year, either. During a confrontation between Rollins and Triple H on the Jan. 30 edition of Monday Night RAW, Rollins was attacked by Samoa Joe on the latter's behalf.
Rollins tore his MCL during the altercation. He's expected to be on the shelf for around two months, which will put his return date right around WrestleMania time.
How WWE will compensate for Rollins's absence is currently unknown. This leaves matches for both Joe and Triple H wide open, but it will be some time before new plans take shape.
In other news, six-time WWE Champion and 1996 Olympic Gold Medal winner Kurt Angle will be inducted into the WWE Hall of Fame during WrestleMania weekend. The 48-year-old star, who last performed for WWE in 2006, visited Wilmington last October in an appearance for an independent promotion.
Angle will end his independent tour this spring by concluding his rivalry with Cody Rhodes in a steel cage match. There are rumors he could return to a WWE ring and perform after WrestleMania, but nothing has been confirmed.