Champions again: UNCW hoops tops Charleston, 78-69, to secure back-to-back CAA titles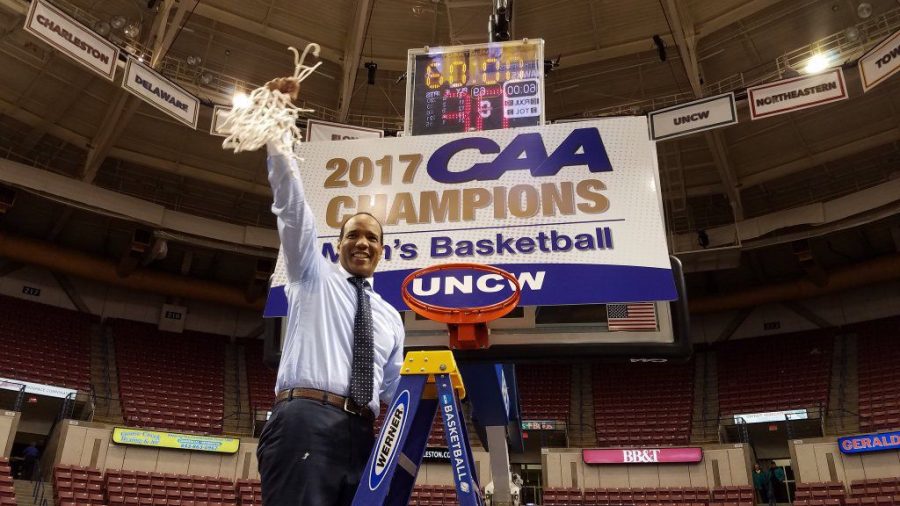 Noah Thomas, Sports Editor
March 6, 2017
The Tom Yeager trophy is coming back to Wilmington adorned in a sea of teal.
UNC Wilmington (29-5) defeated College of Charleston (25-9) Monday night, 78-69, to secure back-to-back CAA tournament championships and an automatic bid to the NCAA Tournament. It was the sixth championship game victory in program history for UNCW in 11 appearances and the first to be won consecutively since 2003 and 2004.
The Seahawks were led by C.J. Bryce, who collected 24 points and five rebounds in front of a crowd of more than 6,300 in North Charleston Coliseum. He was named the CAA tournament's most outstanding player — an honor that went to senior Chris Flemmings a year ago.
The loss suffered to Charleston in Trask Coliseum was still fresh on everyone's minds, but you wouldn't know it seeing how the Seahawks carried themselves afterward.
"I think we approached it as just another game for us," Bryce said. "There was a lot of emotion going into it for it being the championship game. I think we did a good job of staying focused and it paid off for us."
It took an all-around team effort for the Seahawks to gain the upper hand in the second half. After leading by just six at the half, their effort was boosted by Denzel Ingram. The senior guard was 0-for-5 in the opening 20 minutes, but hit a 3-pointer coming off a screen early in the second half to get himself going.
He finished with nine points, but his impact on the game felt much greater. CAA Defensive Player of the Year Devontae Cacok capped off an impressive weekend, scoring 15 points on 6-of-6 shooting and grabbing 14 rebounds for a big double-double.
Four UNCW starters have won two championships in two years as Seahawks. It's an accomplishment only a few others can claim.
"It feels great," Ingram said. "We won back-to-back — people don't normally do that. It's rare. I think we worked hard enough to get there."
The Cougars, who had given UNCW fits offensively in prior meetings, utilized its defensive scheme to the fullest. They were led by Joe Chealey's 21 points. Sophomore Jarrell Brantley added 20.
The Seahawks will have to wait until next Sunday to find out their next destination. They will play in the NCAA Tournament's round of 64 next Thursday or Friday.
Notable: Charleston cut UNCW's lead down to four with 12 minutes remaining. The Seahawks countered with an 8-0 run to give them a 12-point lead and the separation that would be too large for the Cougars to overcome.
Quote of the Night: "I have tremendous respect for the committee… I think we should get more respect because we are a great basketball league. We're going to be excited about having the opportunity to play whoever we play." — UNCW coach Kevin Keatts, on where he think UNCW will be seeded in the NCAA Tournament.