UNCW topples No. 20 UNC in home finale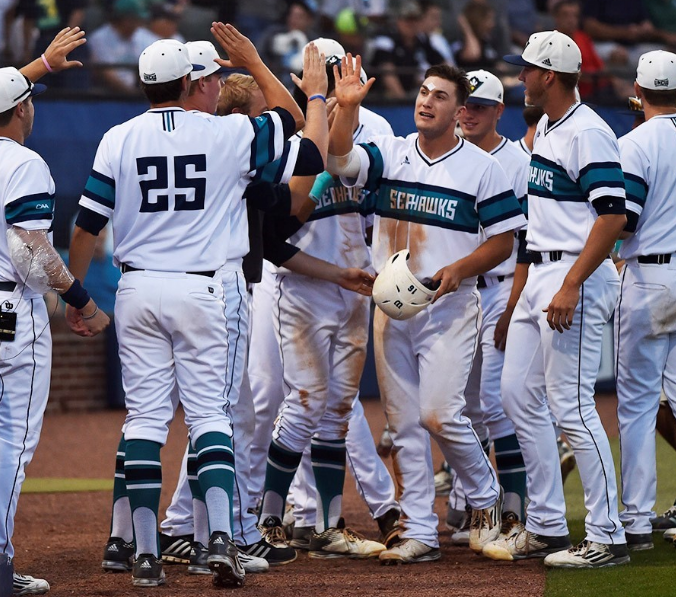 It did not take long to see how the Seahawks would respond to their first home loss in over two months. A total team effort realigned UNC Wilmington as it continued down the final stretch of regular season play.
The Seahawks concluded their last regular season home game with an emphatic statement, thumping no. 20 North Carolina, 6-2. They finish the year 29-3 at Brooks Field.
Composed and collected was the name of the game for the Seahawks. Offensive explosions set the tone for UNCW early. After pitching around a leadoff single, the Seahawks powered their way to a huge first inning, sending eight batters to the plate.
"I thought we were extremely focused when we started the ballgame. Offensively, Gavin and Nick put 2 swings on it to put us up 3-0," said head coach Mark Scalf.
The early lead allowed starting pitcher Whitman Barnes to attack hitters from the onset, ending his efficient day by averaging a strikeout an inning of four scoreless innings of work.
Barnes added to his textbook display of pitching by working out of tight jams, stranding six runners.
Pitching out of trouble became a common theme for Seahawk pitchers as they combined to strand fifteen total Tar Heels on Wednesday.
"The biggest thing was continuing to pound the strike zone. Guys continued to make pitches, stay aggressive, and give the defense a chance to make plays," said Scalf.
Each time the Tar Heels threatened to cut into the Seahawks' lead, smart baseball kept UNC from getting closer than three runs.
The Seahawks' ability to work the count, hit with runners on base, and slugging put the game out of reach for the Tar Heels.
"I thought we played very clean," said Scalf. "They're going to give you their best effort every time they go out."
UNCW will play the remainder of the season on the road as they travel Friday to Harrisonburg, Virginia for a weekend CAA series at James Madison.
Game Notes: Gavin Stupienski homered twice in the game … catcher Nick Feight added to his nation-leading RBI total with a solo home run of his own … Lefty pitcher Taylor Hyssong picked up the win out of the bullpen … UNCW limited the Tar Heels to a .142 batting average with runners in scoring position.