Women's soccer ties visiting Midshipmen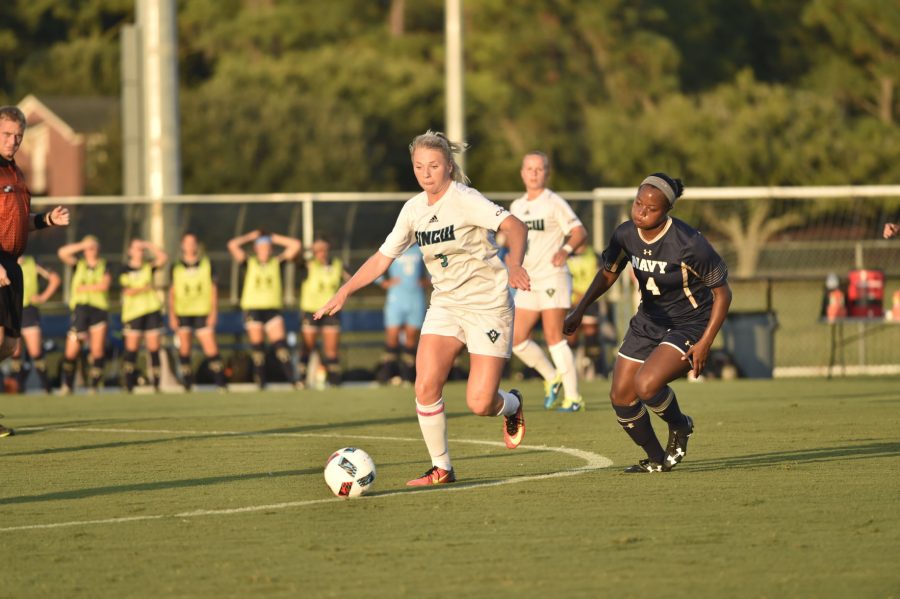 Brandon Sans, Staff Writer
August 27, 2016
It was a tale of two halves for UNC Wilmington as they women's soccer team welcomed the Navy Midshipmen to the Port City in a battle that proved it's never a good idea to look ahead after stretches of success.
UNCW was able to avoid their first loss of the young season in their home opener Friday night with a 2-2 tie.
"I think it was a great result," said UNCW head coach Paul Cairney. "Both teams had a great level of fitness. We're starting five freshmen. I'm pleased."
Freshmen have led the way for the Seahawks early in the season. Coming into tonight, six of the 10 goals scored in the previous two wins were by freshmen.
Baley Edwards continued that trend early when she scored the first goal of her collegiate career at the 13:00 mark.
Reigning CAA Rookie-of-the-Week, Nikki Cox, assisted Edwards on her goal.
"Nikki played a good ball and I was just able there to finish," said Edwards.
Not to be outdone by her underclassmen teammates, midfielder Moa Jarl added the second goal of the game for UNCW,  the first goal of her senior campaign.
The Midshipmen refused to go away, chipping the Seahawks lead in half at the 48:00 mark. About 10 minutes later, a penalty kick allowed the Midshipmen to draw even with the Seahawks at 2-2.
"It's almost unfortunate to have a penalty kick go against you, but that's the nature of soccer," said Cairney.
Regulation ended without a victor and forced the Seahawks to play their first overtime game of the year. They went 1-1-1 in overtime games last year.
Despite both overtime periods coming and going without a deciding goal, the Seahawks had many positives to take away from the match.
"I thought we were dominant early in the game and then they changed their system and had a great spell to end the first half," said Cainy. "It's definitely a great lesson."
The Seahawks now sit at 2-0-1.
UNCW returns to UNCW Soccer Stadium on Sunday where they will play UMBC. Game time is scheduled for 1 p.m.
UNCW will begin broadcasting the majority of women's soccer home games on the Seahawk Digital Network moving forward.