Men's soccer opens weekend with 3-0 win over Dayton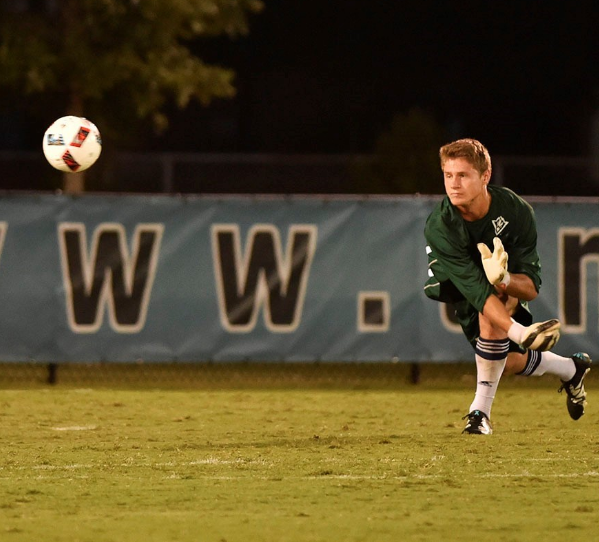 Hang on for a minute...we're trying to find some more stories you might like.
It did not take long for UNC Wilmington to gain the upper hand against Dayton in its home opener on Friday night. The Seahawks struck early and often in the second game of the UNCW Springhill Suites Classic, outmatching Dayton 3-0.
"They were a tremendous team to play against," said UNCW coach Aidan Heaney. "We got off to a great start and our players didn't let down."
From the moment of kickoff, UNCW attacked the Dayton defense with constant pressure from multiple Seahawks.
UNCW got off to a quick start thanks to an unassisted goal within the first minute by redshirt-junior Julio Moncada. The goal was Moncada's third on the year.
"I think people barely sat in their seats," said Heaney. "It was a wonderful start."
Sophomore David Lozano extended UNCW's lead in the 29th minute by booting in a penalty kick.
Towards the end of the first half, junior Stian Sandbekkhaug was able to get by the Dayton defense, but was unable to make good on a clear shot. UNCW entered the half with a 2-0 lead.
"It's one of those chances you finish nine times out of ten and the one time you don't, it looks bad," said Sandbekkhaug. "I'm grateful and blessed to have coaches and teammates throughout the game who encouraging me on."
"He showed a lot of character," said Heaney, referring to Sandbekkhaug.
The Seahawks paced the Flyers at the half in shots on goal by a 7-1 margin.
The Seahawks never were in danger of blowing their lead, but Dayton did threaten in the second half. Sandbekkhaug made good on his earlier gaffe for UNCW with an insurance goal in the 78th minute.
"That was nice, but I'm more happy we were able to come out with the win and move our focus to Sunday," said Sandbekkhaug.
Moncada and Sandbekkhaug now share the UNCW season lead with three goals apiece.
With the win, UNCW improved to 3-0-0.
UNCW will return to UNCW Soccer Stadium this Sunday when they complete the UNCW Springhill Suites Classic with a matchup against Winthrop. The Seahawks dropped the last meeting with the Eagles in 2014, 2-1.
Game time is scheduled for 2:30 p.m.