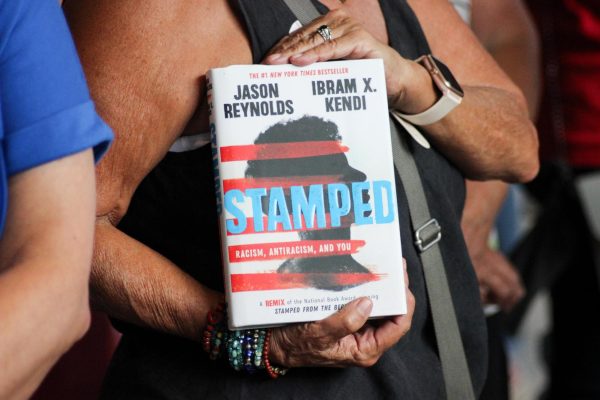 On Sept. 1, the New Hanover County Board of Education voted 4-3 to temporarily remove "Stamped: Racism, Antiracism, and You" from district classrooms. This decision bars any teacher from using the book for in-class instruction but still allows it to remain in school libraries. In the wake of the decision, the question remains whether it will set a precedent for future board decisions on book removals.
Katie Gates, parent of a former Eugene Ashley High School student successfully challenged the book, leading to its removal. Gates' daughter was asked to read "Stamped" in her former AP Language and Composition class. The school board's decision stood in contrast to the decision made in January by the Media and Technology Advisory Committee at Eugene Ashley High School. Gates' daughter was also given an alternative assignment from her instructor upon request.
The Media and Technology Advisory Committee released their decision on the review of "Stamped," stating:
"After reading the book, the complaint, and all supplementary materials, the committee participated in a discussion that followed the reconsideration process. The committee held an anonymous vote and voted to take no action."
New Hanover County School Board Members Pete Wildeboer (Chair), Pat Bradford (Vice Chair), Josie Barnhart and Melissa Mason voted for the book's removal, arguing that it was unsuitable for AP classrooms. Stephanie Kraybill, Hugh McManus and Stephanie Walker voted against the book's removal.
At the Sept. 1 hearing, Kraybill, the only Republican to vote against the motion, asked Gates "I'm wondering why you believe you have the right to dictate what the whole county can read – and not just what your child can read?"
Gates claimed that Eugene Ashley High School has some of the lowest AP scores in the district. She attempted to attribute that blame to Kelli Kidwell—her daughter's former AP instructor.
Superintendent Dr. Charles Foust provided clarification to this claim, by responding that over 60% of Kidwell's students have earned either a three or four on their AP Lit exam.
For scores of three and above, many U.S. universities provide credit and/or advanced placement, which allows you to skip the corresponding course once you're in college, according to AP College Board.
The Eugene Ashley High School Media and Technology Advisory Committee specified the precise AP Language and Composition Course requirements that "Stamped" would satisfy. Despite their specifications, the New Hanover Board of Education determined that Kidwell would need to teach a more "balanced"  book in her AP classroom.
One of Gates' primary objections to the book was that it could vilify white students, leading them to feel guilty for the history of racism in the United States. Kelli Kidwell responded to Pat Bradford by stating:
"What is the alternate point of view to racism? That there is no racism, and racism is not a problem in the United States? Or the side of the white supremacists that say we had a right to operate this way?"
Kidwell continued her defense by clarifying that some subjects have an objectively right and wrong position—such as the Holocaust.
"If I'm teaching the Holocaust, there are certain things that are just objectively wrong and bad. I'm not going to give a space when I'm teaching the Holocaust for Hitler to justify why it was okay to annihilate people."
What's Next?
At the "Call to the Audience" in September, New Hanover County Democratic Chair Jill Hopman added that the party will discuss the removal of the book with the American Civil Liberties Union (ACLU).  She also stated that if another group filed a lawsuit, the local Democratic group would back it, according to reporting by WHQR. The North Carolina ACLU did not respond to our requests for comment.
In an interview with The Seahawk, Stephanie Walker expressed her concern about what this decision could mean for future book challenges.
"I've said it before, it's a slippery slope," Walker said. "I think if we open the door—which we have—that sets a precedent and puts a system in place to challenge books in the future. I believe it is coming."
Kraybill also expressed concern about what the decision means for the future of the board.
"I do believe that there are more books coming because we have already heard from parents and fellow board members over the last two years about books that they do not like," Kraybill said. "I think our board would be very derelict if we had another hearing like this. A parent would have to complain and go through the same challenge process at the school and with the district."
New Hanover Schools has a total of approximately 423,159 library books in the district, with an average of 19,176 books for high schools according to an internal library inventory request provided by Kraybill. She said that reviewing all, or even some of those books would take "an incredible amount of time and resources to do our due diligence." Kraybill continued, "To me, that would be a waste of time."
Kraybill, who was censured by the Republican party in March 2022 for failing to "align with Republican values" also expressed concern over the rise of partisan politics within the district.
"Back when my kids entered school and throughout my time as a PTA volunteer and education advocate, only about ten percent of school districts were bipartisan," Kraybill said. "Because why should they be? Education should not be a partisan issue. Over the course of the years, it's gone in the complete opposite direction."
Following the removal of "Stamped," Gates filed a Freedom of Information Request, seeking further details about course materials in the district. Gates requested all high school English teachers' Fall 2023 semester syllabi in her request made on Sept. 19.
Gates declined The Seahawk's interview request but wrote in a response:
"It is my hope that parents will speak at board meetings. I also hope there will be a reconciling towards an education system focused more on academics and less on social priorities and towards teaching students how to think, not what to think."
Gates did not reveal whether the district had returned her information request, or how she plans to use it in the future.
The removal of "Stamped" is not the only controversial topic of recent board meetings. Policy 7205 was made public on the same day as the announcement of Gates' documents request. For employees and instructors, the policy establishes "Standards of Professional Conduct." Aiming to "ensure dignity and nondiscrimination," the new policy was presented by Josie Barnhart, Chair of the Policy Committee, and it targets certain notions that are regarded as improper.
Part "Z" of the policy prohibits any district employee from teaching or "compelling students, teachers, administrators, or other school employees to affirm or profess belief" of 13 different concepts.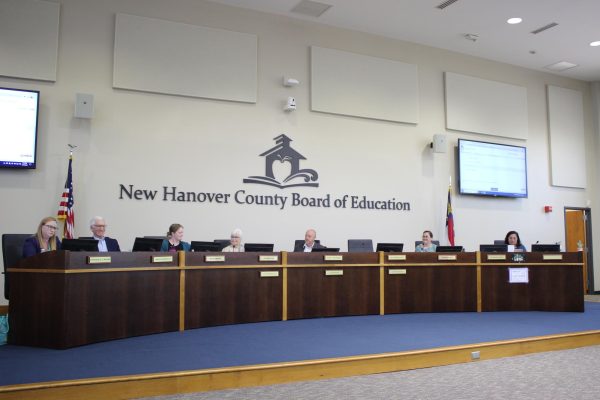 The 13 concepts that Barnhart wants to see banned from being discussed in schools, range from  topics like "All Americans were not created equally" or "The United States government should be violently overthrown," to concepts more controversial among some school board members like "The rule of law does not exist, but instead is a series of power relationships and struggles among racial or other groups;" or "The United States was created by members of a particular race or sex for the purpose of oppressing members of another race or sex."
Kraybill expressed concern over the inclusion of these guidelines, and that it could prevent dialogue about the role of racism and sexism in American history.
"In proposed Policy 7205, I have a problem with the whole letter 'Z,'" Kraybill said. "I don't think we need to codify all of that. I will continue to bring back to the board that the constitution was written by our founding fathers, and it said 'all men are created equal.' Women were not included. Black people were not included."
Policy 7205 is currently undergoing review within the Policy Committee, which includes School Board Members Barnhart, Bradford and Kraybill, before it is brought back before the board for a 'Second Reading' and possible vote. The next Policy Committee meeting is on Oct. 17, 2023. The policy could be brought before the board as early as their next Regular Board Meeting on Nov. 7, 2023.
The school board did not address future book reviews or professional conduct policy at their Oct. 3 meeting. Still, it is unclear whether Gates, or other parents will advocate for additional book removals from the school board following the unprecedented decision.