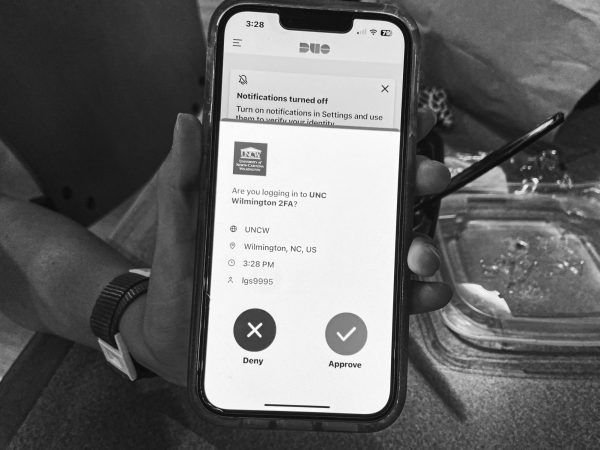 Technology is deeply integrated into our everyday lives, especially as a student at UNCW. Lost on campus? Enter your destination into maps. Forgot a pen and paper? Pull up your notes app. Classes canceled because of the weather? Hop on a Zoom call. Technology has become an answer to almost any problem we could have, but at what cost? Although our phones and laptops are extremely useful in countless situations, I believe our reliance has become too strong.
As of 2022, 93% of the American population use the internet, and 85% use it daily. A further 31% say they are online "almost constantly." These percentages continue to increase every day, but that does not always correlate with a negative change – if the use of technology is harnessed and regulated correctly, it can impact our lives in a positive way.
With a click of a button, we have access to anyone, anywhere, at any time. It became clear how vital this instant global connection was to our everyday lives during the COVID-19 outbreak. For college students, our everyday in-person education had been threatened. Distance communication through technology allowed schools to operate through video conferencing tools and online learning platforms. This new way of learning became a must during the pandemic, and remains incorporated into our education today; from October 2019 to 2020, annual Zoom meetings minutes increased from 97 billion to 3.3 trillion, and has remained there. As a college student, I use Zoom to meet with professors and academic advisors. All my assignments can be accessed on a single online platform, Canvas. Having access to these programs makes it easier to communicate with others regardless of circumstances.
Although technology has kept society afloat during the outbreak and has made certain aspects of education easier, the world has become concerningly reliant upon it. Even at UNCW students are indirectly required to have their own device to be successful. Almost everything school is published online, such as grades, assignments and announcements. Every student must have their own portable device and home internet connection to keep up with homework when off campus. Laptops and internet service are not cheap investments. College tuition is rising already, and purchasing a quality computer only adds to the piled-up expenses. Not only can needing an internet-connected laptop be a financial burden on students, This is especially true if you are one of the many students who must use university computers in places like Randall Library, to do schoolwork on campus. The key advantage is the safety provided by the application, which is a deeply important challenge we face, as technology has become inserted into every aspect of our lives. However, there must be a balance between safety and accessibility. Technology dependance burdens financially struggling or technology independent students.
In 2022-2023, the average student spent $700 on tech products for class, with the average first-year student spending $809 on technology. This did not include online textbooks or e-books, which have become popular since the pandemic; 85% of students said they have used digital course materials in the 2022-2023 school year. These resources may avoid lugging around a huge book, but do not fix a college student's financial struggle. Print versions are often the cheaper option, as they don't require the purchase of any access codes. Physical textbooks may also be rented or borrowed, unlike online materials. All of this has a cost, directly or through student loan debt. From a 2019 survey of 500,000 college students, it was found 17% of college students skipped purchasing an access code required for homework, and 63% skipped buying a textbook overall. From the same survey, 19% decided which classes to take based on the cost of materials, and 11% said they skipped meals due to the same cost.
Can we avoid an unethical reliance on technology when it continues to provide so many benefits in daily life? Everything from businesses, ways to learn, and tasks our everyday materials have undergone digital transformation. Technology has become critical for students to be successful in school. This is unreasonable. As a student looking forward to starting my own career, it seems I must accept this fate to succeed. Technology may forever be in my life, whether I want it to be or not.