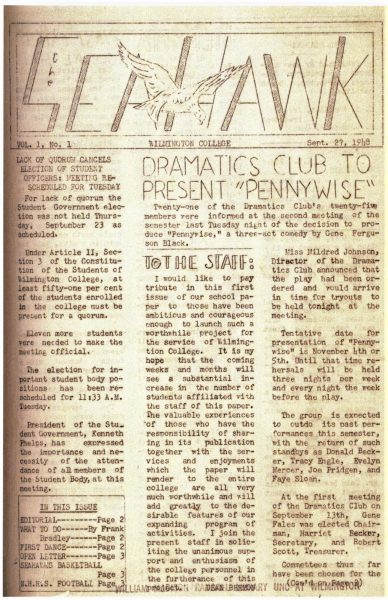 Dear campus community,
New year, new Seahawk. I would like to welcome and welcome back all of our new and returning students to UNCW, especially as The Seahawk celebrates its 75th anniversary in September. The Seahawk traces its origins back to 1948 and is the longest running student publication on campus, and one of the two longest running student organizations, alongside the SGA. We are entering this year with a full editorial board, new and exciting content and many plans to celebrate this momentous milestone with all of you.
Looking for an introduction to this year's UNCW athletics? Head over to our Sports section for our new section editor, Ryan Wiener's preview on everything from baseball to women's golf. Interested in learning more about student loan debt? Our new opinion editor, Jonah Seretti, has just the article for you. We're planning a trip to Atlanta for MediaFest 2023 and a collaboration with UNC Chapel Hill's The Daily Tarheel, as well as other UNC system student newspapers. I can't wait to get this semester started.
As I begin my final semester in the position of editor-in-chief, I am also excited to share our shift in leadership. This year, for the first time, our newspaper will have two editors-in-chief: I, and our former news editor, Amelia Lindsey. We are both honored and ready to get to work providing our student and campus community with the news, culture, sports and opinion information that you need to know.
Thank you to our staff for making The Seahawk possible and helping our ideas come to life. We couldn't have gotten here without all of your creativity, talent and hard work.
Finally, to our readers, thank you for your continued support. We invite you to participate and join us in celebrating our 75th year. Send us news leads, letters to the Editor at [email protected] and feedback. We hope you enjoy reading The Seahawk as much as we do making it.
Best,
Hannah Markov