Emily Henry never fails to exceed reader's expectations, and her recent release, "Happy Place," is no exception. I haven't had the pleasure of reading all of Henry's books, but "Happy Place" is the perfect follow-up to her three most recent romance titles, all of which I have read: "People We Meet On Vacation," "Beach Read," and "Book Lovers." "Happy Place," published on April 25, will find a new spot in all readers' hearts.
Harriet Kilpatrick is a wannabe surgeon struggling through her residency in San Francisco. She has trouble connecting with her unhappy parents and estranged sister but finds comfort in her two best friends, Cleo and Sabrina. Every year since college, the girls have traveled to Sabrina's house in Knott's Harbor, Maine for the ultimate vacation. For Harriet, it is the perfect respite, until she meets Wyn.
Wyn Connor is an ex-soccer player whose heart has always belonged to Montana, his home. The second Wyn and Harriet meet, it is clear their witty banter and stolen glances contain something deeper. The two fall head over heels in love, spending as much time as they can with each other. Wyn proposes, but his and Harriet's recent long-distance relationship and a series of incidents cause him to call the engagement off. In a series of flashbacks from Harriet's past, you learn how their relationship blossomed and how it abruptly came to an end. And it is guaranteed to jerk some tears.
Harriet and Wyn have the heated passion of Gus and January ("Beach Read"), the bookish intelligence of Charlie and Nora ("Book Lovers"), and the magnetism that they cannot seem to escape of Alex and Poppy ("People We Meet On Vacation"). And my favorite thing about Henry's books is that no matter which one you're reading, you just cannot seem to put it down. That, and the entertaining comebacks of the side characters.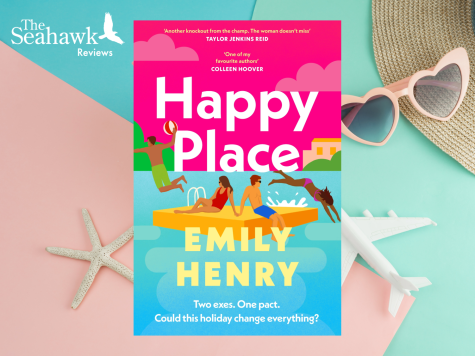 Speaking of side characters, "Happy Place" encompasses new types of friendships, ones that differ from those in Henry's three recent books. Cleo is an artistic farmer who greatly contrasts with Sabrina, the head-strong, stubborn and effortless leader of the group. Kimmy, Cleo's partner, emanates "life of the party" energy and never fails to come up with a fun activity for all. Parth, Sabrina's boyfriend, has the boyish innocence we all can't help but fall in love with.
Each of the characters provides a distinct perspective for Harriet. They are a lifeline for her to return to when she doubts herself and her life's decisions. Not only are they friends, but they are family.
"Happy Place" tackles many difficult ideas: loss, family issues, fear of the future and most of all, what it truly means to be happy. Harriet's quest throughout her story is to stop going to the imaginary place in her mind where her happy place resides and find it in the real world. I think, in a nutshell, that is why readers read. We read stories in hopes of connecting them to something material in our lives. And if we don't, then no big deal, we still read a great book.
On page 172, Harriet talks about the beauty of a moment, and how jealous she is of people like Cleo who have such a gift of documenting it:
"It's so beautiful it makes me wish I were a painter or a photographer, someone whose lifework was capturing the ungraspable."
Without stealing her own words from her, I think that is exactly what Emily Henry does. She transports readers into those heated moments, the aching hearts, the heavy breaths. She makes us laugh as the sun makes the blue waves shimmer. She makes us cry late at night with our friends in the lamplit streets. She does it all.
And I, for one, cannot wait to read her next masterpiece.