Wilmington's independent bookstores: Enduring in a competitive market
Picture this. The shelves are lined with spines of every color, size and font, an eclectic mix of new releases and classics. The soft chattering of book lovers browsing the shelves mingles with the espresso-scented air emanating a cozy ambiance. One alluring cover after the next beckons for attention before the bookseller wearing a welcoming smile comes into view.
In America's fast-paced society, many book readers overlook the benefits of shopping locally and personally engaging with their independent booksellers. Wilmington's bookshop owners thrive on friendly connections within their communities and gladly share their passion for literature and expertise with their customers through carefully curated book selections and attentive customer service. They manage their businesses with intentionality and pride because running a bookstore is more than just a paying job for them; it's a way to enrich the lives of others.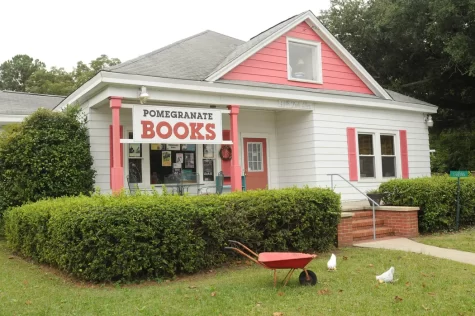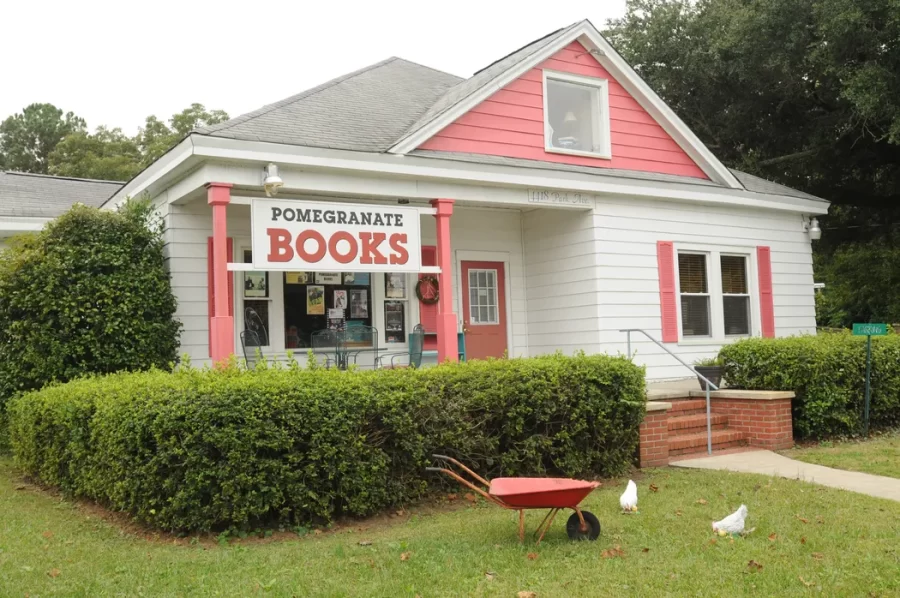 "Opening a bookstore has been a long-term dream, something I thought I would enjoy and also something that would influence the community," said Kathleen Jewell, owner and founder of Pomegranate Books located in Wilmington. "I think it's a way for people to connect, and that's important. I try to find things that people find life-enhancing and helpful."
Unlike most large booksellers, local bookshop owners seek to uplift their community and find genuine pleasure in helping their customers expand their knowledge. Unfortunately, however, these corporations have been dominating the bookselling industry, making it difficult for independent sellers to compete in an oversaturated market.
Big corporations, such as Barnes & Noble and Amazon, have become the more popular choice among readers looking for quick and convenient shopping. These companies can offer a wider selection of books, sometimes carrying titles not available in smaller shops. They can also finance major marketing campaigns to reach a broader audience.
"I usually get my books from a bookstore, such as Barnes & Noble," said Colby Simmons, a UNCW student and frequent customer. "I feel actually going to a bookstore, rather than buying a book online, is a much more pleasing experience. I would be open to local bookstores, but it seems as if you never hear about them due to the lack of marketing."
These disadvantages can make it difficult for small bookstores to initially attract customers. Still, the unique and tailored experience of shopping at a locally owned store often keeps customers coming back for all of their book-related needs. Wilmington is home to a variety of independent bookstores who specialize in content ranging from comics to used and collectible books.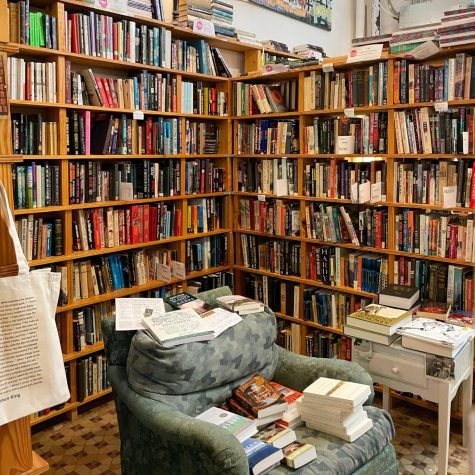 "Old Books on Front St. is a hidden gem at the center of downtown Wilmington," said Nathalie Kenyon, a UNCW student and past customer. "The store features both old and new books, a literary jukebox, a poem bubblegum machine, and a concert piano anyone is welcome to play. Inside you will step back in time and traipse down a seemingly endless hallway of books arranged floor to ceiling. Old Books offers a fairytale experience much different than traditional bookstores like Barnes & Noble because the owner and the building have a rich history that you can see and even smell."
Unfortunately, during the coronavirus outbreak, Wilmington saw the closure of many local businesses, including Ghost Hill Press and Two Sisters Bookery. Nationally, bookstore sales fell nearly 30% in 2020, according to the US Census Bureau. Bookstore owners had to adapt to the changing, uncertain times during the pandemic and implement new ways to reach their customers to stay afloat.
"We took a hit," said Jewell. "I'm a very stubborn person and stubborn to quit or else I wouldn't be here. We were allowed to stay open because we provide course books for some of the courses at UNCW. We were enthused and ended up being open a couple of days a week for curbside pickup. Then, I finally got my e-commerce up and running, so now we're on bookshop.org and get paid twice a year for the sales. It ships all over the country and it's a huge array of books, not just what's in our store. This is the first year [2023] we feel recovered and back on track."
Through bookshop.org, many customers have been able to support their local bookstores by ordering on the website and selecting the store they wish their proceeds to go to. Since 2020, bookshop.org has raised over $24 million for independent bookstores.
Local booksellers have also found success by differentiating themselves from their larger competitors and showing support for their local artistic community and authors. A customer will find much more than just books lining the shelves of Wilmington's independent stores, from greeting cards to soap, earrings, or even tote bags.
"I think it's awesome that local booksellers open their space to those of us who only do pop-up markets," said Erin Lewis, owner of Erin Unraveled and past vendor at Pomegranate Books pop-up market. "It gives us a space to connect with the community while also supporting local businesses ourselves! So many of my vendor friends have been able to feature their products in local shops. I think that shows just how much Wilmington business owners support each other."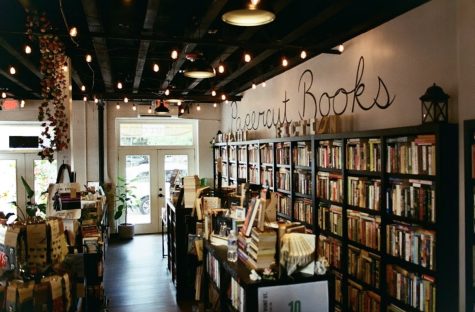 One of Wilmington's bookstores even serves as a tourist site, drawing in customers nationally. Papercut Books often hosts Wilmington visitors eager to see the filming location for Whale of a Tale bookstore in the Amazon Prime Video series "The Summer I Turned Pretty," based on the book series by Jenny Han. Papercut also offers a "free book" rack outside of their store for people who may not have access to materials to keep up their literacy.
Wilmington's booksellers have created an uplifting community that encourages people of all ages to read, whether it be for education or leisure. Nationwide, independent bookstores offer more than just a curated selection of their local books. They offer friendship, expertise and personalized customer service tailored to everyone who walks through their doors, while supporting local artists, authors and members of their community.
"We know our customers, we know their names, we watch their children grow up," said Jewell. "There's a lot of people in town I've gotten to know for long periods of time, helping them through times of challenge and happiness. I'm here for them."
Wilmington's support for these local staples can continue past Independent Bookstore Day. Visit bookshop.org to order a wide variety of titles online from local bookstores nationwide. Order through Pomegranate Books' or Papercut Books' page on the website to support Wilmington's independent booksellers. Also, follow along on social media to keep up with events, sales and new additions at Wilmington's stores.