How Lucky Joe Craft Coffee is getting student attention after recent setbacks
Bailey Arnold, Staff Writer
March 21, 2023
Tucked away in a quiet apartment complex not far from campus is a locally owned and operated coffee shop, Lucky Joe Craft Coffee. At first glance, the building looks like another townhouse amongst a sea of student housing, but plenty of delicious coffee, smoothies and pastries as well as work and study spaces hide behind a set of magenta doors.
Lucky Joe Craft Coffee was started in 2015 by used-to-be bartender Nick Trepasso, who wanted to create a place for community and bring craft coffee to the Wilmington area. Since then, the local coffee shop has created quite a name for itself thanks to their unique take on coffee and community.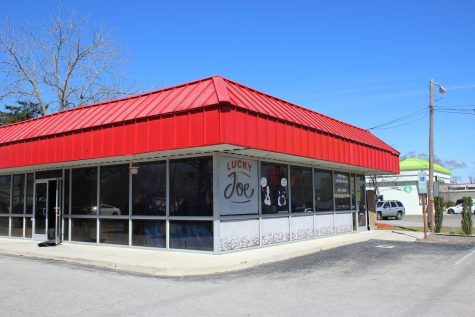 Since the opening of the business, the shop has been in three different locations. The original location in Odgen was lost due to Hurricane Florence in 2015. The second location on South College Rd. opened shortly afterward and was the primary spot for the coffee shop until this past January. Due to a raise in rent on the space, Trepasso was forced to close his main location and fully transfer to the shop's current location, 2805 Alicia Way.
The location is close to campus and many student complexes, but because of the move, the business has lost some of its regular traffic from being on such a busy street. However, Trepasso is positive that this location will bring a new demographic to cater to and create business with.
"It's a new group of people to share Lucky Joes with," Trepasso said.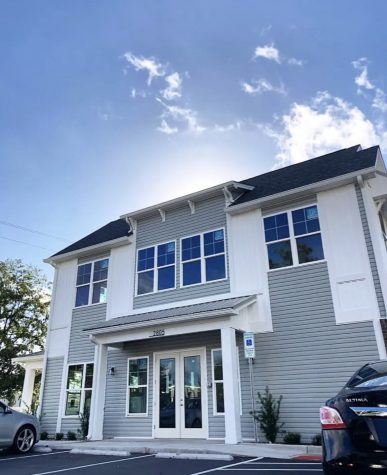 Trepasso prides himself in the sense of community that Lucky Joe has created in Wilmington. He talks of a group of regulars that would chat over coffee every day at the old location. After seven years, Trepasso and these regulars have created a friendship, and even if Trepasso doesn't see all of them at the café every day, Lucky Joe's coffee is still a big part of their lives. One of these regulars is soon to be married and plans to have her engagement party at Lucky Joe Craft Coffee.
Trepasso's goal continues to be creating a place for people to come together—in his words, "a barber shop feel." He wants customers to be able to live and experience life together, sparking conversation over a great cup of craft coffee.
The coffee shop owner emphasizes his appreciation for and connection with regulars that have been drinking coffee and sharing stories with him for years. Trepasso wants to be able to create this same environment for college students. However, he has had some setbacks getting engagement from the university students that are nearby. Trepasso believes that a major reason for this is locals' opinion on his nitro-packed coffee.
"A lot of people in the area feel like it's not real coffee, but really it's just made differently," he said.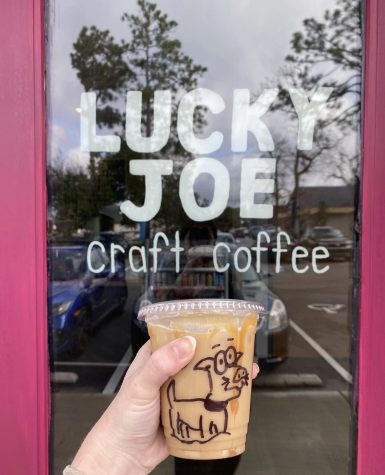 Joe Coffee is cold brewed rather than brewed like your average cup of coffee. Lucky Joe takes the time to keg their coffee with nitrogen to lock in freshness and guarantee a rich, smooth and sweet cup of joe in a variety of different strengths.
Trepasso got the idea from watching YouTube videos late one night. By combining his past with bartending and his newfound discovery of kegged coffee, the cup of Lucky Joe coffee was created.
Along with their unique take on the average cup of coffee, Lucky Joe Craft Coffee provides coffee on tap for many local bars and establishments in the Wilmington area. In fact, if you have ever indulged in a coffee shot from one of the bars in downtown Wilmington, you can almost be sure you're drinking Lucky Joe Craft Coffee.
Local establishments that carry Lucky Joe Craft Coffee on tap include Landfall Country Club, 7 Mile Post and Growlers Tavern.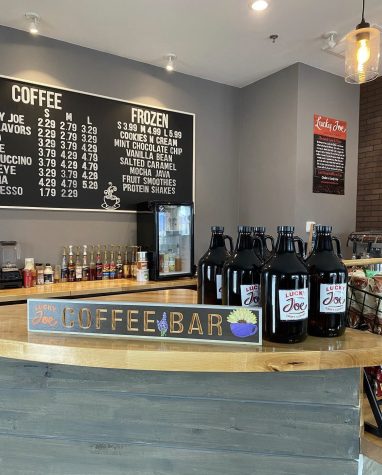 As the spring semester continues, the Lucky Joe Craft Coffee staff and employees have been brainstorming and crafting new flavors of teas, lattes and cold brews for new and old customers to try. Two of the five spring special drinks they have crafted this season are the Purple Rain Tea (butterfly pea tea, raspberry, almond, lemonade and almond milk) and the Coconut Cloud Cold Brew (blueberry cold brew and coconut cold foam).
The café just recently extended their hours Monday-Friday 8 a.m.-6 p.m. and 9 a.m.-3 p.m. on the weekends. The café has also recently started serving beer and wine in hopes of reaching young adults with a craving for coffee and community.
Along with this, Lucky Joe Craft Coffee will be hosting trivia nights every other Wednesday evening. The first Lucky Joe Trivia Night will be held Wednesday, March 22 at 7 p.m. Trepasso also plans to temporarily extend the café's hours for finals week to give university students the opportunity to use both the upstairs and downstairs spaces for studying with a cup of Lucky Joe Coffee for an energy boost (and maybe some luck too).
Despite some fearing Lucky Joe's disappearance, Trepasso makes it clear the shop is here to stay.