Seahawks clinch CAA championship spot
Washington, D.C. – It took overtime, but the UNCW mens basketball team overcame another 12 point deficit to defeat the CAA regular season champions, Hofstra, in the CAA semi-finals.
Every Seahawk that stepped on the floor contributed significantly tonight, and particularly, Donovan Newby and Maleeck Harden-Hayes, who scored 17 points, and Trazarien White scored 21, and fouled out in the overtime period and had to watch his teammates take over from there.
"It kind of hurt because I wanted to be in but I had full faith in my teammates, I knew we were going to pull it out," White said.
The Seahawks are no strangers to the CAA championship, as no CAA team has been there more than UNCW, but this team was also in the game last year when they had their NCAA tournament hopes taken away by Delaware.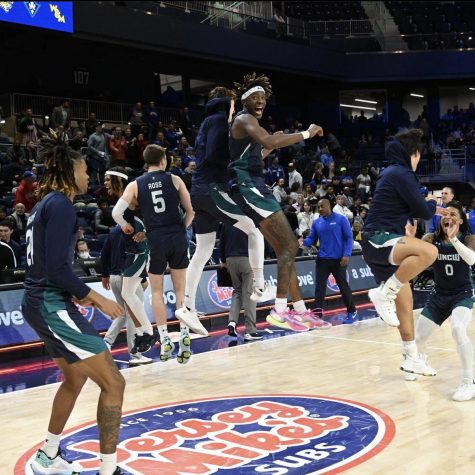 "Jobs not finished… We didn't come up here to win one or two games, we came up here to compete and win a championship… We were here last year, Trazarien and a few of his teammates were here and we know what it feels like to be on the wrong side of it so these guys will be ready to play," said Coach Takayo Siddle.
The Seahawks not only had to play in a big stage semifinal game on national television, but they had to beat a team that they had only played once this season, in which they were beaten by 24 points. Siddle confirmed that the team had the score of the beatdown taped up in the locker room as motivation, and seemingly, it worked. 
The Seahawks overcame a 12 point first-half deficit and only trailed by one at the half, and then started strong into the second-half, setting the tone for the rest of the game.
The big plays in overtime were a three-pointer from Donovan Newby to start it and then a spin move and bucket from Nick Farrar to put the lead to three with only 30 seconds left, which was too much for Hofstra to overcome.
The Seahawks won 79-73 and will take on the winner of #2 Charleston and #3 Towson tomorrow night at 7:00 on CBS Sports Network for the CAA Championship and a spot in the NCAA tournament.