The emergence of Wilmington's Cargo District
Leslie Smith, owner of the contracting business LS Smith, Inc., moved to Wilmington twenty years ago with a desire to try something new. He worked mainly on apartment complexes—a venture that lost creative satisfaction for Smith as time went on. In 2010, Smith first explored his interests in art and industrial architecture in a property at Rosemont Ave. nicknamed "MoCo," short for "Modern Cottage." This was his first experience building from shipping containers.
"It was boxy, industrial, had the metal siding, the whole nine," Smith said. "I thought, 'Hm, it'd be fun to work more with containers.'"
Over the next twelve years, Smith would realize this idea as he built up what is currently known as Wilmington's Cargo District.
The Cargo District is a new, rapidly expanding area of downtown Wilmington that is attracting attention for its specialty: small business products. It extends from Castle St. down the connecting S 15th St., S 16th St. and S 17th St., ending at Queen St. Its businesses have experienced rapid growth in the last two years, to the point where they attract attention not just from locals, but tourists, as well.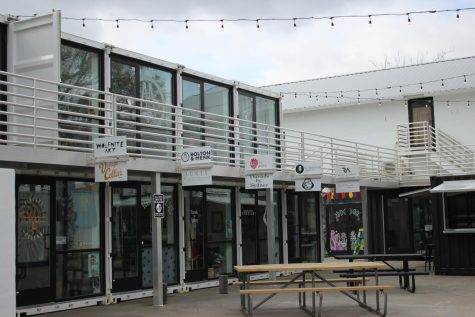 The Cargo District began with Smith acquiring a commercial space at 1607 Queen St. in 2010, which he turned into his residence and business office. At that time, most of the surrounding properties were either owned by the bank, repossessed or under fines from the city.
"Anytime you have abandoned, industrial buildings, you have opportunity," Smith said.
One of the first buildings that Smith purchased, Coworx at 1608 Queen St., already incorporated shipping containers into its structure. Smith continued the design, creating nine separate apartments out of shipping containers in 2018. To acquire them, Smith started asking around at Wilmington's ports. He purchased the first batch used from Chestnut Enterprises.
"I do not purchase new containers," Smith said. "You get a really good deal on brand-new containers, but I don't see the point of using those when I can have these. I like the idea of having some character."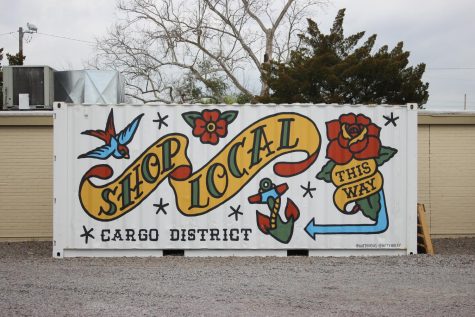 Building the Cargo District from recycled containers not only restored the area's old industrial feel but made the space eco-friendly. Over the years, Smith established the Outpost project, the courtyard and the apartments. Surrounding restaurants and bars moved to the area as its popularity grew.
The Cargo District hit a growth spurt during the pandemic as several of its current business owners had to find new employment. Sarah Mertz, owner of The Plant Outpost, moved into her first rental space in June 2020. She worked out of the space during the onset of the pandemic. On Sundays, Mertz delivered her customers' purchases around Wilmington. Her previous involvement in local markets and presence on social media allowed The Plant Outpost to grow in a time of stagnation.
During the official opening a few months later, Mertz recalled the line stretching out the door.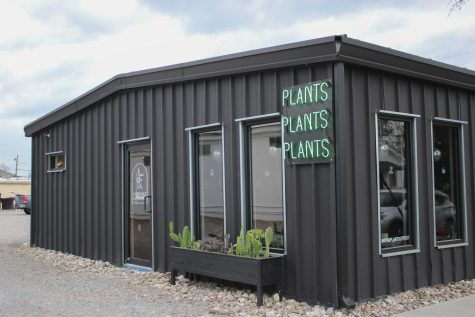 "I think being the first one [at the Cargo District] was very exciting and attractive to people, because there wasn't anything shoppable here," she said. "Then also there were days I was terrified because of the lack of nothing else over here. But I can't think of any truly negative aspects to it. On the days I noticed traffic was slow, or there were trends of things being slow, those were the times I was able to focus on doing pop-ups or allowing other vendors to do so outside the shop."
Mertz witnessed the growth of the Cargo District throughout her time there. She is currently in her third retail space, a larger building bordering CheeseSmith on S 17th St.
"I feel like it really caught wind for small business owners, or even startup entrepreneurs that can rent a small space and feel like they were supported in the community, instead of feeling super overwhelmed with trying to pay this crazy amount of rent for a huge space," Mertz said.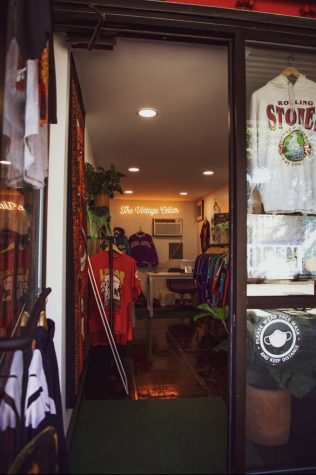 Drew Branham, owner of the curated clothing store Vintage Cellar, is also a resident in the Cargo District. He lives in a space only a few steps away from his store. With dual rent in the same space, Branham still feels the Cargo District is affordable.
"[Smith] is not a normal landlord," he said. "He's not going to raise your rent every year. There's a girl that's been here since the day he opened this place up, and it's still way lower than everyone else's, because it was the original price. He refuses to raise it. He wants to build a community to where people want to stay here."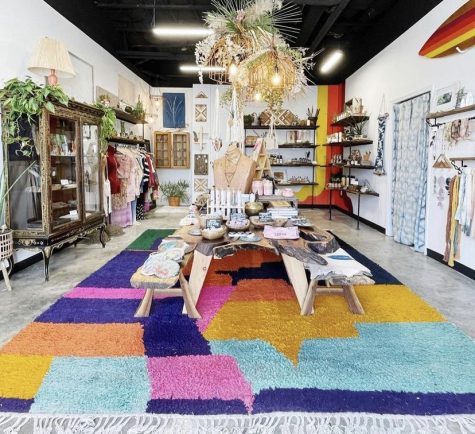 The Crafted Outpost is one of the largest attractions of the Cargo District. The store features local creations ranging from handmade jewelry to aesthetic products, as well as a selection of crystals. On the first Sunday of every month, The Crafted Outpost sponsors a market featuring dozens of local makers. Its owner, Rachael Kinsey, founded the store in May 2021.
"We've grown a lot in the past year," Kinsey said. "It's a great starter place for a lot of business owners. Many of us are female-owned businesses. It's definitely allowed us to not feel the financial pressure of opening up a space in an established part of town."
Through her business, Kinsey finds fresh ways to engage with the community. During the Thanksgiving season, she worked with the community center Sokoto House on a coat and blanket drive, as well as a fresh food initiative in the surrounding neighborhood. She regularly provides a space for the community to come together during crafting classes, markets and specialized events, like the Spring Equinox Playshop planned for March 20. Kinsey also partners with UNCW's chapter of the Plastic Ocean Project, hosting fundraisers like the widely attended Crafted Waves Art + Music Festival last year.
"For me, since [engagement] is such a big portion of what I do—[community is] everything, really," Kinsey said. "From the makers, to the local businesses, to the nonprofits, and being able to speak to so many things that are happening in the community."
Pam Sherman, owner of the bookstore Ghost Hill Press, announced its closing last fall after moving into a larger space in the Cargo District. Though she decided to move on from the business for personal reasons, Sherman maintains a positive view of the Cargo District.
"It's good to see an area that wasn't necessarily thriving be revitalized," Sherman said. "And seeing the community aspects of that area, as well, between the businesses and people who come in as customers. I feel like people are still discovering that area, as well, which is interesting because it has been around for a few years."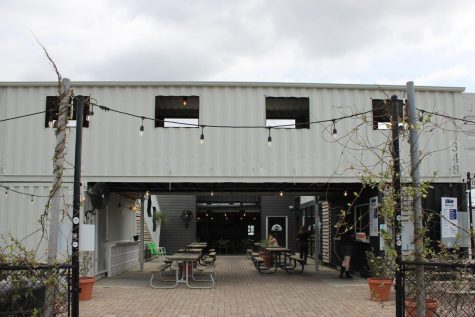 Gentrification is a pressing issue in Wilmington. The city's wealth disparity is an indicator in and of itself. Census data shows that median household income in New Hanover County is $62,362, and yet its poverty rate is 11.9%. In 2020, the median household income for Census Tract 117.03 (all areas along the beach) was $97,163 to $123,264, compared to $21,121 for Census Tract 111 (on the opposite side of town).
Gentrification is also a result of development that raises the cost of living in traditionally low-income areas. Wilmington's Northside is currently faced with the issue, as well as Castle St. after a rezoning incident in 2020. As the demand for homes in Wilmington increases, as well, many renters will be pushed out of the city.
When looking at the rapid growth of the Cargo District, it is natural to wonder if this issue is at play. However, Smith asserts that there is a difference between redevelopment and gentrification. By working with existing structures and keeping costs down, the Cargo District offers more benefits to the surrounding community than other commercially driven developments.
"I think [the impact] has all been positive," Smith said. "We've never really gotten any negative feedback from a neighbor next to us. Early on, I did with one individual. But after he saw what I was doing, he was like, 'You know what, man. You're doing a great thing.' Because it was helping his business, too.
"We haven't taken down anyone's house. We haven't kicked anyone out. We haven't moved anyone. If someone approaches us, we work with them. We brought people to the area by putting commerce back, and commerce doesn't have a color. The Cargo District was designed to be diverse—in its structures, architecture, art, business owners. If you want to do this, then yeah, we will help you."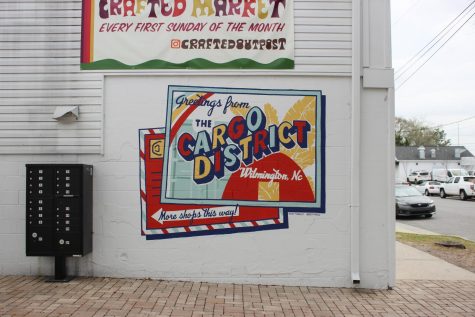 When asked about the impact the Cargo District has had on the larger Wilmington community, Mertz cited its local focus.
"It's not a massive corporation coming in here and taking over," she said. "I feel like it'd be different if they popped up a Whole Foods, something that is so out of character for the area. It's been nice because nobody's been displaced. Everything's already been here, or it's been built out of shipping containers."
The Cargo District is a haven for Wilmington's small businesses and continues to expand and evolve. Beat Street, the Outpost project's new restaurant, held their grand opening on March 2, while other projects, such as a bar and a pizza joint, are close to finishing construction. And current businesses continue to flourish, such as Bookworm Pottery, whose classes have grown into a major attraction.
With 40-plus businesses already registered with the Cargo District and more on the way, this area of Wilmington boasts an exciting, sustainable future.