Seahawks march back from down 12 to live another day
WASHINGTON D.C. – The Seahawks men's basketball team prevailed after being down 12 with less than 13 minutes to play to keep their season alive. In the win or go home single elimination CAA tournament, Nick Farrar and the rest of the Seahawks rallied to defeat the Drexel Dragons 73-68. 
"Staying together, when we went into the locker room after the first half we talked about it and told everybody just stay together, just stay locked in, and when we came out we went on a run," said Farrar.
Farrar led all scorers with 19 points and knocked down three of his five three-point attempts as well, all coming at timely moments for the Seahawks.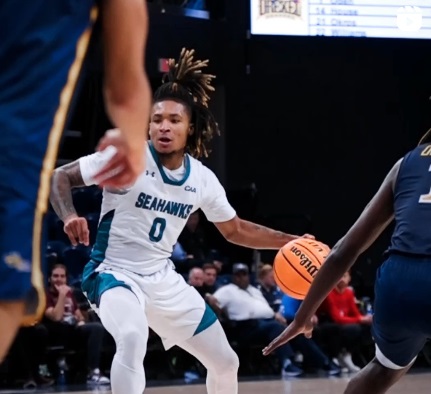 Not only did the Seahawks turn the tide, but they did it with speed, as three pointers from Jamarii Thomas and Nick Farrar, as well as a couple of scores from Trazarien White, turned a 57-45 Drexel lead to a 58-57 Seahawks lead within three minutes.
"They (Drexel) were deflating a little bit and we were able to get some great looks…guys stepped up and knocked them down, but that was a great team win for us," said Coach Takayo Siddle.
The win is great, but the Seahawks have a quick turnaround, as they have to take on the CAA's #1 seed, the Hofstra Pride, tomorrow at 6 p.m. for a trip to the CAA championship game. Hofstra is no team to look down at, as they annihilated William & Mary in their quarterfinal today with a score of 94 to 46. That score may even look closer than the game felt, as the Pride shot 61.9% from three point range.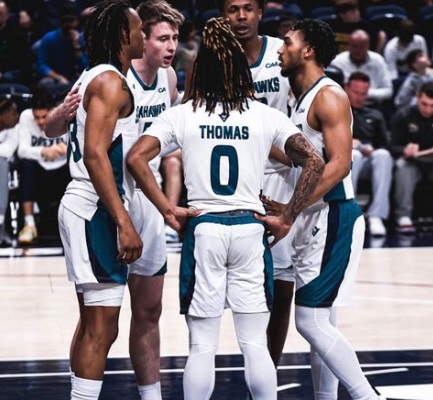 "The main thing right now is to hydrate and get rest," said Siddle. "We'll get together tonight and start talking about our game plan and move forward, but that's the main thing: getting rest and getting hydrated for tomorrow's game."
Siddle and his staff are not strangers to the play everyday tournament style. During the last two tournaments UNCW have played in, Baha Mar and the CBI, the Seahawks won three games in consecutive days to win the crown. The same goal lies ahead for this week.