WOMEN TO WATCH SERIES: Dana Stachowiak on education's power to challenge and unify
This October, WILMA Magazine announced the 35 finalists selected for the WILMA's 2022 Women to Watch Awards, which included four current UNCW faculty. Dana Stachowiak, Director of the Gender Studies & Research Center and Associate Professor of Curriculum Studies, was one of those four finalists and was nominated in the education category.
"It was an honor and a surprise," Stachowiak said of their nomination. "When I found out who nominated me, it was colleagues and friends. When I got a copy of their nomination, they wrote it in a way that challenged WILMA to acknowledge the work I've done in education to push gender justice, not just for cisgender women, but for trans women, for trans people and nonbinary people."
While Stachowiak identifies as a trans and nonbinary individual, their contributions to education and gender research—for cis women, trans women and other gender identities—deserve WILMA's recognition. Stachowiak's personal education and experience broadened their perspective step by step, informing their current trajectory in the educational world.
Many educators can point to a teacher of theirs that influenced the course of their career. For Stachowiak, this influence came from Dr. Lynn Brice during their undergraduate career at Western Michigan University. Brice was Stachowiak's professor for their multicultural education course.
"I think I was 19, and it was the first time someone really interrogated me, or pushed me to interrogate my whiteness and white privilege," Stachowiak said of Brice. "That profoundly changed my life. I had grown up in a small town north of Grand Rapids, Michigan, where 50 percent of my high school was white and the other 50 was Latino/Latina, but we had no other races present. So when I got to her class, she pushed me to think about that, and she became a mentor to me."
Moreover, in Stachowiak's office is an old-school desk gifted to them by Brice. Stachowiak recounted the history behind it—how they came into Brice's office, sat in this desk and complained about the class's content. Brice challenged Stachowiak's perspective on their privilege, and their relationship grew after that.
Stachowiak got their first taste of social justice-related research while working on their honors thesis, "Mas Preguntas: Caught in the Hyphen of the Mexican-American Identity." Brice handpicked Stachowiak as her student researcher and served as the project's first advisor when it eventually evolved into a thesis.
After receiving their bachelor's in Elementary Professional Education in 2003, Stachowiak moved from Michigan to Charlotte, North Carolina to pursue teaching. For a decade, they taught at both the elementary and middle school level before taking on a curriculum coordinator role for a large county in language arts.
In the late 2000s, few protections were offered to LGBTQ+ individuals in the workforce. During this time, Stachowiak worked for a school system in Monroe that fired them for being gay. However, Stachowiak did not let this discrimination hinder their career. They continued teaching in primary education until 2013, and went on to pursue their Ph.D. in Cultural Foundations of Education at the University of North Carolina at Greensboro.
"Most of my work as a teacher and curriculum coordinator involved social justice literacy curriculum—inclusivity, diversity, inclusion and equity," Stachowiak said.
As a researcher, Stachowiak's interests followed a similar path, beginning with their collaborative project with Brice. While pursuing their master's in Curriculum & Instruction at Winthrop University, they were involved in a similar project, compiling the oral histories of Latino/Latina individuals in the Charlotte area. For their Ph.D. dissertation, however, their focus shifted to the lived experiences of genderqueer people.
During their time at UNCG, Stachowiak served as an adjunct professor in the program, their first step into high education. Prior to UNCW, they worked as an Assistant Professor of Diversity & Multicultural Education at the University of Louisiana at Lafayette for two years.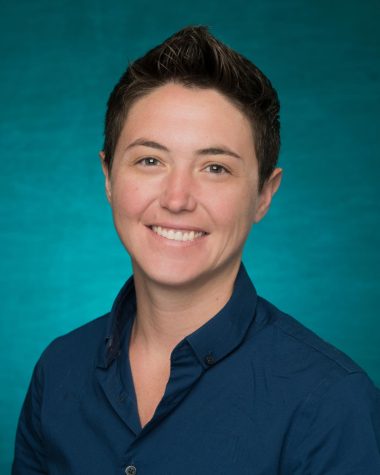 Both of these positions fuel the work Stachowiak does now at UNCW. They spearheaded the transformation of the Watson School of Education's Curriculum Studies program. With a group of their colleagues, Stachowiak helped change it into Curriculum Studies for Equity, giving the program a foundation in social justice. After acquiring tenure with UNCW, Stachowiak applied for the director position of what was initially titled the Women's Studies & Resource Center but is now the Gender Studies & Research Center.
"I love being able to envision things, create them, and then see them through," Stachowiak said. "And [the Gender Studies & Research Center] is a place where I have been able to take what I know as a scholar, what I believe as an individual, as a human, and work with great people that have those same beliefs and put them into fruition. And in ways that are impactful—not just to put a new star on my CV, but to really impact what student needs are and the change with faculty and staff needs, as well."
This year, Stachowiak organized the first honors society for trans and nonbinary students in the country, called Transcend Collective. With 20 regular members, a constitution and established bylaws, the honors society is rising steadily off the ground. Stachowiak hopes to eventually take it national with interested colleagues across the U.S, as well.
"The thing that I'm particularly proud of is not only that we've created an academic space for trans and nonbinary students, but also the way the honors society is set up is to push back against the norms of honors societies," Stachowiak said. "This is a theme in my life. Well, under the realization that trans and nonbinary students often don't have access to academic support—and that we lose a lot of them because they drop out, or we lose their lives—instead of being built on academic success, Transcend is being built on wellbeing and health."
Stachowiak is a natural creator of community. When asked about what impact they would like to leave on UNCW, they cited their desire to see positive growth in the spaces that they may leave behind.
"I hope that, wherever I have been, people will be able to see in every space I was a part of, I cultivated community," Stachowiak said. "And not just, 'Oh, everyone's welcome.' A truly critical community where people care for one another—where there's collective care, there's collective healing. And, that it's a space where we also feel we can challenge each other."
For Stachowiak, the WILMA nomination became more of a private honor. At the time of nomination, Stachowiak had not come out to their parents as a trans individual, but their mother recognized and affirmed their identity after reading their bio in the magazine. This private impact assured Stachowiak that their involvement in the WILMA Women to Watch Awards was worth the struggles.
"There's not often a place to celebrate trans and nonbinary people," Stachowiak said. "For 23 years of my life, I identified as cisgender female. I still carry that identity with me, even though it's not my felt sense of identity anymore and not one I portray, but it's still a part of my story. So [I appreciated] the fact that my colleagues were not only nominating me for my work [but] were also recognizing the importance of the work that I do and who I am as a trans and nonbinary person, that I belong."
Thank you for following the WILMA Women to Watch faculty series. Check out the full list of WILMA's 2022 Women to Watch Awards nominees here and the winners here.