The best study spots in Wilmington for conquering finals
As finals week approaches, one thing sits at the forefront of student's minds – how to do well on exams. Finding a comfortable and motivating place to study outside the four walls of your room can be challenging. To take some of the stress out of the season, we've rounded up seven study spots in the Wilmington area that are perfect for preparing to ace those finals.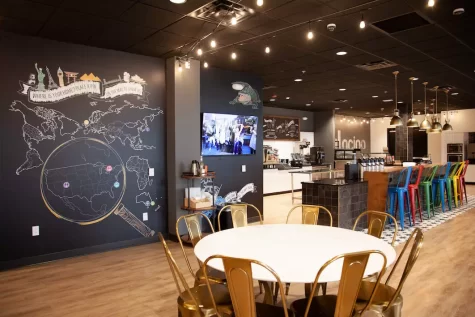 Bitty and Beau's Coffee
Location: 4949 New Centre Dr., Wilmington, NC 28403
Hours of Operation: 9 a.m.-5 p.m., Monday – Sunday
Bitty and Beau's Coffee is located approximately ten minutes from campus and serves a variety of caffeinated beverages, including hot lattes, frozen hot chocolate and wild berry smoothies. With plenty of natural lighting, Bitty and Beau's is a cozy and relaxing spot to study solo or with a partner.
Bitty and Beau's is dedicated to empowering people with disabilities by employing those with intellectual and development disabilities and advocating for inclusion. Originating in Wilmington, Bitty and Beau's has since opened twenty-three shops nationwide and continues to spread this positive message throughout the country.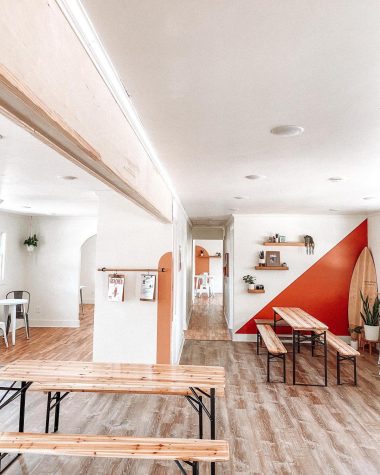 Social Coffee & Supply Co.
Location: 5317 Wrightsville Ave, Wilmington, NC 28403 and 4718 Oriole Dr., Wilmington, NC 28403
Hours of Operation: 7 a.m.-5 p.m. (Mon-Fri); 8 a.m.-5 p.m. (Sat); closed Sunday
Located within walking distance of campus, Social provides a trendy and comfortable atmosphere to anyone in need of a happy place to study. With a goal of uniting people to give back to the community, Social is the favorite of many students and provides unique specialty drinks like The Sunshine and Rosemary Vanilla Latte. The original location on Wrightsville Ave provides a cozy and intimate atmosphere, while the newer address on Oriole Dr occupies a repurposed house to create an open environment.
Flying Machine Brewing Company
Location: 3130 Randall Parkway, Wilmington, NC 28403
Hours of Operation: 4-9 p.m. (Mon); 4-10 p.m. (Tues-Thurs); 12-11 p.m. (Fri); 11 a.m.-11 p.m. (Sat); 11 a.m.-9 p.m. (Sun)
For students twenty-one and older, Flying Machine Brewing Company carries a variety of beverages and food options suited to late-night study sessions. Located in midtown, students can study in the same place where their drinks are made. Flying Machine Brewing Company also provides several different indoor and outdoor seating options.
Pomegranate Books
Location: 4418 Park Ave, Wilmington, NC 28403
Hours of Operation: 9 a.m.-4 p.m. (Tues-Sat)
Looking to study and support indie bookstores? Look no further than Pomegranate Books, one of Wilmington's leading independent bookstores. Students can work on essays and study flashcards while browsing the aisles for their next favorite read.
Inside Pomegranate Books is Zola Coffee and Tea, including free-Wi-Fi and local kombucha and pastries. This location is the perfect study spot for students looking for a good book and a tasty treat to accompany their study session.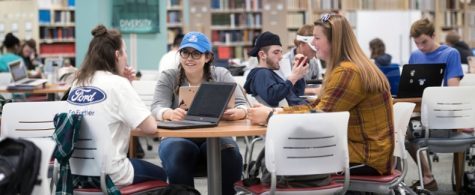 Randall Library
Location: 601 S College Rd, Wilmington, NC 28403
Hours of Operation: Open 24/7
At the end of Chancellor's Walk lies Randall Library, a center of resources for students looking to study in groups or one-on-one. The first floor features a multitude of computers and desks open to all. Interested in a quiet study space? The second floor of Randall is the designated quiet zone. Students can also go online to book a personal study space or group study pod in order to ensure a more productive work environment. With resources like I-Print and Port City Java nearby, Randall Library is an iconic study spot not to be overlooked.
"Recharge @ Randall" is being held Dec. 11 through 13. Join fellow Seahawks in preparing for finals by participating in crafts, games and free food. Refreshments will be provided beginning at 7 pm, while an assortment of other activities will be hosted throughout the day. Additionally, don't miss the host of special events being held on Dec. 12! Animal lovers will enjoy "Petting Pups" from 2 p.m. to 4 p.m., while meditation-minded students will enjoy yoga at 1 p.m. and 1:30 p.m.
The Virtual Zen Zone is also open to any student in need of a mental break and includes resources such as positive affirmations, simple crafts and breathing exercises, and can be found on the Randall Library Website.
Vigilant Hope Roasting
Location: 1626 Lake Branch Dr., Wilmington, NC 28401 and 250 Vision Dr., Wilmington, NC 28403
Hours of Operation:
Lake Branch Dr. – 6:30 a.m.-4 p.m. (Tues-Fri); 8 a.m-4 p.m. (Sat)
Vision Dr. – 6:30 a.m.-2 p.m. (Tues-Fri); 8:30 a.m.-11:30 a.m. (Sun)
Join students from UNCW and CCCU in preparing for finals at Vigilant Hope Roasting. Vigilant Hope was originally founded over ten years ago and opened its first location, The Roastery, in 2021. As one of the newer coffee shops in the Wilmington area, Vigilant Hope supports community outreach and engagement. In addition to running a local coffee shop, they also provide showers and meals to those in need. Vigilant Hope Roasting works to uplift and empower its employees and supporters through hard work.
The Hub
Location: 601 S College Rd, Wilmington, NC 28403
Hours of Operation: 7 a.m-12 a.m. (Mon-Fri)
Found at the edge of the quad between Pelican and Graham-Hewlett, The Hub serves as a great on-campus location to review classwork and prep for exams. Study with coffee from Starbucks or a milkshake from Mooyah while surrounded by the cozy holiday atmosphere. Students can sit downstairs, immersed in the hustle and bustle of finals week. Also available is second-floor seating with an outdoor balcony overlooking the quad for a more private study space, complete with group seating and natural light.