The Seahawk's favorite films and shorts from 28th Cucalorus Film Festival
Bradley Earnshaw and Eriq Dixon
December 2, 2022
The 28th Cucalorus Film Festival came to a close on Nov. 20. After limited attendance following the pandemic's onset, Cucalorus saw a high level of involvement this year, with 136 films and shorts shown across four days. Enjoy as The Seahawk staff writers Bradley Earnshaw and Eriq Dixon share the details of their favorites from the festival.
Bradley's Picks:
"Unidentified"
Jude Chun's first feature-length film, "Unidentified," is one to marvel at and remember. The story covers UFOs that have been above major cities throughout the world since the 1990s. In modern day, sightings of extraordinary behavior in these major cities spark worries of aliens impersonating humans. Along with the traditional narrative scenes, "Unidentified" utilizes handheld shots and documentary-style sequences to give a very natural and realistic feel to the film.
Throughout the film, viewers meet and get to know characters that have had experiences with what they thought was an alien, and it's through these anthology-esque sequences that we get our exposition and important story elements. The ways in which Chun drops subtle hints through his direction about who's real and who's not shows just how much he can bring to the field of filmmaking.
What's surprising about the film is just how funny it is. Chun's ability to play with awkwardness and silence to set up a good laugh for the audience is remarkable. In the more serious and dramatic moments, the emotions are just as strong. While there's no obvious protagonist or antagonist, viewers will find themselves rooting for characters before even knowing their place in the story.
Due to its structure, the story of "Unidentified" is not as easily understood. The film relies on the ability of the viewer to craft the story in their own way which gives everyone a unique experience while watching. Without a doubt, "Unidentified" will make you think. The film tackles themes like identity and belonging in a way that asks a crucial question: what is one's purpose? At the end of the day, "Unidentified" may seem to have no real plot or structure, but when viewers look at what each chapter of the film means in the context of the greater story, the purpose of the film is understood.
At the time of writing, "Unidentified" is not available for streaming.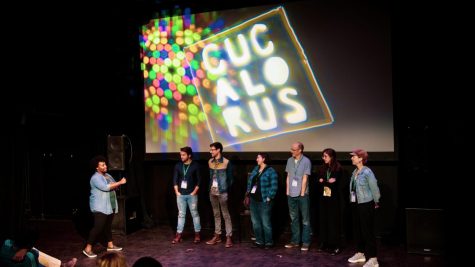 "Very Nice Day"
Patrice Laliberté's film "Very Nice Day" (Très Belle Journée) showcases a story of isolation and desperation. The film follows Jéremié, a man who rides his bike all over town picking up and dropping off backpacks for his boss, Dom. In a series of unfortunate events, his bike is stolen, he's late for a delivery and a very unhappy Dom responds by sending men to chase down Jéremié.
As the story unfolds, we see Jéremié's life as a loner that's very willing to take instruction blindly. He notices a famous Instagram influencer move into the apartment next door and hyper fixates on that lifestyle for a portion of the film. With little dialogue, Laliberté is able to show off their skills in the field of visual storytelling. It's through sequences like a long bike ride or a silent elevator ride with a stranger where we use our eyes to tell us everything we need to know.
Despite the brilliant nonverbal storytelling, there are many unnecessary filler shots and sequences. This film shines in its intimate and well-paced sequences where the story is developed, but between these scenes there's little to nothing happening to advance the story. This really should have been about a twenty-five to thirty-minute short film instead of a feature length film. Sadly, this pacing issue is far too prevalent to dismiss.
This film shows extreme levels of promise for Laliberté's future, however, as the direction is the strongest part of the film. If indie films are someone's bread and butter, keep an eye out for Patrice in the future.
At the time of writing, "Very Nice Day" is not available for streaming.
"Blow Up My Life"
Ryan Dickie and Abigail Horton crafted a fun and engaging thriller story in "Blow Up My Life." Protagonist Jason Trumbull is a well-regarded software engineer for a big pharmaceutical company, but is fired when a video is leaked showing himself ingesting what's implied to be cocaine. During his new job as a computer repairman, he is called into his former boss' office whose computer contains documents revealing that the board knows of an issue causing increased addiction to drugs. As Trumbull tries to bring the truth to light, it becomes clear he could lose more than just his job and reputation.
Right off the bat, it became clear that Jason Selvig's acting as Jason Trumble was not going to be a strong suit of the film. In the first act, Selvig is doing far too much to try and appear cocky yet likable. While acting choices like a permanent cheesy smile and saying every line as if it's a punch line can reveal the personality of a character, these choices don't match the thriller tone of the film.
As the film progresses, we see Trumbull become more serious and the over-the-top acting slowly fades off. However, this can easily be ignored because the film seems to not take itself too seriously. Dickie and Horton play into the fact that this story is for entertainment purposes. The film has themes of confidence and doing the right thing, but the most engaging aspects deal with the unfolding plot. "Blow Up My Life" isn't a groundbreaking piece of the thriller genre, but with some fun story elements, great cinematography and an engaging set of action scenes, no viewer will be disappointed.
At the time of writing, "Blow Up My Life" is not available for streaming.
Eriq's Picks:
"Every Day in Kaimuki"
Where to watch: Available to rent on streaming services
One of the free screenings on UNCW's campus was for Alika Tengan's feature-length film "Every Day in Kaimuki." The film follows a young man (Naz Kawakami) as he prepares to leave his comfortable life in the small Hawaiian town where he grew up to move to New York City.
"Every Day in Kaimuki" takes a more non-conventional approach to its storytelling, with many scenes having a raw nature like those seen in the mumblecore genre, which is characterized by its use of nonprofessional actors and naturalistic performances. Much of the film is just the main character going through his day-to-day life while he also prepares to leave it all behind. Scenes that may seem unnecessary make the story and characters feel much more grounded and relatable.
This leisurely way of storytelling aids the film in conveying its themes because it elicits the audience to think about their own lives and what may be holding them back from doing the things that they aspire to do. "Every Day in Kaimuki" is a beautiful film that breaks down the walls of conformity and makes for an emotional and entertaining viewing experience.
"Mother(s) & Son"
Where to watch: Available on Vimeo
One of the films screened during one of the last blocks of Cucalorus is one by Kiersten Houser of the film department at UNCW called "Mother(s) & Son." The short is a documentary that follows the Housers' journey of having their son Boone. It's moving because it shows many facets of not only bringing new life into the world, but what comes after, and how the uncertainty can be as beautiful as it is scary.
Kiersten and her wife Megan's dynamic is displayed so well with some exciting and touching moments. The strikingly raw footage and incredibly heartfelt narration by Kiersten herself add an emotional weight that is present throughout the whole film. "Mother(s) & Son" is a deeply personal story that manages to feel so universal at the same time, and that is what makes this beautiful film worth watching.