Seahawks win Baha Mar Championship
NASSAU, Bahamas – Weddings, dinners, conventions; all things that are typically seen at the Baha Mar Convention Center in the tropical city of Nassau. But if you walked into the ballroom on Sunday night, you would've seen a group of young men from the University of North Carolina Wilmington celebrating a championship win.
The UNCW men's basketball team took down North Texas in a defensive battle to capture the 2022 Baha Mar Nassau Championship on Sunday night with a final score of 55-51.
Throughout the holiday tournament, the Seahawks took down Missouri State, Vermont and the North Texas Mean Green in three consecutive days to be crowned champions.
Sophomore Trazarien White was named tournament MVP. Although he did look MVP caliber, averaging 11 points, 6 rebounds and over 2 steals a game, many would agree that it was the team's toughness and togetherness that turned most valuable.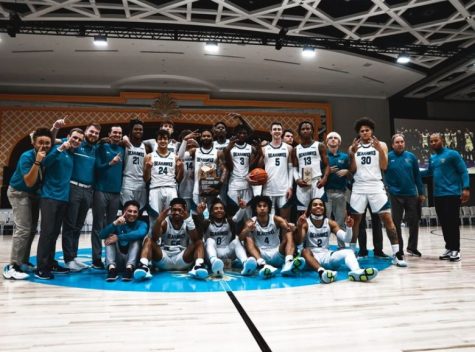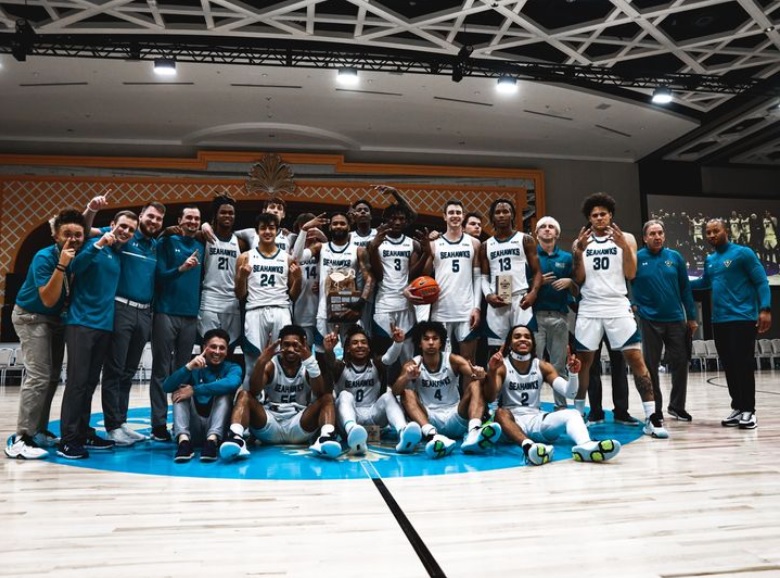 "How did we pull it off? We've got some tough dudes in that locker room," said last year's CAA coach of the year Takayo Siddle.
"We got better every single day here, our guys; I'm so proud of them… when you play in tournaments like this, three games, three days, it's three different game plans, and they have to be mature enough to handle that, and they came out, and they executed each night."
The Seahawks thrived in the second half over the weekend, outscoring their three opponents by a combined 24 points. Several players powered the second-half surges, but transfer guard Donovan Newby played his absolute best in the second halves of those games, shooting 7 of 8 from three.
Coming into the tournament, the Seahawks were 2-3 on the year, with their only two wins being against Division II opponents. The lack of Division I wins clearly gave some people doubts about Coach Siddle's crew, as UNCW were underdogs in all three games over the weekend. Now 5-3 and coming off three wins against tough opponents, the Seahawks may gain some respect around the country.
UNCW has a short two days off before their next game. The other coastal school here in the Carolinas, the Coastal Carolina Chanticleers, will host the Seahawks on Wednesday Nov. 30 at 7 pm. The game will be streamed on FloHoops.com and can be heard on 95.9 The Breeze.