Seahawks go toe-to-toe with the nation's best
CHAPEL HILL, North Carolina – On Monday Nov. 7, the UNCW Seahawks men's basketball team suffered a loss in the first game of the season at the hands of the nation's top-ranked North Carolina Tar Heels. 
"Our guys fought really hard. We just didn't make enough shots, but we've got a lot to be proud of and a lot to work on and get better in," UNCW Head Coach Takayo Siddle said.
Trazarien White led the Seahawks in scoring with 19 points, but the Seahawks were outmatched by a bigger, quicker and more experienced Tar Heel team. 
Throughout most of the first half, the Seahawks played sound defense and created some problems for the Tar Heels. However, offensively, the Seahawks struggled and were letting the shot clock get low before even attempting to go to the hoop, which limited the Tar Heels' possessions but meant fewer quality possessions for the Seahawks.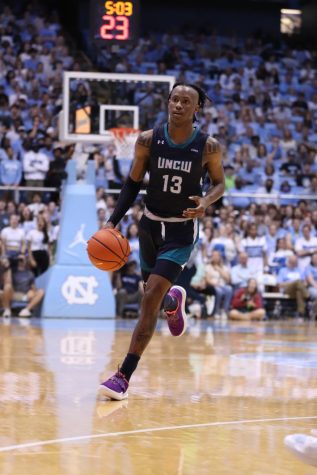 "In the first half offensively, they just took us out of our rhythm," UNC Head Coach Hubert Davis said. "We didn't do a good job of handling how physical they were."
UNCW had the game tied up at 17 before Carolina went on a 15-4 run to take a 32-21 lead into the locker room.
Foul trouble really hurt the Seahawks, as both Kelly and Harden-Hayes fouled out in the second half, and three other players finished with at least three fouls. Armando Bacot was the cause of many of those fouls, as the Seahawks were battling and being aggressive with the ACC Preseason Player of the Year.
During the second half, Trazarien White was a spark plug for the Seahawks, getting to the rim and the foul line repeatedly and a timely three-pointer that had temporarily given the Seahawks life.
UNCW cut the lead back to single digits with just over 10 minutes left to play before Carolina would slowly put the Seahawks away 69-56.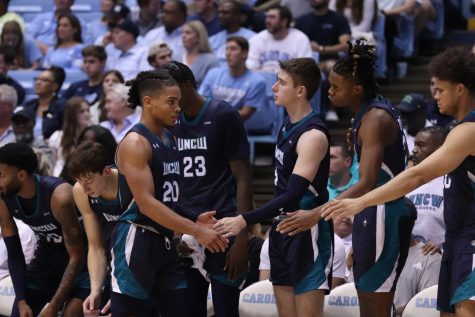 Something for the Seahawks to be proud of is their hustle, physicality and rebounding efforts, as they outrebounded not only the number one team in the country, but a North Carolina program that is consistently among the top in the country in rebounding specifically. 
"I feel like they were very physical. They're not scared," said UNC's Leaky Black.
The Seahawks certainly did not play scared and gave the Tar Heels many more problems than they would have liked for the season's first game.
The Seahawks return to Trask Coliseum on Friday night as they take on the Allen Yellow Jackets. The game is at 7 p.m. and will be streamed on FloSports and 95.9 TheBreeze. For more on the team, follow @UNCWmenshoops or visit UNCWsports.com.