WOMEN TO WATCH SERIES: Mayra Robles on Centro Hispano and balance
This October, WILMA Magazine announced the 35 finalists selected for the WILMA's 2022 Women to Watch Awards, which included four current UNCW faculty. Mayra Robles, Program Coordinator of UNCW's Centro Hispano, was one of those four finalists in the rising star category, which is only open to women under the age of thirty.
"I was surprised, because it's been a minute since I've been considered for an award," said Robles of her nomination. "I felt I hadn't been as engaged in the community lately, but if someone nominated me, then they saw that I was having an impact. That's when I realized, 'Okay, Mayra, you're doing something as a young professional.' It made me feel I was on the right track."
Robles is a Wilmington local. She grew up in Rocky Point, NC, about 20-30 minutes outside of the city. Being in a rural county, her high school offered comparatively limited resources, but Robles' involvement with Centro Hispano's Mi Casa program in her last two years of high school provided influential mentorship that boosted her academic and personal confidence.
"Through [Mi Casa], I learned a lot about financial stability, financial support, the available resources, scholarships, and application processes," said Robles. "That was all important because being a first-gen student myself, it was necessary for my parents to understand this terminology. If I wasn't in that program, too, I feel I would have sold myself short regarding my potential.
"Because of the support I received from them, I decided to come [to UNCW]. I knew I would have a space where I felt welcome, and that I would be able to succeed because of my years in the Mi Casa program."
Centro Hispano played a large role in Robles' undergraduate career at UNCW. Her years-long involvement offered a sense of belonging—providing her with a best friend and a mentor, both of whom she keeps up with today—and knowledge that influenced her career path. She initially came to UNCW with the desire to become a teacher but later reoriented her focus to higher education, due to her experiences with Mi Casa and as a student worker.
"It was a home away from home, even though home was 30 minutes away," she said of the organization. "Without my four years as a student worker at Centro Hispano, I feel I would've been molded differently. Not in a bad way, but I'm grateful to have gotten the skills and experience that help me in the job I'm doing now. Being a student worker also helped open so many doors—so many connections within the department, the university, within Wilmington, and in different states, too."
Robles graduated with a bachelor's degree in Spanish and a license in English as a Second Language in May 2018. She is now pursuing her master's in public administration at UNCW. As of December 2024, Robles will be a two-time alum.
Along with being a part-time student, she is also a full-time employee. Robles began as Program Coordinator of Centro Hispano in August of 2022 after three years of part-time work with the organization. She is, in her own words, a programmer for the students of Centro, putting together events around health awareness, professional development and social engagement. She also supervises Centro Hispano's student workers.
"We all work with students, but I would say I'm the direct contact," Robles explained. "I started in August getting to know the students. They didn't really know me, so I had to make sure I created that relationship with my students where they can trust me."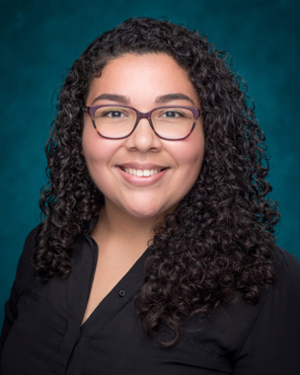 Robles acts not only as a programmer, but a mentor as well, through her intentionality with the students. In seeing the effects of mentorship in her own life, she hopes to foster the same relationship with her students.
"The legacy I want to have is to have students approach me anytime—even if they graduate, and even if I leave—and to talk to me," she said. "I want them to know I'm here regardless of our circumstances. I had an old student that visited me from admissions, and I had a smile on my face. That's when you know you have an impact on students without knowing. And whether it's because of me or somebody else, I want Centro Hispano to be a place where students can recharge and just be. Having that one mentor you can rely on is important."
Robles' master's program requires her to have an internship as well. She is involved with the College Advising Corps, a nonprofit that supports low-income, first-generation and underrepresented students in their pursuit of higher education. With multiple roles to navigate, including her roles as a family member and a friend, Robles dedicates time to practicing balance. When asked about the achievement she is most proud of, she cited the importance of establishing boundaries in her life.
"In reality, you can't do one hundred percent in every single aspect of your life," she said. "I know I'm a student, I have an internship, I'm a full-time worker, I have a family, and I want to continue my relationships. It's all about setting boundaries. 'Hey, I'm interested, but can we try a different day?' No one will set those for you. So, for me, creating boundaries where I'm able to feel mentally well, that lets me know I am seeing life in a positive and realistic way."
This is a lesson she stresses to her students now, as it has been a long journey for her. During her junior year of college, her mentor gave her the advice of removing two organizations from her list of commitments. When she did, she found her academics improved. Similarly, after graduation, she spent her time as an employee with UNCW's admissions office learning to recharge. This is an important personal skill that assists her professionally and personally.
For Robles, WILMA's Women to Watch Awards are not only an opportunity for herself, but for others that she may encounter in the community. The nomination gave her an opportunity to look into the work around her that is going unnoticed.
"It made me realize it is my time to look out for other people that are doing jobs they're not getting recognized for," she said. "Whether it be my students, or the people I work with and collaborate with, I told myself moving forward I want to keep more of an open eye to make sure good work doesn't get passed by. If my work is now being brought to light, I want to bring to light what my students and colleagues are doing as well."
Being a rising star takes not only passion and dedication to the tasks one is engaged in, but also a sense of personal identity and balance. Robles' internal engagement in Centro Hispano allows her to look outward and work passionately with UNCW's community.
Check out the full list of WILMA's 2022 Women to Watch Awards nominees here and the winners here. The Seahawk's Culture section will continue to release individual profiles on the remaining faculty finalists. Be sure to return every Monday for their stories and applaud UNCW's female faculty with The Seahawk.