Bring on the nation's best: Seahawks start basketball season with a bang
WILMINGTON, North Carolina – The Seahawks blew through their exhibition match opponents on Wednesday night with an 88-47 routing of Emory & Henry to set up one of the most anticipated games in UNCW basketball history. 
On Monday, UNCW men's basketball will travel to Chapel Hill to take on the top-ranked team in the country, the North Carolina Tar Heels.
Wednesday was the public's first look at the team other than Midnite Madness, and there is certainly a lot to like about this year's squad. "Coach don't want a lot of ISO ball, that was last year…" says sophomore guard Jamarii Thomas, who finished with an impressive 15 points, 6 rebounds, and 4 assists in 21 minutes. "He wants like three or four guys in double figures at right around the 10-11 mark and two or three around the 8-9 mark so everybody's eating." 
Thomas played a lot of those minutes with starting guard Shykeim Phillips on the bench in foul trouble. Luckily, Coach Takayo Siddle says, "I think our depth could be one of our strong suits," and it would certainly appear that way after Thomas and the rest of the bench put up 50 points, outsourcing the entirety of the opposing team.
Three-point-shooting looks like it has also been a focal point in this team's offensive scheme this season. Multiple players were taking multiple threes, with Jamahri Harvey netting three out of seven and Eric Van Der Heijden scoring two out of six. Some guys who were not necessarily three-point-shooters last season, like Trazarien White and Shykeim Phillips, looked much more willing and comfortable shooting beyond the arc, a skill that must have been focused on in the offseason.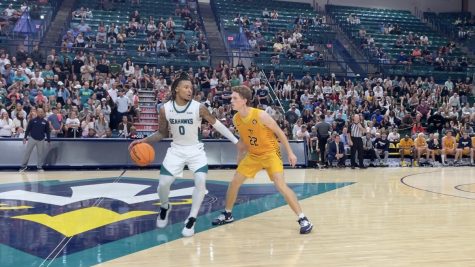 Moving from a Division-II school to the best in the nation, there has to be some questions on if those lights are too bright for the Seahawks and what some of the players think about going up against the Tar Heels.
Jamarii Thomas doesn't see much of a difference between the two squads. "They put [their] jersey on the same way I put mine on," Thomas says. He also mentioned that he's played against some of the Heels players before, so it's nothing new to him.
Back in 2019, the Heels came to Wilmington and beat a C.B. McGrath-coached Seahawk team behind their freshman point guard Cole Anthony, now a starter for the Orlando Magic. The only Seahawk to play in that game that is still suiting up for the teal is none other than Shykeim Phillips.
Other than having a little more nerves freshman year, Phillips says his mindset of going up against a perennial college basketball juggernaut hasn't changed. "I mean that's a big school, Carolina, but I honestly look at them as a regular team, I don't care about the rankings or anything, I'm just ready to play. It's another team on the schedule for me."
The Seahawks take on the North Carolina Tar Heels in Chapel Hill Monday Nov. 7, at 9 P.M. on the ACC Network. To follow along with updates from the team, follow @uncwmenshoops or visit UNCWsports.com.