When the lights come on: A moment that was worth the wait for UNCW's Aidan Smith
WILMINGTON, North Carolina – In the bottom of the eighth inning during UNCW's Friday night matchup with VMI, Aidan Smith did something he had never done before in his three-year career.
He played in a college baseball game.
To many, Smith's pinch-hit plate appearance in the ladder stages of an eventual 18-1 blowout win over the Keydets seemed rather insignificant. However, for Smith, it was the opportunity he had patiently been waiting for.
"I never really doubted myself since beginning my career here in 2020. I more so just worried if I would ever get a chance," Smith said. "I know I don't have the best tools as everyone else, but I have always enjoyed being a good teammate and helping the team any way I can."
Shortly after hearing his name echo throughout the home dugout, Smith stepped under the bright lights of Brooks Field, and for a brief moment, all eyes were on him.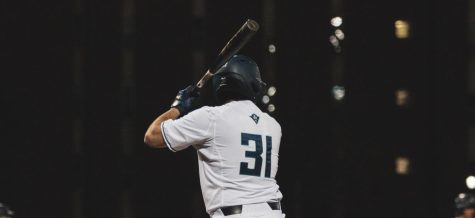 "My mind was racing as I walked up to the plate," Smith said. "I was just trying to slow everything down and realize where I was."
Where Smith found himself was the place he had worked so tirelessly to reach. After suffering a back injury that sidelined him in 2021 and experiencing a throw-away 2020 season that ended as quickly as it began, Smith remained persistent through it all.
"My dad and older brother helped me the most through this process," Smith said. "They've always given me the motivation to keep pushing forward and kept telling me, 'Your time will come'."
That time would coincidently arrive on a day known for its pranks and mischievous tricks. It was April Fools' Day when Smith got his first shot at a lifelong dream—only what came next was no joke.
On a 1-1 pitch, Smith hit a line drive single into right field that scored two runs, extending both the lead and a surreal moment that slowly became more believable as the night progressed.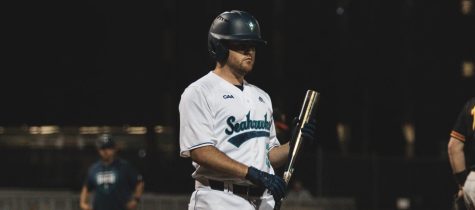 After reaching first base, Smith glanced over at the Seahawk dugout where he had rooted for his teammates so many times before, only to find they were the ones doing the cheering this time around.
"After I got that hit, it was a big sigh of relief knowing all the hard work had finally paid off," Smith said. "Looking into the dugout and seeing all my great teammates really made that moment more special for me. I don't think I'll ever be able to experience that feeling again."
One teammate in particular went out of his way to ensure Smith remembered this night for the rest of his life. For an entire half-inning, Taber Mongero kept track of the baseball Smith hit and made sure it found the possession of its rightful owner.
"I had no clue Taber did that until he came up to me after the game," Smith said. "He is such a great teammate and one I will remember for a long time. He's definitely a guy you want by your side."
Now, with a moment he will tell his kids and grandkids about one day, and the baseball to back it all up, Smith will happily continue helping his team—any way he can.