Timely changes boost UNCW to series win over Kennesaw State
WILMINGTON, North Carolina – UNCW Head Coach Randy Hood has never been one to shy away from making lineup changes, especially to start a season.
Sure, like most other coaches, Hood believes in the if-it-ain't-broke-don't-fix-it-mentality, but when something needs to be retooled, he is the first one to pick up a wrench and get to work.
Following UNCW's loss to Kennesaw State on Friday night – the team's sixth defeat in its last eight games – it was apparent that 'change' stood at the forefront of the third-year head coach's mind.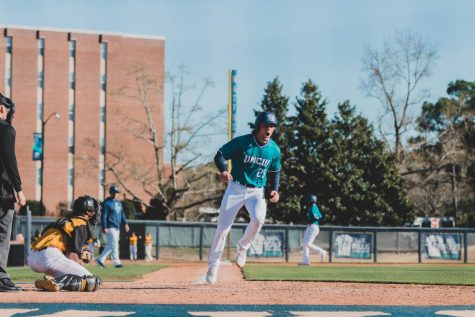 "You can't win games when you constantly play like (this)," Hood said during Friday's postgame interview. "We'll continue to keep competing and we'll get this thing figured out real soon."
Those last two words may have only been a small part of a five-minute interview, but when they came out of Hood's mouth, "real soon" seemed to carry a lot of weight.
For decades, UNCW Baseball has been known as a program that wins – on the field and off. It may not always look pretty, but the Seahawks rarely let defeat prevent them from reaching their goal, which oftentimes involves a conference championship.
So, when the team stood only one game above .500 heading into the middle part of a three-game series with the Owls, everybody, especially Hood, knew something needed to change.
That something would begin with Taber Mongero – literally. The sure-handed shortstop moved into the leadoff spot of the order for Sunday's doubleheader after batting at the bottom for the last few games.
This decision proved to be a good one as Mongero led all hitters in the series finale with three base knocks and drove in a run to help cap off a series win. The redshirt junior also drew an intentional walk that would lead to a bases-loaded walk-off in the final game.
Mongero's experience, consistency and .298 batting average are three things that will likely keep him at the top of the Hawks' order moving forward.
Although this decision had an immediate impact on the team's performance, Hood's list of changes did not stop there.
Fourth-year man Chris Thorburn made his first start of the season on Sunday, and boy was it a good one. The Raleigh native went 2-for-4 at the plate and scored the game-winning run in UNCW's 4-3 win in the final game.
"It's exciting to be in those (close game) situations," Thorburn said during Sunday's interview. "It's always fun late in games when you're behind or coming back and trying to win a ballgame and I think our team always gets excited in those moments."
Although these two changes likely had the most noticeable impact in UNCW's play over this past weekend, consistent pitching from Matt Gaither, RJ Sales, Cole Benton, Bryce Cota and CAA Rookie of the Week Cyle Phelan cannot be overlooked.
Hood's decisions to shake things up may have lit the fuse that started a new winning streak, but it was and will be the players who will determine how long that fuse burns.
"I got a lot of friends who have a lot of opinions," Hood said Sunday. "I had a lot of guys throw some things at us and I don't mind listening if they know baseball. We sat and talked with some coaches in our coaching staff and just felt like, 'let's switch it up a little bit'."
Hood and the Hawks (9-6) will need this momentum to continue as they head into a four-game series against an Ohio State (6-8) team that just posted 14 runs in its last game against Marshall.
The first game of that series is scheduled for Thursday, Mar. 17 at 6 p.m.
Streaming options are available on FloSports.com. Follow @UNCWBaseball on Twitter for highlights and live score updates.