Expect offensive fireworks this weekend at Brooks Field
WILMINGTON, North Carolina – It did not take long for UNCW's bats to come alive to start the 2022 campaign.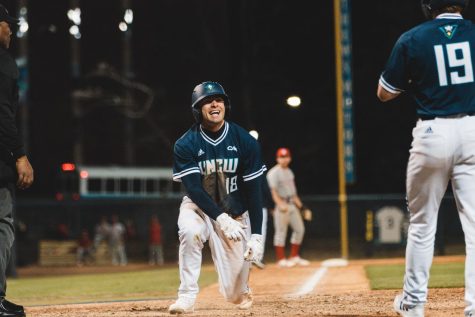 The Seahawks averaged eight runs per contest this past weekend which jumpstarted the team's first 4-0 start since 2016 – a season that ended with 40+ wins and an NCAA tournament appearance.
Brooks Baldwin's Opening Day walk-off homerun headlined a weekend filled with offensive highlights. The redshirt junior finished the stretch with a .350 batting average, five RBIs, five stolen bases and would later be named CAA Co-Player of the Week.
"We never give up," Baldwin said during Friday's press conference. "It doesn't matter if we are down by one or 10, we never give up until the last out is made."
UNCW will need more offensive firepower from Baldwin and the rest of the Seahawk hitters going into the Carolina Coastline Classic where they will face three opponents averaging a combined six runs per game.
The Seahawks will open things up against a Ball State squad coming off arguably its best game of the season. The Cardinals scored a season-high 10 runs against Army on 14 hits, topping its eight runs scored on Opening Day in a win against Bucknell.
Rutgers, UNCW's Saturday opponent, just got done posting 28 runs in its final two victories against Houston Baptist, while Illinois' seven-run performance helped salvage the final matchup of a three-game series with Kansas.
UNCW Head Coach Randy Hood would like to see weekend starters Matt Gaither, RJ Sales and Brett Banks have solid outings to help take the pressure off the Seahawk hitters, but will also rely heavily on his bullpen that surrendered only four runs in as many games.
"I'm really proud of our team and how they showed up all weekend," Hood said Sunday night. "We got down at times, but we just kept fighting in all three phases. I talk to our guys about going 1-0 each day and we were able to do it four times … It's a great start and I'm looking forward to getting back to it next weekend."
The Hawks' next game will be against Ball State on Feb. 25 at 4 p.m. Streaming options are available on FloSports.com. Also, follow @UNCWBaseball on Twitter for highlights and score updates.