Rafters, rim-rockers, and…right hooks?
Saturday was a night that will not soon be forgotten in Wilmington, NC. The night was set up to be a big one before it started. A senior night ceremony, Devontae Cacok jersey retirement, and a rematch with James Madison highlighted the evening.
When UNCW plays any game, obviously Jaylen Sims' name will be called quite often and Saturday night was no different. He finished with a game high 24 points and grabbed 10 rebounds.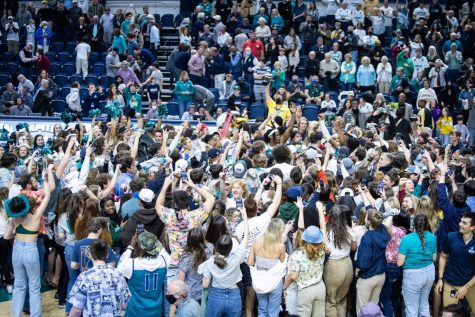 A moment that certainly stuck out Saturday was the three straight possessions where Seahawk dunks nearly made Trask coliseum explode. Trazarian White got things started after driving baseline and dunking over a defender. Mike Okaru threw one down over his defender on the next possession, and eventually connected with White on an alley-oop pass.
Possibly the night's most memorable moment came after a casual blocking foul ended with UNCW's Shykeim Phillips eating a punch to the face. Yes, a punch to the face. 
With just under nine minutes to play, both benches cleared following a mixup between a few players from both teams. Ejections and technicals were later issued on both sides.
If none of that was memorable enough, maybe it was the Hawks' 9-0 run to help send the game into overtime. 
Seven of the nine points were scored by Sims, and the other two on a clutch turnaround jumper from James Baker Jr, who was making plenty of plays especially on the defensive end for the majority of the game.
Overtime was filled with excitement as well, including a JMU bucket to take the lead with only seven seconds left. However, the next possession, Sims found the freshman Trazarian White streaking towards the hoop and White was able to draw a foul with 0.6 seconds on the clock.
Down one with less than a second remaining, most freshmen might have flinched in the moment, but not Trazarien White. The 6-foot-6 forward was well prepared for the moment as he stepped up and sunk both free throws to take the lead.
After a missed prayer shot from JMU, the students at Trask Coliseum left their seats and stormed the court to celebrate with their fellow classmates who also happen to be the number one team in the conference.
The Seahawks (19-8, 13-3 CAA) travel to Drexel (14-12, 9-7 CAA) on Feb. 24 and finish the regular season at Delaware (19-9, 10-5 CAA) on Feb. 26. Stream both games at FloSports.com or listen live on 95.9 FM The Breeze. Also follow @uncwmenshoops on Twitter for highlights and live score updates.