Women-owned coffee shop 'Spill' is the perfect place to unwind after finals
Olivia Vizethann, Contributing Writer
December 10, 2021
Lip prints of fire hydrant red and valentine pink are painted up and down the exterior wall of Spill Coffee Co. located at Kerr Avenue. Floor to ceiling windows make up half the wall where the main door is located and an adjacent bar seating area, giving a view of guests taking the perfect Instagram photo using the vintage pale pink dial phone mounted on the cream-colored wall outside. Not to mention,  the shop itself is a great place to catch up with friends after emerging from the stress and isolation of finals week.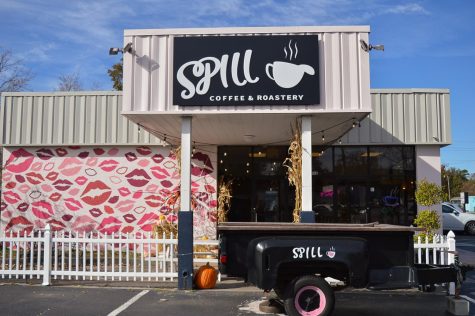 Spill is a women-run business by Amber Legates and Tori Light. Both spent time in southern California where mobile coffee carts, as well as health beneficial ingredients like MCT oil, collagen powder, CBD oil and others are very common. They felt the East Coast was missing out on these ingredients and converted a '56 Chevy into their very own mobile coffee cart. Seizing an opportunity, these ladies transitioned from the coffee cart to a shop during the height of the COVID-19 pandemic. 
Through the door, bookshelves set in the wall section off the entrance to the main seating area, and are tastefully decorated with mugs, bikinis, t-shirts, sweaters, candles, small sculptures of a coffee cup indeed spilling some coffee and an LED sign saying, "you're like really pretty." These decorations make it impossible not to smile.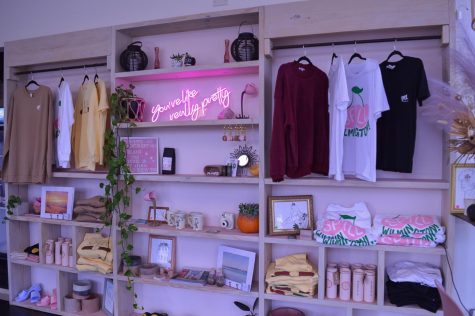 The main seating area is a pink feminine hodgepodge of furniture and decor; emphasis on the pink. From the blush color subway tile to the rose colored milk in almost every beverage, this place is a TikTok waiting to happen. Feeling boho chic? The rectangular wooden dining table with distressed cream paint paired with transparent plastic chairs which scoop you into a seat is a perfect fit. 
For a more modern feel, the center of the room where the wood floor meets hexagonal tile emblazoned with a white star shape hosts regal pink geometric chairs that utilize negative space. These create the feeling of sitting in a fully cushioned armchair, but with peek-a-boo gaps that allow for anyone to see the trendy outfits of the women sitting in them. Looking for more of a classic style? Try the olive green, tufted loveseat couch that sits in front of a grass wall lit up with a "Drink Me" sign that is accented with pale pink puffy flowers. 
The shop got off to a steady start when influencer Sarah Sandlin made a TikTok of pink themed drinks.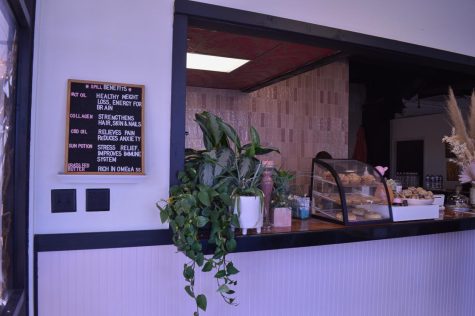 "For a solid two months afterwards, we were absolutely flooded with girls saying they wanted the 'pink drink' they saw on TikTok," said Mike Willis, one of the baristas. The video spread from Myrtle Beach to California and as far as South Africa. 
Both Light and Legates said their proudest accomplishment regarding Spill was having a dream and turning it into a reality. Seeing a spike in business was "really exciting."
"We knew our idea was a good one, but hearing from all these customers coming from all over was like a pat on the back," said Light.
When asked to describe Spill in five words, they explained that their shop was "inviting, creative, accepting, fun, and [a] community collaboration." Their intention with all of the pink was to "stand out, and not to repel a certain demographic but rather embrace the demographic we do attract," Light explained.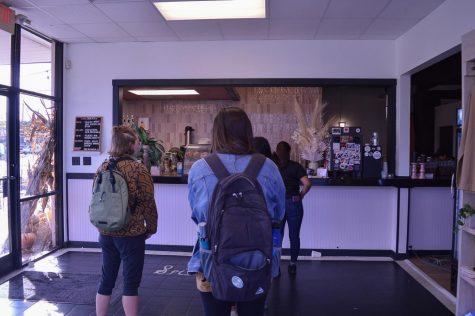 They offer a student discount upon showing a student ID and have created a student inspired drink called the "Sugar High," containing sea salt, caramel, oat milk, espresso and lion's mane mushroom powder, which improves brain power and focus. This perfectly crafted drink is just what every tired college student needs. 
From being able to talk to the owners, to watching them work behind the counter, it is clear they are an unstoppable team. Weaving in and around each other, passing oat milk, chai and espresso shots without missing a beat is like a dance, pouring passion into each cup. If you are looking for caffeine and a one-of-a-kind environment, Spill is the place to go.