Heads Carolina, tails California: Landen Roupp's reaction to the 3,000-mile change
Former Seahawk pitcher Landen Roupp has always been known as a 'good-ole country boy' during his time at UNCW. However, Roupp's routine of hunting and fishing took a bit of a turn after his recent promotion with the San Jose Giants.
"Cali is much different than what I'm used to, but it's a pretty cool change," Roupp said. "I'm used to the farm towns and stuff like that, but I'm enjoying the change to a city."
For the first time, Roupp is nearly 3,000 miles away from his North Carolina roots. After being drafted in the 12th round by the San Francisco Giants earlier this summer, Roupp's new way of life out west is not one he is accustomed to, but definitely an adventure he looks forward to encountering.
"This transition is definitely different," Roupp said. "For me, I'm on my own and I have to have that motivation to get up and go workout by myself. It's not that easy, but that's what makes it fun…[I'm] chasing the dream."
After pitching just six innings for San Francisco's rookie team, Roupp expected to stick around the Arizona Complex League a little longer than he did. At least that's what he was told, anyway.
"I got called up to San Jose after being told early on in Arizona that I would only throw around three to four innings there and not go anywhere," Roupp said. "So, when I was told I was coming to San Jose, I was a little bit shocked but so excited for the opportunity."
According to Roupp, UNCW Head Coach Randy Hood was one of the first people to hear about the recent news. Similar to Roupp's time in the Port City, Hood continues to have a big impact on the success of his former ace.
"Me and coach [Hood] talk a good amount," Roupp said. "Over the years, Coach Hood told me, 'Do the little things and the game will take care of itself.' That has been one of the things that have stuck with me."
Roupp's selection by a major league organization makes him the 89th Seahawk to play professionally. Los Angeles Angels pitcher Austin Warren is another example of a Seahawk who has had recent success in the majors.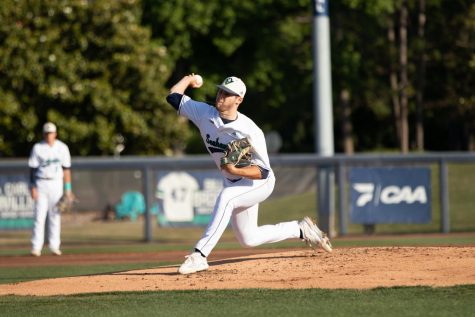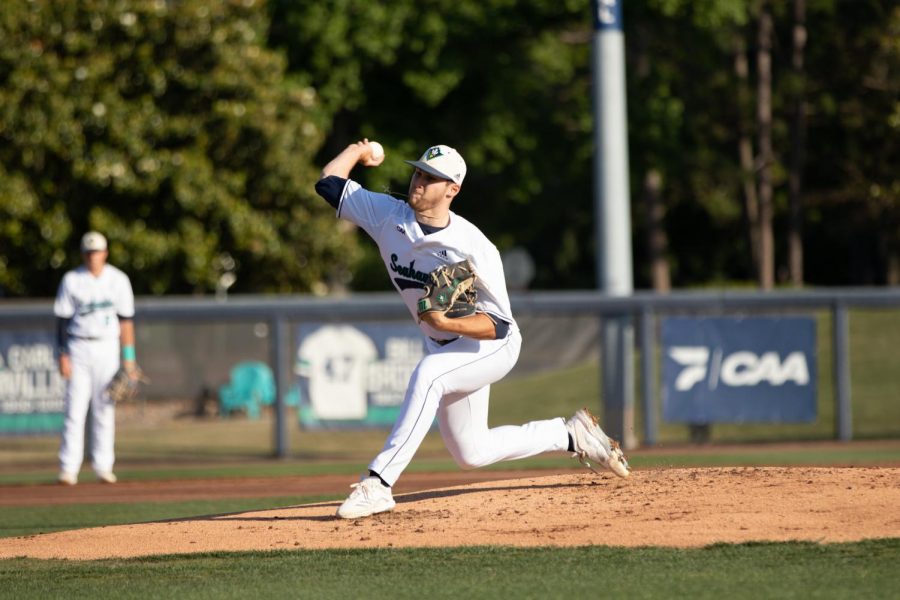 With numerous resources at his disposal, Roupp is making use out of them all and learning from the people who have been there and done that.
"Over time, I have talked with a couple of players, some former UNCW guys and some guys I just know from summer ball," Roupp said. "I ask them how things work in the minor leagues…it gives me a good hint to what I'll be doing, but it definitely varies between the organizations."
Another first for Roupp has been receiving a paycheck for playing baseball. Although he hasn't made any significant purchases yet, Roupp has his eye on something that describes him better than anyone or anything else could.
"To be honest, I haven't made a 'big-boy purchase' yet," Roupp said. "But I think my first purchase will be a duck hunting boat here soon…it's been way too long since I've been hunting or fishing. Last season was the last time I went hunting and I'm really looking forward to getting out and hunting more this offseason. Right now, I'm focused on helping the team and winning a championship."
The 23-year-old might be in a better financial situation due to his professional baseball career, but Roupp does not let the money distract him from the innocence of playing the game he has loved his whole life.
"As far as getting paid to play baseball, it's awesome," Roupp said. "But I don't think of it as all about the money…I've got a chance to play professionally, and I'm going to take that and run with it. The money is very nice though, I will say."
Roupp's debut for San Jose came on Sept. 20, where he pitched two innings and struck out two batters. A big reason for Roupp's success in his first outing came in the form of his curveball, which has been a pitch he has continued to master over the years.
"My curveball has been a go-to pitch for me in any situation," Roupp said. "It works really well off my 2-seam fastball which works well off my slider that I just started throwing last season in college. I have confidence in all my pitches, and I think that's a big part of who I am. I can throw any pitch where I want, and it really helps with setting up batters and controlling the at-bat."
The former UNCW-great will continue to work his way through the minors with hopes of reaching the big leagues one day. However, right now, Roupp is just taking it one pitch at a time.