A guide to on-campus and off-campus housing for UNCW students
Living on your own or with a couple of roommates for the first time can be an exciting stage for some students. Having the ability to self-sustain can be both exciting and terrifying. Cooking a meal on their own, self-budgeting, and doing laundry before it piles up into a mountain are just a few examples of small independence for students.  Learning to live independently or with others in an apartment is a bit different than living in residential dorms on-campus, with space limitations and connections with others are just a couple of the differing factors. Knowing the best places to live on and off campus can give students an insight for their next residential pick for the year. 
On-campus apartments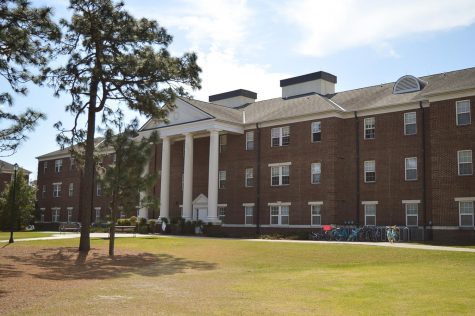 Seahawk Village
Seahawk Village at the very back end of campus, has three different floor plans for the buildings; students can choose from two, three, or four bedroom apartments. Seahawk Village is also neighbor to Honors House, Cornerstone Hall, and Seahawk Landing. Some utilities include: laundry facility, water, heat, AC, electric, and internet. Instead of bunk beds or extra long twin beds, Seahawk Village has double sized beds. 
Outside of Seahawk Village, there is a student quad that is in the center area of the surrounding buildings, which is where students sunbathe, play games, or just hang out in warmer weather. The Seahawk Village Clubhouse also has an outdoor pool for student residents. 
Seahawk Village is a favorite residential choice among students. 
"I have only lived in the Seahawk Village, but I have mostly enjoyed my experience. It is really nice to have a pool just a short walk away which I have visited several times when it's warm," said junior Kaylin Damico (Damico is also the 
Seahawk Village apartments contain a living area, a kitchen, and a laundry unit for students to use. Many students enjoy being able to cook in their kitchen and it makes it easier if they have midnight munchies and Wagoner hall is closed. To learn more about residential life and room options, students can find the information here.
Seahawk Crossing
Seahawk Crossing is centered towards the middle of campus and sits next to the shops at the crossing, which include Dunkin' Donuts. It offers students three choices of styles for apartments with four, six, or eight bedroom units. They also contain similar utilities to Seahawk Village, but unlike Seahawk Village, Seahawk Crossing resides directly next to a parking deck with access for students and guests. Senior Yasmeen Owens provided some feedback about her experience living at Seahawk Crossing, "I would say that the best living space would have to be Seahawk Crossing. Because you have access to all the other crossing buildings that have access to the printer if you need to print something off really quick, and we have closer access to Dunkin donuts and a pod market on the side." Seahawk Crossing is a short distance to Chancellor's Walk, which runs through the middle of campus and branches off into other sidewalks to help students navigate academic buildings.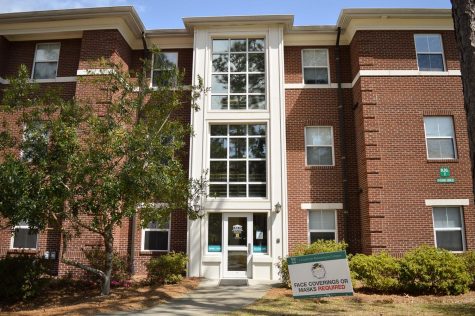 Seahawk Landing
 Seahawk Landing provides similar utilities as Seahawk Crossing and Seahawk Village and is also neighbor to both Seahawk Crossing and Seahawk Village. Seahawk Landing provides two, three, and four bedroom style apartments for students. Also like Seahawk Village, Seahawk Landing has double sized beds, not extra long twin beds. A kitchen is also available to students, accompanied with a living area. An outdoor pool is also available for Seahawk Landing students. Senior Abby Neal provided feedback of her experience living in Seahawk Landing, "I decided to live in Landing for my last year of college so I could enjoy what little student life I had left. While there have been little to no building gatherings or activities, I have no regrets. Living in Landing, I have seclusion and independence, but I can still reap the benefits of being on-campus (dining, rec center, close to classes, quiet areas to study)."
Off campus apartments
Upperclassmen have the option to live in off campus apartments, some popular apartment buildings for students are Aspire 349, Redpoint Wilmington, and Village Green Apartment Homes. Utilities and amenities differ for each building, but some similar ones include: pet friendly apartments, pool, and gym access. 
Aspire 349
One of UNCW's popular apartment buildings is Aspire 349, being only one mile away from UNCW is an easy convenience for commuting students. Aspire 349 offers multiple options for residential students including furnished and unfurnished two bedrooms and two bathrooms, and three bedrooms, three bathrooms. Some amenities include resort-style  pool and gym access, pet friendly apartments, study rooms, game room, laundry, and fully equipped kitchens. Rent for Aspire 349 apartments range from floor plans, with the options of two bedroom and two bathroom starting at $825 for unfurnished and $835 for furnished per month. Another option for students is the three bedroom and three bedroom style apartments, this option is less expensive with prices ranging from $755 to $765 per month. Floor plans, rent prices, and availability status can be found here.
Redpoint Wilmington
Redpoint also offers students a variety of amenities and utilities for students. Some of these include pet friendly apartments, gym access, fire pits and grill stations, resort-style pool, business and study areas, and a close distance to UNCW's campus. Unlike Aspire 349, Redpoint apartments have front porches and a gated community. Three and four bedroom options are available for students. Junior Emily Morgan shares her feedback, "The best apartment off campus that provides the best living space and activities is Redpoint. This is because they offer a two-story apartment at an affordable price plus the option to have two or three roommates. On top of that you have an extra half bath on the first floor for your guests to use! They are also holding events all the time for their residents and have a bunch of giveaways." Rent prices start at $725 and increase to $750 depending on square footage and furnished or unfurnished options. To find out more about floor plans, rent, and availability, students can visit here.
Village Green Apartments
Another option for off campus living includes Village Green Apartments, which offer students one to three bedrooms and bathrooms. Some amenities and utilities include, salt water swimming pool, laundry on-site, pet friendly apartments and a pet wash station. The Seahawk conducted a survey for off-campus living, an anonymous source responded,"I live at Village Green just across from the track and it is a nice place to live. My husband and I enjoy living here while we attend." Village Green apartments are also within walking distance away from UNCW's campus, making it an easy access for students. 
Whether students choose to live on or off-campus, they have a variety of options to choose from. On-campus apartments allow students to experience campus living and are also accessible to food outlets and campus activities. Off campus apartments allow students to gain a true sense of independence, while also being able to have pets live with them. Cost of rent and housing may also be a determining factor for some students. Both on and off campus apartments provide students with options to stay comfortably, to interact with others, and entertain themselves. Rent options range from $912 to $1,216 per month, depending on the bedroom and bathroom choices. Students can dive in deeper to rent prices, availability, and floor plans here.