"The ultimate indulgence": Cinnamon roll bakery Cinnaholic opens in Mayfaire
A new, gourmet cinnamon roll bakery has opened in Wilmington called Cinnaholic. It just opened on April 2 and is already getting rave reviews. The bakery features decadent cinnamon rolls, as well as edible cookie dough, brownies and cookies. These delectable treats are served warm and delicious, and everything is 100% vegan.
Cinnaholic is located in Mayfaire, right behind Barnes & Noble and Ulta—hidden, but worth seeking out. Its cinnamon rolls go far beyond typical expectations. The menu features signature creations like the Cookie Monster Roll, which is topped with cookie dough and chocolate chips, and the S'mores Roll with graham crackers, chocolate and marshmallows. For the fruit lovers, they have rolls like the Sparkle Berry, Blueberry Pie and Raspberry Dream rolls. If these options are not enough, there is also the possibility to build your own roll.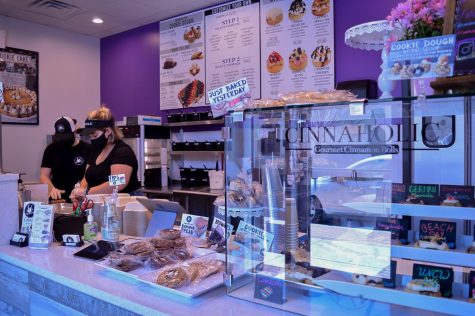 Cinnaholic is a new, but fast-growing business founded by Shannon and Florian Radke. The first store opened in 2010 in Berkley, California. In 2014, the bakery was featured on Shark Tank. After that, the bakery took on a franchise model and now has locations across the United States.
The Wilmington location is cozy and convenient, however; there is no indoor seating, with only two tables outside. A good option is to order a pickup order or drop by and take it home to enjoy. Since the bakery is new and immensely popular, there may be a line. The team is still getting their bearings, so the service is a bit slow and the store can get crowded quickly.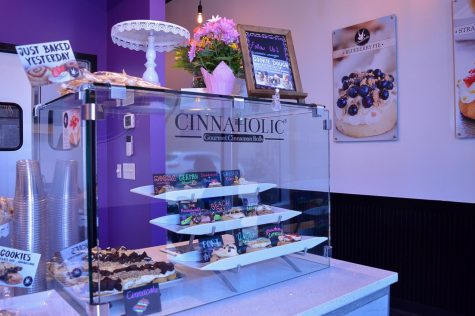 Keep in mind that these cinnamon rolls can be extremely sweet. For dedicated sweet tooths, these signature creations are a smart choice. For something less sweet or more healthy, consider trying plain cookie dough or a plain cinnamon roll.
This bakery is a great option for vegans or those with dairy, lactose, egg allergies or intolerances. The products are even cholesterol-free. Cinnaholic goes beyond making delicious vegan options. The business strives to make desserts that are plain good, for everyone. These cinnamon rolls are the ultimate indulgence, and worth the trip to try out these sweet treats.