11 of Wilmington's best coffee shops
One of the cornerstones of Wilmington's appeal are its coffee shops, and new ones seemingly spring up every year. Navigating the scape can be overwhelming, so we've rounded up some of Wilmington's finest coffee places, accounting for the overall vibe, the indoor space and the variety and quality of the menu.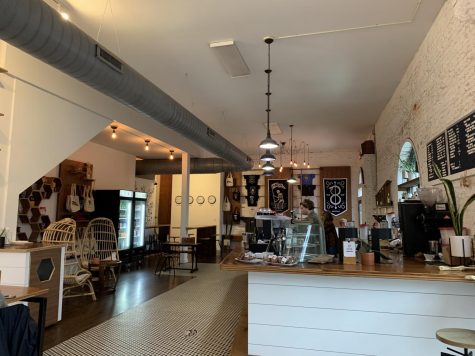 Bespoke Coffee and Dry Goods
Bespoke is one of Wilmington's older coffeehouses and a local favorite. Situated downtown in a historic building, Bespoke is in the midst of the hustle and noise of Wilmington's commercial center. Rest assured you'll find a quiet and inviting space inside, with roomy tables and wide windows overlooking the street. Bespoke offers kombucha, wine and beer in addition to coffee, and every latte is decorated with an artful design in the milk's foam. The lattes have the perfect ratio of steamed milk to rich-tasting espresso, and if you decide to go in before they change the menu, their coconut brown sugar latte is a patron favorite.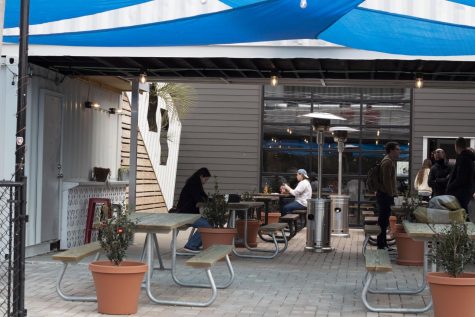 Outpost Coffee Co.
The Outpost is located in Wilmington's blossoming cargo district and tucked into a jigsaw puzzle of shipping containers turned useable space. The Outpost is a drive-thru and walk-up bar and shares an open courtyard with a restaurant called the Mess Hall and the Alcove Beer Garden brewery; you can easily turn a Saturday afternoon into an adventure by exploring all three. Besides handcrafted lattes and drip coffee, the Outpost offers a variety of teas—loose leaf, chai lattes, matcha and a spiced beetroot latte.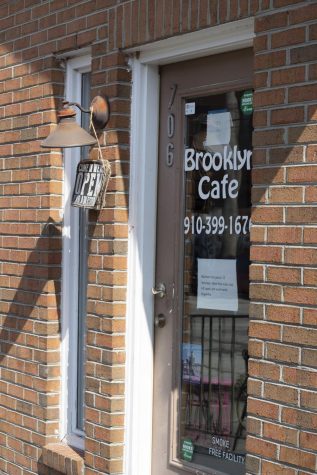 Brooklyn Café
The Brooklyn Café is a family-owned business tucked into Wilmington's art district. This coffee shop offers some of the finest scratch-made donuts, biscotti and beignets created from a family recipe. The interior is filled with Willie Nelson memorabilia—the owner is a friend of his—and a collection of local artworks. The shop is a small, cozy hideaway from the busy streets of Wilmington. The Brooklyn Café is offering hot, made-to-order beignets to celebrate Mardi Gras, so order yours while you can.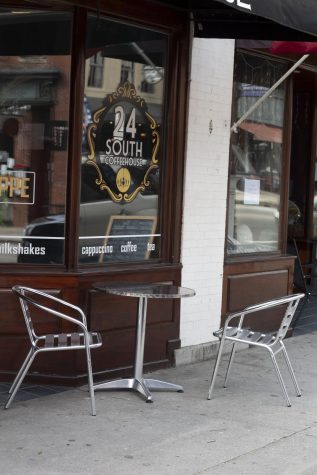 24 South Coffee House
24 South is a woman-owned business situated downtown in an older building with a traditional charm. You can often find longtime residents of Wilmington, business-owners and college students rubbing shoulders in this space, due to its convenient location and longstanding reputation. Besides, fresh baked goods like bagels and croissants, 24 South has an array of high-quality espresso drinks, drip brews, Italian soda and house blended loose-leaf teas. Their menu is handwritten on a chalkboard—subject to change—and they offer one of the finest homemade chai tea lattes in the city.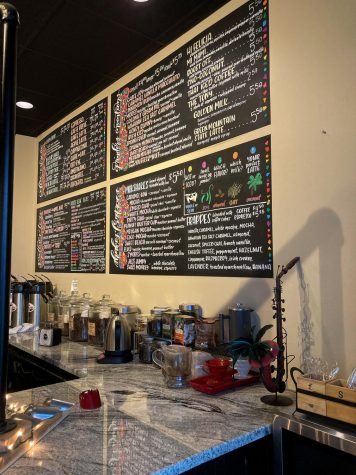 Grinder's Caffe'
With its down-to-earth appeal, spacious couches, tables for seating and baristas who have finessed their trade, Grinder's is a longstanding favorite among UNCW students. Grinder's has one of the most extensive menus of the coffee shops in Wilmington. Besides the espresso and drip coffee creations, they have smoothies, milkshakes and frappes with a variation of flavors for each. For example, very few coffee shops offer year-round affogatos, Thai iced coffee, French pressed coffee and a golden turmeric latte on the same menu.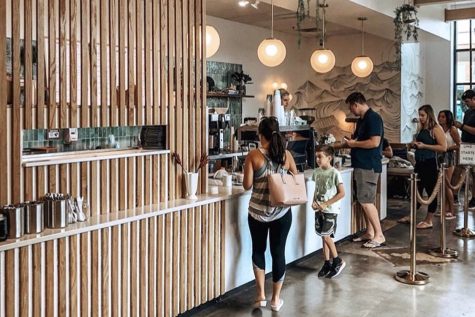 Drift Coffee and Kitchen
This local business has three locations throughout the Wilmington area, including a popular one in the Mayfair shopping center. Though each space is duly welcoming and has a substantial coffee menu—including homemade syrups and an Australian drink known as a Magic latte—the kitchen is what makes Drift stand apart from other cafes. With locally sourced ingredients and nutritious recipes, Drift has breakfast and lunch menus that include items like sweet potato toast, a market breakfast bowl and chia pudding. Drift's growing business also includes the option of sending coffee to caregivers like health care heroes or members of the military.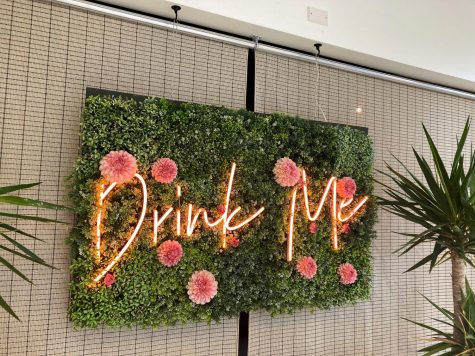 Spill Coffee Co.
Spill is one of Wilmington's newer coffee shops, which originally began as a coffee-cart. It's now housed in a building decorated on the outside with red and pink lips and a pale pink wall that reads, "Please, do Instagram this." Spill's own Instagram denotes the business as "sassy women ran" and this branding, along with their staple therapeutic lattes, sets it apart from the other shops in the area. If you've been searching for a coffee bar that adds MCT oil, collagen, or Sun Potion to your lattes, then this one's for you. Spills serves house-blended coffee and a Sumatra blend from the all-female coffee farm Café Feminino.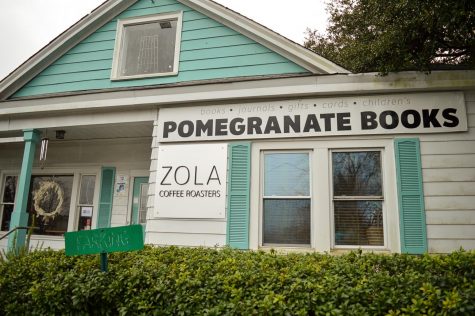 Zola Coffee & Tea
Zola Coffee is housed within Pomegranate Book's, one of Wilmington's independent bookstores, and is on the artisanal side of the coffee shop world. The shop roasts their coffee in-house, offers pour-overs, loose-leaf tea, coconut and almond milk tisanes and hand-crafted herbal sodas. The latte flavors are subject to change but include a coconut cayenne cappuccino, elderflower lemonade, butter coffee and rooibos tea with cashew milk. Since Zola shares a space with the Pomegranate bookstore, seating is limited but you're welcome to sip and shop or take your drink to go.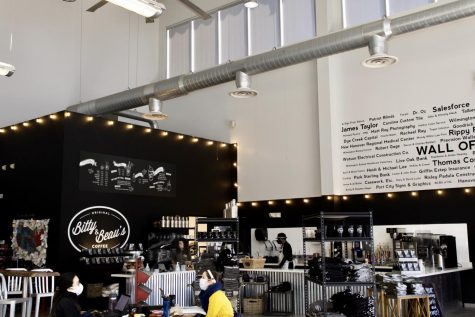 Bitty & Beau's
Bitty & Beau's opened in Wilmington in 2016 and has since become a franchise with several intended locations around the country. Bitty & Beau's hires people with intellectual and developmental disabilities, a mission the founders hope will create a more inclusive community that values people with disabilities. The Wilmington location is spacious and has plenty of indoor seating. Their menu is versatile and features frappes, steamers and smoothies.
Luna Caffe
The Luna Caffe is a prominent presence in the Wilmington community, and you can find their in-house roasts at Tidal Creek Co-op, the Platypus and Gnome, Panacea Brewing Company and the Cape Fear Spice and Tea Merchants downtown. Located in the Arts and Antique District of the city, Luna's shop is painted a deep purple and decorated with a whimsical mural. You can study inside or outside on the patio and you're welcome to bring your dog into the café.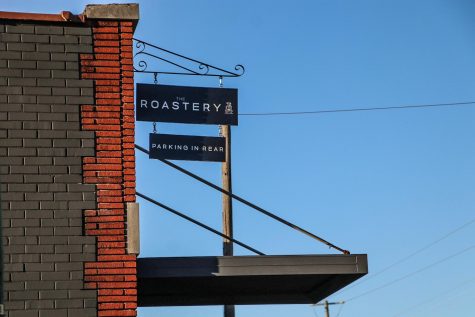 Vigilant Hope Roastery
The Vigilant Hope Roastery is one of the newest coffee shops to open in Wilmington. It's a venture of the Vigilant Hope nonprofit organization dedicated Christian-based missions and empowering the community. All the proceeds from the Vigilant Hope Roastery are forwarded towards their community projects designed to end poverty in Wilmington. The space is minimalist and spacious, and the menu is simple—though trademarked by their in-house roasts and brews.