While some struggling businesses close in Wilmington, others open in their place
Sophia Ho , Contributing Writer
November 23, 2020
Amongst the numerous changes occurring in the wake of this new normal, economic instability has driven some businesses to shut down while others are writing new beginnings.  
With capacity limits and long term closure as North Carolina approached Phase Three on Oct. 2, restaurants and bars have struggled to gain a profit. Within Phase Three, restaurants can continue to open at 50 percent capacity, while bars are limited to strictly outdoor seating at a capacity of 30 percent. 
The federal government and local leaders have been putting forth effort to ensure businesses stay afloat during this time, but in many cases, the assistance is not enough.  
"What businesses across our state really need is normalization of their operations," said Wilmington Downtown Incorporated's board chair Dane Scalise to WECT TV6. 
Through a Facebook post on Oct. 7th, TAILS Piano Bar of Downtown Wilmington announced that they would no longer be able to remain in business, saying, "It is with a VERY heavy heart, that we announce the closing of TAILS Piano Bar. We hung in there as long as we could financially, but sadly, the COVID-19 virus shutdown simply lasted too long." 
Two days later, the Foxes Boxes made a similar post. Their doors shut Oct. 31, and liquidation of the space has begun. 
Only a few hours prior to the Foxes Boxes announcement, owners of Dock Street Oyster Bar announced closure following 22 years of business. Dock Street Oyster Bar had been voted Wilmington's Best Oyster Bar according to Encore Magazine for the past 20 years. 
South College Sandwich & Deli, Stalk & Vine and Two Sisters Bookery, located in The Cotton Exchange, are another two amongst the now ten Wilmington businesses facing closure due to the COVID-19 virus. 
Despite the economic drought brought on by the pandemic, other entrepreneurs have seized their opportunity to begin new businesses.  
Since March 2020, the start of the pandemic for North Carolina, seventeen businesses have opened in the Wilmington area. According to WECT TV6, "six boutiques, four eateries, three galleries, a tattoo shop, a fitness studio, a breakout room, and a tech start-up" have found opportunity.  
Co-owners of Rooster & The Crow, Zach Harman and Allen Carpenter established a new normal as they opened their third business, Nutty Buddies Ice Cream & Sandwich Shoppe, located in the former The Scoop space of The Cotton Exchange.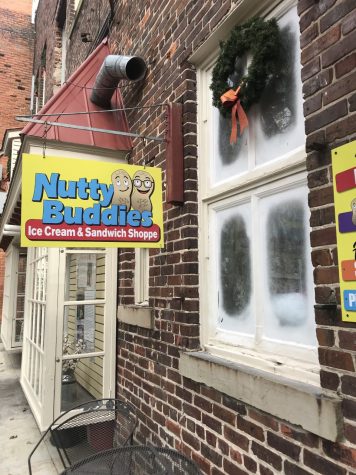 "We see the potential with the future development at the north end of downtown, especially with the new hotels and living spaces where people are putting down roots," said Harman to WECT TV6. "The opportunity came when The Scoop closed and we thought it was a good match." 
In an article by Kristin Crawford for Cape Fear Weekend, Carpenter and Harman speak on their enthusiasm for Nutty Buddies. "The name 'Nutty Buddies' comes from our crazy personalities. Who in their right mind would open a new business during a pandemic?" 
As of September, 1 in 6 restaurants closed, either permanently or long term, according to the National Restaurant Industry. Analysis shows that the industry has already lost $165 billion in revenue from March to July, and is on track to lose $240 billion in sales this year. 
Jerry Coleman, director of the Small Business Center at Cape Fear Community College spoke to WilmingtonBiz, saying "Now more than ever we need to shop local. That's going to make the difference when we pull together as a community."