Winter break plans: a road trip through North Carolina
Sophia Ho , Contributing Writer
November 18, 2020
As winter break approaches, we typically have the motivation of family reunions, extravagant vacations, New Year's Eve parties, and holiday events to get us through finals, but this year seems a little different. With the COVID-19 virus still heavily affecting our lives, plans are changing and everyone is searching for new, safe and socially distant ways to enjoy this much needed mental break.
Fortunately for North Carolinians, a mountainous terrain and a coastal cove don't require leaving the state. Road trips are the perfect socially distant and COVID-friendly activity, and it's quite possible to see every landscape outside of your car window while staying relatively close to home.
To hit every prime point in North Carolina, this is my recommended path of travel:
Day 1: Masonboro Island Reserve, Wilmington, North Carolina                                                          
Only a boat ride away from where us Seahawks call home is Masonboro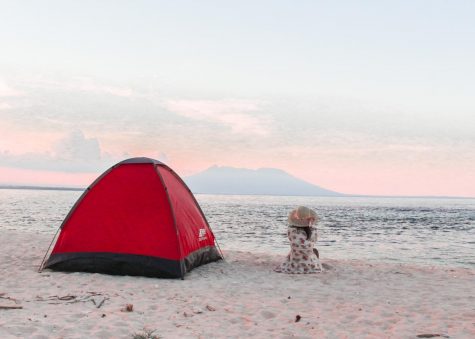 Island. Private ferry services offer rides to the island and upon arrival, tents and campfires are permitted for set-up—providing the perfect camping atmosphere. With eight miles of deserted beaches, Masonboro exudes the feeling of a private island for you and your crew. Fire-grilled hot dogs are an easy and social dinner activity, followed by s'mores and chatter to fill up the night. Because the island is uninhabited, be sure to bring plenty of water, and be prepared to be in touch with nature—there are no facilities on the island.
Day 2: Raleigh, North Carolina
In the heart of North Carolina is the city of Raleigh. Although some bars, museums, restaurants, and space venues remain closed, Raleigh still has plenty to offer. The State Farmers Market remains open, with sanitation stations and plenty of socially-distant booths providing farm fresh food. After making your purchases, head over to Dorothea Dix Park, which boasts 308 acres of land, with views of Raleigh's skyline. While the park amenities are not open, park areas and greenways are, allowing for a prime place to hold a picnic. Charcuterie boards, chocolate covered strawberries, or takeout food with a view make the perfect Instagram photo, and a wonderful day spent in North Carolina's capital city.
Day 3: Boone, North Carolina
No winter break is complete without a mountain view. During the three-hour road trip, sing along to Caamp, Mt. Joy, and The Lumineers to really set the tone. Hiking trails remain open, and the beloved Blowing Rock provides not only the views, but the experience of walking into a snow globe Christmas.
Day 4: Asheville, North Carolina
Nestled into Asheville, North Carolina is the famous Biltmore Estate. The house is currently open at 20% capacity, and with 8,000 acres of land, there is plenty of room to remain socially distant.
Visit the gardens, go on hikes, sip on the wine and tour the Biltmore through small private tour groups.
Day 5: Charlotte, North Carolina
            While packing, don't forget to grab a yoga mat and water bottle to attend an outdoor yoga class hosted by Counterculture Club every Sunday at 11. Once you feel stretched out and relieved, head over to the  NASCAR Hall of Fame, which reopens Nov. 18, following Phase Three orders. Explore the history of NASCAR and take a behind the scenes look via private motor coach through various racing locations. For those interested in Christmas festivities, hop on a 20 minute train with Tweetsie Christmas, taking you through nearly a million Christmas lights, and a gingerbread house accompanied with a socially-distant Santa Claus.
North Carolina offers extensive sightseeing from relatively close locations. With a number of places to go and things to do. Road trips are just one example of how to still enjoy winter break in this strange time. Grab a bag, a limited circle of people, and hit the road!