Cucalorus Film Review: "Beast Beast"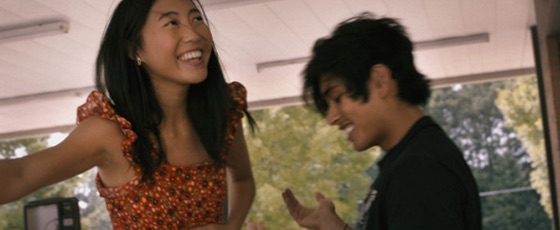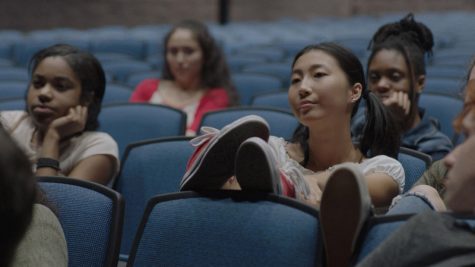 The Cucalorus Film Festival is now in full swing, as selections have begun to premiere both in-person at Curbside Cinema and online through streaming and live showings. "Beast Beast" is one of the first films to premiere out of Cucalorus, and frankly, it may be one of the festival's best. 
Produced by independent filmmaker Jim Cummings ("Thunder Road," "The Wolf of Snow Hollow") and "30 Rock" actor Alec Baldwin, the film previously premiered during last January's Sundance Film Festival, and with the film's eclectic sensibilities, it's not hard to see why. With distinct cinematic techniques and bold narrative choices, "Beast Beast" gets underneath the viewer's skin and lingers long after the credits roll.
"Beast Beast" follows young small-town Americans whose paths intersect in unexpected ways. Krista (Shirley Chen) is a high school theatre actress searching for her artistic voice. Nito (Jose Angeles) is a drummer and skateboarder neglected by his guardian. Adam (Will Madden) is a recent graduate and gun enthusiast struggling to get his YouTube channel off the ground. Throughout the film, these young adults grapple with themes such as young love, peer pressure and social isolation.
One of the first things viewers will notice in Danny Madden's directorial debut is the mosaic structure of the narrative—story threads at first appear to be loosely connected, but by the end they wrap themselves around each other. This style of storytelling is reminiscent of renowned classics such as "Do The Right Thing" and "Magnolia," which tell the story from multiple disassociated perspectives, using them as a means to instill senses of uneasiness and dread in the viewer. This storytelling decision not only differentiates the film from others, but serves to ensure the attention of the viewers.
One would be remiss to discuss "Beast Beast" without mentioning the strong performances by each of the three central cast members. Shirley Chen portrays Krista with devastating emotion, Jose Angeles provides the complex character of Nito with a likeable presence, and Will Madden sells the desperation and unraveling mental state of Adam. These passionate and earnest performances come together, complement each other, and propel the film to greater heights.
Technically, "Beast Beast" favors decisions that are at once innovative and experimental, especially concerning the sound design and shot-by-shot editing. Non-diegetic sounds such as percussive beats and the clinging of a front yard fence are interspersed throughout the film's soundscape, rooting the visual components in a shrewd sense of avant-garde wit. Additionally, the film's soundtrack includes brilliant music. Even as foreground elements, the songs selected for the film invite the viewers to pay attention to the sounds they hear. The editing, tasked with communicating multiple stories at once, teeters backward and forward in time, in and out of the location of a scene, and from one perspective to another. Therefore, the sound design and editing are both huge parts of what makes the film as effective as it is.
With "Beast Beast," writer/director Danny Madden has crafted a thought-provoking film that is sure to stick with many of its viewers. With terrific production values and a beating heart at its center, "Beast Beast" forges its own path ahead, leaving audiences eager to see what Danny Madden comes up with next.