'Black Lives Do Matter' mural installed as Wilmington and UNCW reconcile with race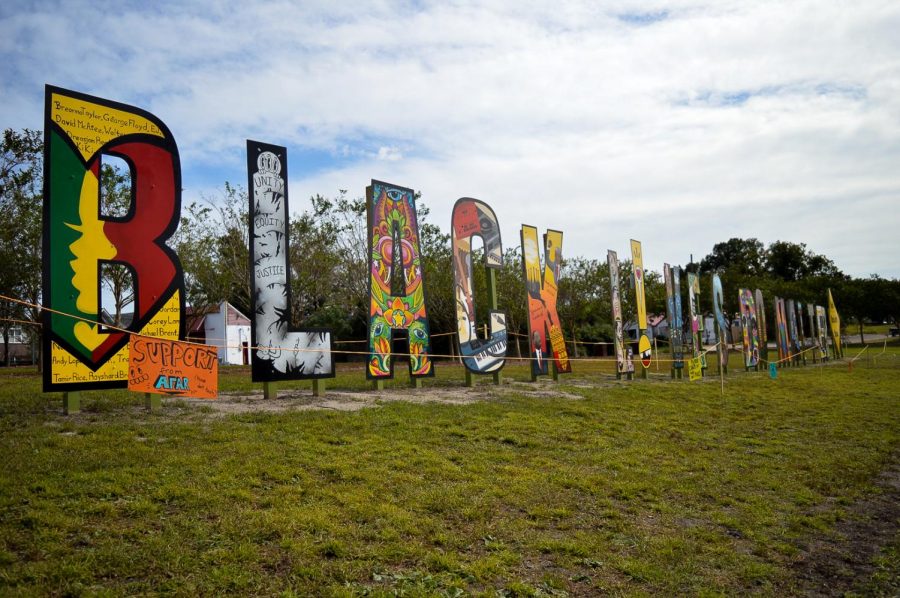 Gia Lash, Contributing Writer
October 7, 2020
Following heated debates throughout the summer, the Wilmington City Council approved a "Black Lives Matter" mural on Aug. 19. On Sunday, Sept. 27, the mural was installed around Third Street and Jervay Place. The painted letters spell out "Black Lives Do Matter," followed by a road-sign inspired diamond that reads, "End Racism Now." Each letter was painted by a local artist, and the mural is set to stay up for one year. 
A change.org petition that called for a mural in Wilmington was created on June 5, and garnered tremendous support, with almost 6000 signatures. Wilmington follows other cities, including Charlotte, Asheville, Fayetteville and Raleigh, in affirming this statement through art.
Wilmington City Council members were not unanimous in their support, with one member, Charlie Rivenbark, calling the mural "the most racist and divisive thing that I've ever seen come before us."  He described complaints from constituents who felt that this memorial was unjust to other racial groups, saying "There's a lot of very upset people over the fact that we would single out one group of people and say 'They matter.' We all matter." 
Ms. Janna Robertson, a member of the public, clarified that the addition of the word "do" in the mural was chosen to avoid association with the controversial Black Lives Matter organization. She also urged the council to consider that "something that says 'end racism in ILM' wouldn't talk about Black at all, and would be about all groups." 
Kevin Spears, another city council member, stated that "We aren't seeing a disregard for all lives around the nation, but we are seeing a disregard for Black lives throughout the nation," He then expressed concern about the deaths of George Floyd, Breonna Taylor and Ahmaud Arbery, and the personal impact it has on his identity as a Black man. Ultimately, he said, "It's racist to say Black lives don't matter." 
In the wake of the murders of Ahmaud Arbery, George Floyd and Breonna Taylor, peaceful protests against police brutality began in late May and early June in cities across the country. Protests in Wilmington have continued in the wake of President Donald Trump's visit in early September and the recent ruling in the Breonna Taylor case. 
In July, the New Hanover County Board of Commissioners voted to change the name of Hugh MacRae Park to Long Leaf Park, hoping to move forward from a legacy of white supremacy. Hugh MacRae was a leader of the white supremacist group that initiated the Wilmington Massacre of 1898. New Hanover County Commissioner Jonathan Barfield, who made the motion to rename the park, hoped that the name change would "cause healing in our community." 
On campus, Chancellor Sartarelli has had a disjointed approach to addressing systemic racism and the realities of police brutality. In a June meeting with the Black Student Union, Sartarelli said, "If you are asking me tomorrow to start painting and decorating the university with 'Black Lives Matter,' that's going to be very difficult because I believe All Lives Matter." He has since retracted this statement but has not publicly affirmed that Black Lives Matter. 
In response to Sartarelli's comments, many departments hung "Black Lives Matter" banners on their respective buildings. On September 18th, Chancellor Sartarelli announced that the university will arrange for the transition of these banners to an on-campus art exhibit. This idea has been criticized by the UNCW Coalition of Black Student Leaders, who released a statement on Sunday opposing the plan for Black Lives Matter banners.
"We are not an art exhibit. We are not art to be seen from glass windows through a white lens. We are not a political statement. We matter," they stated.