OPINION: For Joe Biden, it is three distinct paths
There is no doubt that both parties know this may as well be the most consequential election of our lifetimes, especially if you will be voting against the incumbent this November. When Joe Biden kicked off his third presidential run back in May of 2019, he called for a restoration of the nation's soul. At the time, it was perceived as a well-meaning, if antiquated notion.  
But as the months have passed, it has become evident that this sentient was likely more prolific than once thought. So, faced with the choice of who is best equipped to help him restore the soul of the nation, it has become critically important to the former vice president that he picks a running mate who can help carry him to victory and accomplish that lofty goal. The selection is also especially significant this year as Biden, 78, would be the oldest elected president at swearing-in.  
It is not unthinkable to believe that one of two scenarios might occur, President Biden passes away in office, or chooses not to run in 2024, both of which push his vice president to the forefront. With such increased importance this cycle, it is fortunate then that there is perhaps no one in the world more well attuned to the process of vice-presidential selection than the presumptive Democratic nominee.  
Though there is little evidence historically that his pick will have any significant influence over a voter's choice, the theatrics and optics of the selection set the tone and perception of the race until November. The decision stands as the candidate's first "presidential" one and can end up becoming more of a reflection on their judgment than it does the quality of the pick themselves. Biden made waves in the final primary debate when he committed to picking a woman as his running mate.  
What some saw as a somewhat degrading move to women in office, framing them as a token choice that pits women against each other in the media, others saw as the opportunity it is for a woman to finally be part of a winning ticket. This is not to diminish the achievements of past vice-presidential picks Geraldine Ferraro or Sarah Palin, two markedly different candidates who on the spot defined what it took to run as a woman.  
But in both cases, the choices were made by presidential candidates perceived to be underdogs who were hoping to spark some excitement and increased engagement from the other half of the country that rarely got the opportunity to be represented in office. But for the first time, a woman is being chosen on what may very well be a successful campaign. With such increased importance and opportunity, here are the top three choices for Biden's eventual pick that I believe would contribute something unique to the ticket: 
Kamala Harris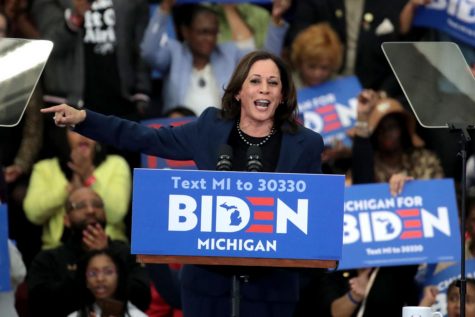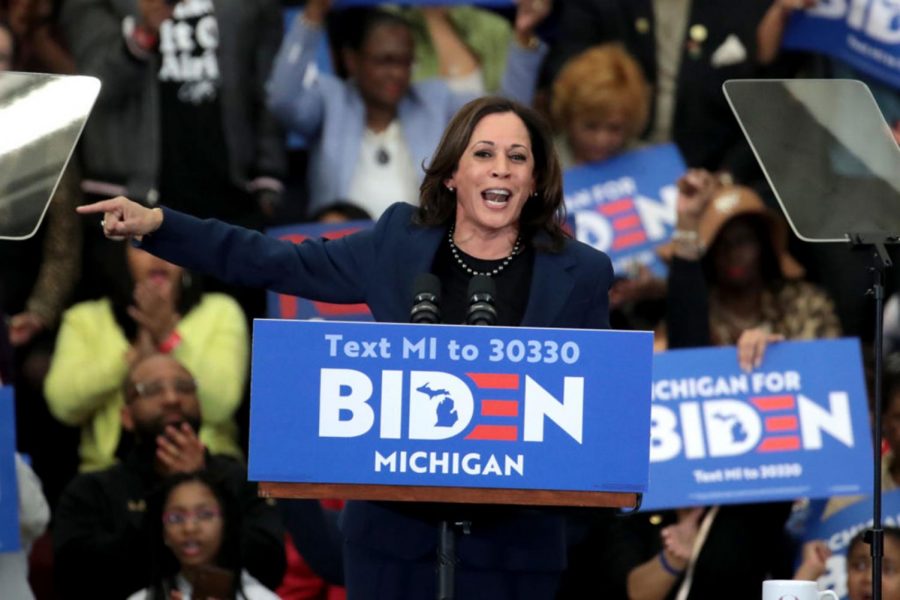 On paper, you would be hard-pressed to find a better candidate than Kamala Harris. The former Attorney General and current Junior Senator from California, has arguably been the frontrunner for the position before Biden even secured the nomination, much to her chagrin. Political pundits and party officials alike have been floating a Biden-Harris ticket as the most potent pairing, and it is not hard to see why.
Harris appears to be the perfect complement to Biden and would assuredly give the campaign the boost of excitement it has lacked for many, and the compelling mix of experience and relative youth it could use more of. But all the right components on paper does not necessarily make her the best candidate in practice. While few would deny her appeal as a running mate, some question her viability as a governing choice. 
Harris ran a lackluster campaign for her shot at Biden's current position, much of which can be attributed to faults of her own making. She started in the top tier of a crowded field with immediate media buzz, hefty fundraising numbers and a powerful initial debate performance. However, between feuding campaign staff and stagnant polling, Harris had wasted what many in the beginning saw as a substantial advantage.
Much of the trouble her campaign dealt with can be traced back to the belief that she did not have a signature policy or position. That is not to diminish her accomplishments as a candidate or woman in politics but compared to some of her competitors who made it to Iowa, she did a poor job making a case for her candidacy.  
Still, to many, Harris's positives far outweigh the negatives with some critical assets she would bring to the campaign. For one, she is deceptively progressive, ranking as the second most progressive Senator, even above her compatriots Warren and Sanders. This helps two-fold, making her appear more moderate to the average voter but having the right record to attract the progressive base. 
Harris has also been somewhat vetted by the press from her presidential run earlier this year. This is evidently not as thorough a process as the examination the campaigns conduct. But nonetheless, any major scandal or facet of her record has been clearly defined by this point, and the Senator is still standing. Harris is the perceived frontrunner for a reason, and if Biden is looking to excite and balance the ticket, Senator Harris is likely his best bet.  
Elizabeth Warren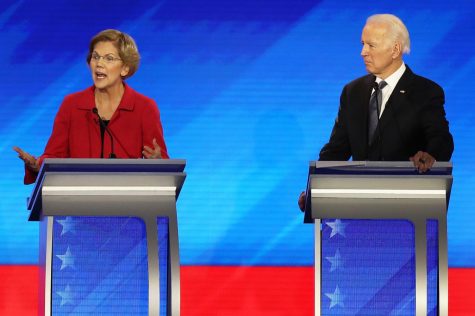 If Biden decides that this moment calls for a fighter, then there are few better options than the senior Senator from Massachusetts, Elizabeth Warren. Coming off of her own bid for the highest office, Warren made more traction in the race than Harris and very well may have been the nominee had Senator Sanders not entered the primary. Having run a competent, if flawed campaign, Warren's specific firebrand of politics propelled her to the top of a crowded field, along with her extensive legislative experience.
Seen as the ideological middle ground between Biden and Sanders, Warren would undoubtedly hold more progressive views than the top of the ticket. Yet, many argue that is exactly why she should be the pick. She has the potential somewhat to heal the defeated progressive wing of the party and ideologically balance the ticket.  
A policy wonk, Warren has a reputation for standing her ground and being a useful messenger for making progressive policies palatable to more moderate voters. However, many questioned her political judgment when she stooped to Trump's level and flaunted a DNA test that showed she was some percentage American Indian, something that left a poor taste in many people's mouths and has given Trump unnecessary ammunition he has been more than willing to use.
Plus, at 71 years old, many are less than thrilled at the prospect of having two 70 plus year old's on the same ticket.  
And as the days to the Democratic National Convention draw nearer, the realistic chances of her getting picked are becoming slimmer as our current political climate has drawn many to call for a woman of color to better represent the nation and repay Biden for their continued support. Yet if Biden is looking for a fighter to strongly defend the ticket and unify the party, Warren is his best choice.   
Tammy Duckworth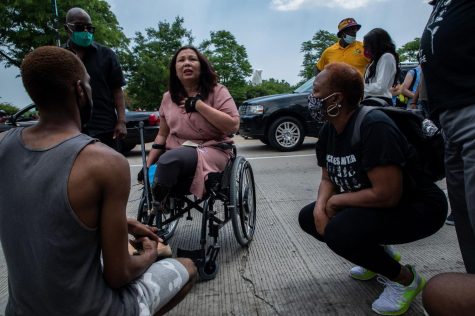 In a political environment where national pride and patriotism are somewhat fraught, Tammy Duckworth may be the perfect choice to restore honor and respect to the office and the country. The junior Senator from Illinois and decorated combat veteran is unique from the former two options in several ways. For one, she did not run for president.
For all of Senator Harris and Warren's upsides, both run the risk of not being fully committed to the campaign and merely using the opportunity to leverage bids again of their own. With Senator Duckworth, there is less risk of grandstanding and ulterior motives, but that is to say nothing of what makes her the compelling candidate she is.  
Before she was elected in 2016, Duckworth was a lieutenant army colonel who lost both of her legs when an enemy RPG hit the helicopter she was piloting. She campaigned to allow the military to let her stay active duty despite her injury, and since then, Duckworth has continued to serve her country through elected office.
From assistant Secretary of Veterans Affairs, to the Illinois House and now the Senate where she serves, Duckworth is very similar to Biden ideologically and would not have trouble defending his record and stances. And more so than any of the other candidates, she nails the critical criteria of not "rocking the boat" politically.  
A trailblazer her whole life, the Senator has achieved many milestones over her career. She would be the first Asian-American on any major party ticket, a demographic that has been sorely underrepresented in Congress and especially the executive. She is also the first senator to have a child while in office and bring them to work. Her story and demeanor will no doubt have some appeal to suburban women, a block Biden desperately needs if he wants to achieve the electoral landslide polls are predicting. She does not necessarily elicit the same excitement that Warren or Harris potentially would, but that may just be what Biden wants. 
Duckworth is a public servant in the truest sense of the word, and fittingly enough, she holds the very same seat a certain junior Senator held back in 2008.  If he truly wants to restore the soul of the nation and bring strong leadership to the White House, Senator Duckworth may just be it.  
There are of course several other likely picks, including the likes of Representative Val Demings, Ambassador Susan Rice, Atlanta Mayor Keisha Lance Bottoms, Governor Michelle Lujan Grisham, Representative Stacey Abrams and Governor Gretchen Whitmer. All of them would make compelling picks in their own right and are all immensely qualified for the job. However, when it comes down to it, I believe that this moment calls for a senator to get us back on track, and the three listed above all represent compelling cases and unique potential.