How the eyes of a four-year-old boy can see past America's current issues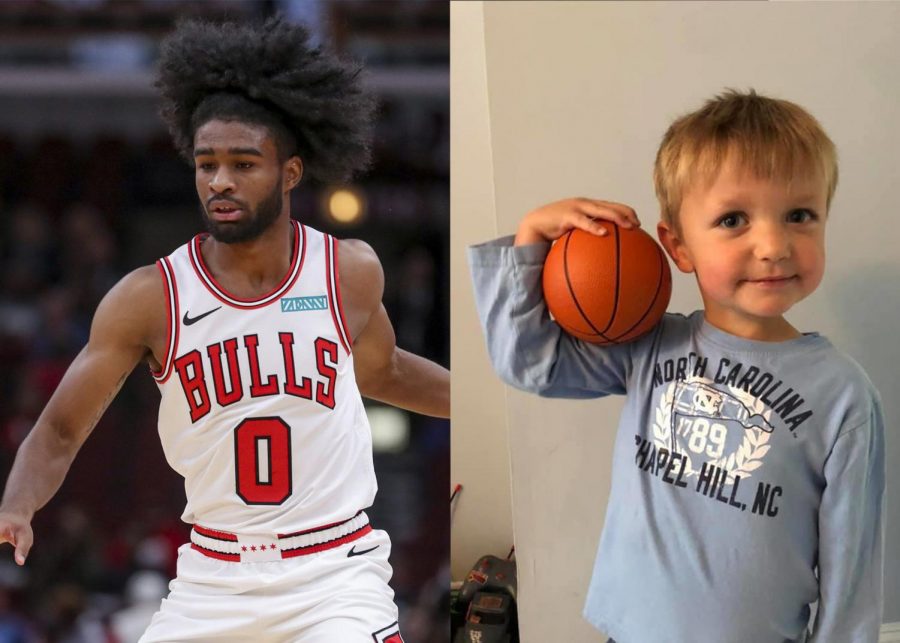 It was just another day for me. I was on the couch aimlessly scrolling through Twitter, seeing the same hate and violence in almost every post. That was, until I came across a story that had originally been shared on Facebook by Julie Lawlor, a mother of three boys. Julie posted a story about her four-year-old white son Jack, which read:
"Jack has spent the last few weeks putting on all his Carolina gear and playing basketball on the over-the-door hoop. He pretends that he's Michael Jordan, Vince Carter, or Coby White. Today he was Coby. He always asks if he looks just like whoever he's pretending to be. 
Jack: Mama, does my hair wiggle like Coby White's when I run with the ball? 
Mom: Ummm, not exactly the same but it does kind of blow in the breeze. I think it's so sweet that you want to look like Coby White. 
Jack: I don't want to LOOK like Coby White, I AM Coby White. 
I just love the fact that he sees no difference between his four-year-old self and an adult, 6'5 African-American man. His main concern is that his hair wiggles right." 
After reading the post, I caught myself grinning from ear to ear. I immediately took a picture of Julie's story and sent it to everyone I knew. I was amazed at how the innocence of a four-year-old boy could solve a very big problem that our country is currently facing. 
Seeing as Julie's post had such a positive impact on me, I wanted to share it with more people, but not just by texting it to the ones who are closest to me. I wanted to gain a more personal understanding of who Jack and Julie are in order to write a story that would impact others the same way Julie's post impacted me. 
A few moments later I decided that I needed to dive deeper into Jack's mind and the beautiful way in which it thinks. I created a Facebook account just so I could reach out to Jack's mother Julie. I messaged her explaining how much of an impact her post had on me and asked if I could interview her and Jack for this article. She and Jack kindly said yes. 
I began by asking Julie what she thinks people can learn from her post and how Jack views people who are completely different than him. 
"When Jack tells me that he thinks he looks just like Coby White because they are both basketball players and they both have worn UNC shirts, of course, it makes me giggle," said Julie. "Coby has about 16 years on him, three feet, he's a professional basketball player and he's a different race. It's hard not to see those differences when you look at the two of them.  But at the same time, Jack is absolutely right, because they have so much more in common than they have differences.  They're both humans, they both come from N.C., they both love Carolina and basketball, they both have families that they love, friends, people that they care about, goals that they want to achieve, etc." 
However, in my opinion, the purest thing that Julie said when answering this particular question was the following: 
"To me, the way that an innocent four-year-old sees the similarities between himself and someone else is something that we should all do more often.  Instead of looking at people that we consider 'different' and having these preconceived notions and judgments about them, stop and think about the things that we all have in common." 
I followed up by asking Julie what her expectations were when posting the story on Facebook. "Honestly, I wasn't expecting much of a reaction at all," she said. Julie went on to state:
"I wanted to post that story originally because Jack said that Coby's hair 'wiggled' and I thought that was cute and funny.  But I took the picture of him and put it beside Coby's and Jack told me that they looked just alike, and it hit me that it was much more meaningful than just 'wiggly hair.'  He really believes that he and Coby look alike.  They both wore Carolina blue, hold basketballs, have eyes, ears, nose, mouth, etc.  That's all that matters to him.  I wanted to make that statement because I thought it was meaningful, but I still didn't expect much of a reaction other than a few friends and family members… Suddenly people that I've never met before were talking about Jack and sharing the post and saying all these kind things about him.  I was blown away!" 
The story would not end there. The very person that Jack wanted to be ended up seeing his mother's post. I believe Coby White spoke for us all when he responded to Julie's story by simply saying, "Love it!" 
Julie went on to explain to me how she and Jack first learned about Coby's response: 
"At around midnight that night someone I didn't know was kind enough to send me a message on Facebook telling me to look on Twitter, Coby saw my post.  I thought it was a joke, or a fan account maybe.  I was in shock when I saw that he tweeted that he loved the post.  I'm still in shock that he saw it! I never in a million years thought it would make it that far or be seen by so many people.  The positive reaction that we've gotten to it has been so heartwarming." 
I learned more about the innocence of Jack when Julie told me that she was unsure if Jack knew that Coby White is famous. She said that after finding out about Coby's response to her post, Jack asked her, "Can you call Coby to set up a playdate?" 
After hearing this little side note, I was anxious to ask Jack a few questions about his experience because I could only imagine how good his responses would be. 
"I wanted to scream," Jack said giggling. "I love Coby White!" 
This was Jack's response when I asked him how he felt when he saw Coby White responded to his mother's Facebook post. 
I continued to ask Jack who his favorite UNC basketball player of all time is and why. "Coby White because he has a lot of good moves and does a lot of good player stuff," said Jack. 
Julie commented on Jack's response to this question by saying, "Up until this week, his [Jack's] answer was always Michael Jordan 'because he's the best of all time.' But since the post, he's gotten quite a few phone calls from family members and friends who are calling him Coby White so that is now his answer." 
Along with many others, Michael Jordan is also my favorite player of all-time. But I have to say, if Coby White and thousands of others responded to me on social media, I would probably be like Jack and change my answer as well. 
The last question I decided to ask Jack was, "what do you want to be when you grow up?" I wanted to ask him a question that didn't particularly relate to the Coby White subject because I honestly just wanted to know more about this wonderful kid. His response fit this story more perfectly than I could have ever imagined. 
"Coby White," Jack responded. 
I still get chills when I read through Jack and Julie's story and the wonderful things that I got to learn about them by writing this story. 
So, thank you, Julie. Job well done! You are raising a great son and an even better person. And thank you, Jack. Thank you for being you.