Seahawks add three to 2020-21 roster
Siddle adds three big recruits to the UNCW program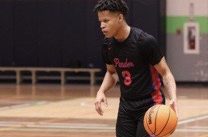 WILMINGTON — UNC Wilmington head coach Takayo Siddle has been hot on the recruiting trail since his tenure in the Port City began on March 13. Recruiting has been key for the Seahawk program since the loss of point guard Kai Toews last season and the transfer of Marten Linssen a few weeks ago.
In recent weeks, Siddle has added three North Carolina talents to his bench — top N.C. prospects Jajuan Carr and Jamahri Harvey, and St. John's transfer Ian Steere.
"All three guys are from North Carolina. Recruiting in-state talent will always be a top priority for our staff," Siddle told UNCW athletic communications. "Our assistant coaches deserve a lot of credit for recruiting these guys. We're excited about this class. It was paramount as we continue to grow this proud program."
Meet the recruits:
Jajuan Carr/Pender High School/Rocky Point, N.C.
Carr joins the Seahawk program after an explosive senior season where he averaged 22.5 points, 5.3 rebounds and 1.9 steals per game. He led Pender to the second round of NCHSAA Playoffs boasting a 20-8 record by season's end.
The 6'2, 180-pound guard carried multiple honors in his final high school campaign including First-Team All-Conference in the Coastal 8 conference, First-Team All-Tournament, conference Player of the Year, as well as others.
Carr was the subject of a profile piece written last month. That can be accessed here.
Jamahri Harvey/Northwood Temple Academy/Moravian Prep/Fayetteville, N.C.
Harvey averaged 15.1 points, 3.4 rebounds, 1.6 assists and 1.6 steals in his senior season at Northwood Temple. While attending Moravian Prep, Harvey helped lead the team to a 32-win season while averaging 15 points, five rebounds, four assists and two steals per contest.
He also made noise on the AAU scene as a member of Team Loaded where he helped the squad to a Phenom Hoops state title.
Ian Steele/Northwood Temple Academy/N.C. State/St. John's/Sanford, N.C.
Steele was touted as a four-star recruit out of high school according to 247Sports, Rivals and ESPN.
Before transferring to St. John's, Steele played one game for NCSU where he racked up four points and four rebounds against Mount St. Mary's in Nov. 2018.
After tranferring to the Red Storm program, he made six appearances for 3.3 minutes per game. During his time with the team, he averaged 0.7 points and 0.2 rebounds per contest.
"We wanted to bring in committed students with high character as well as talented basketball players," said Siddle to UNCW athletic communications. "We certainly checked all the boxes with these young men."
Siddle hopes that his efforts in recruiting will help turn the Seahawk program around. The team put up a combined record of 31-66 in the last three seasons.