Jajuan Carr commits to UNCW
Pender standout Jajuan Carr announced his commitment to play at UNCW last week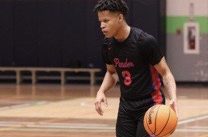 WILMINGTON — After much consideration of the offers forwarded to him, Pender High School's Jajuan Carr seriously considered sitting out a year of college basketball while attending prep school. That was before UNC Wilmington's new head coach Takayo Siddle extended an offer his way.
The senior point guard announced his verbal commitment to the program on Twitter last Sunday. Siddle threw a scholarship offer his way two days later. The relationship he has formed with Siddle had a lot to do with his commitment to the Seahawks.
"Me and Coach Siddle have a good relationship," said Carr. "We talk on the phone every day."
Pender finished the 2019-2020 season with a 20-8 record, making a run to the second round of the NCHSAA 1A Playoffs. This season, Carr averaged 20 points, seven rebounds and seven assists per game. Still, despite his quality performance, Carr was touted as one of the top unsigned prospects in North Carolina.
Other schools to offer spots on their rosters to Carr were East Carolina, Fordham, USC Upstate, Detroit Mercy, Presbyterian and Rider. Carr wasn't happy with any of those.
"UNCW just seemed like a better fit for me than the rest of the schools," said Carr.
His newly-acquired spot on the UNCW roster also offers him something that none of the other colleges would — a chance to play close to home. Less than 30 miles from his high school, UNCW allows Carr to play college basketball while still maintaining his connection with his family and his hometown community. The next closest school to recruit Carr was ECU — over 85 miles away.
"Playing close to home is special to me," said Carr. "My family can come see me and people from my community."
The most exciting part for Carr, however, is the fact that he gets to pursue his dream of playing Division I basketball. Carr has been a one-sport athlete since eighth grade, maintaining a steady focus on hoops.
"I'm very excited to have the opportunity to play Division I basketball," said Carr. "I've been playing basketball since I was five years old, and ever since I was in elementary school, I always felt I would either play college football or basketball."
Obviously, he chose basketball.