Seahawks drop two of three in series with Tigers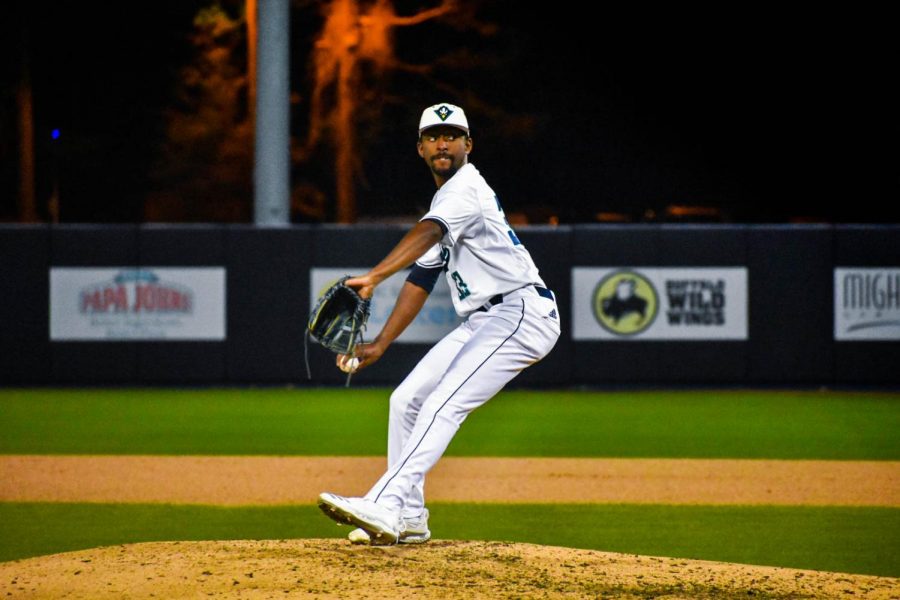 WILMINGTON – UNC Wilmington (10-5) hosted Memphis (10-5) this weekend for a three-game series following a sweep of Kentucky (9-5) last weekend. The Seahawks fell on Friday and Saturday before regrouping and picking up a much-needed win to close on Sunday afternoon. 
Friday; UNCW 0, Memphis 4
Danny Denz's curveball is going to give UNCW batters nightmares for the foreseeable future. The 'Hawks could only muster up one hit against the lefty in the six innings that he pitched. Denz ended the evening with 11 strikeouts and led the Tigers to another win on the season. 
"We didn't have a plan at the plate…we have to have a better hitting plan," said head coach Randy Hood. "Denz and their two relievers threw the ball really well, they attacked us all night." 
A throwing error from UNCW's Zarion Sharpe allowed two Memphis baserunners to come home. Sharpe's and the Seahawks' day did not improve from there, as the redshirt junior went only two innings with a lopsided seven hits and three earned runs to show for. 
As soon as Breydan Gorham stepped foot on the mound in the third inning, Tiger hitters seemed to lose their mojo. The fifth-year senior held Memphis hitless throughout five innings of work. 
"I don't throw that well if Suggs doesn't catch the ball the way he did and the guys don't make plays behind me," said Gorham. "My fastball low and away was good…once I got ahead in the count, I felt like I could do what I wanted, and it was in my favor." 
Reliever Nick Bruno's hitless eighth and ninth innings kept the Seahawks' hopes alive for a late-game rally. The strong throwing righty would sit down all six batters that he faced. 
"You couldn't ask for two guys to give us a better chance to win the game," said head coach Randy Hood. "They [Memphis] didn't have another hit after the second inning…we just didn't do anything offensively…when you strikeout 15 times, you aren't going to win a lot of baseball games." 
Saturday; UNCW 1, Memphis 6
On Saturday, the Seahawks would have left another goose egg on the scoreboard if not for Brooks Baldwin's run in the sixth via an RBI from Matt Suggs.
Landen Roupp pitched for eight innings, striking out seven, walking three and allowing five runs across.
Sunday; UNCW 4, Memphis 3
Blake Deatherage took the mound in the ninth looking to seal off what was a great game by the Seahawks. After a Memphis RBI single and consecutive Seahawk pitches reaching the backstop, UNCW's lead was cut to 4-3. With a Tigers' runner on third, Deatherage shut the door and struck out the final batter of the day, earning him his third save on the season. 
Passed balls and wild pitches were a common occurrence throughout the day. Half of UNCW's runs came off wild pitches, while the other half came due to throwing errors by the Memphis infielders. 
Freshman Trever Marsh started in the leadoff spot for the Seahawks and finished the day with two hits and run scored. Cole Weiss contributed two hits of his own and added a stolen base to his stat sheet. 
"I look for that first pitch fastball and usually, if it's there, I jump on it," said Marsh. "If the first pitch isn't there, I want to take it so the rest of the team can see what he's got." 
Senior Luke Gesell, had a good outing on Sunday, giving up only five hits and one walk while striking out six in six innings of work. 
"I have the same mindset every time I go out there and that is just to compete," said the righty Gesell. "I felt good about everything today…the outfielders made some great plays and that kept my confidence up throughout the game." 
The Seahawks get a much-needed victory after dropping two consecutive games to the Tigers. The win will have UNCW going into a midweek matchup with East Carolina (12-3). 
"We will take it…it wasn't pretty, but a win is a win," said head coach Randy Hood. "I love our team and I know we will continue working and getting better as the season progresses." 
The Seahawks will host the Pirates on Wednesday, March 11 at 6 p.m. The game will serve as the first matchup between the two teams so far this season. The other two games will be held later this season which will be played in Kinston and Greenville, N.C.